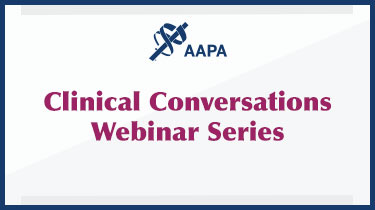 Relationship of Type 2 Diabetes and Diabetic Kidney Disease: Opportunities for Prevention, Intervention and Mitigation
Date: February 25, 3:00 p.m. EST
In this webinar, you'll explore the relationship between Type 2 Diabetes and Diabetic Kidney Disease. Learn about the disease progression, and understand the treatment options and key points of intervention when treating complications of DKD. Part of our Clinical Conversations Webinar Series!
Speaker: Maria O'Connor, PA-C, RD, CDCES
Maria O'Connor is a Certified Physician Assistant, Registered Dietitian and Certified Diabetes Care Education Specialist. Maria joined Astra Zeneca as Medical Science Liaison in their Cardiovascular and Metabolic Medical Affairs division in 2014. Previously, she was an endocrinology PA for 10 years at Rush University in Chicago, IL. Aside from her direct patient care role; she was involved in research studies for children and adolescents with Type 2 diabetes and the education of PA students at Rush University and Midwestern as a preceptor. Prior to that, she worked for 4 years as a registered dietitian with an emphasis in working with patients with end stage renal disease and diabetes. She graduated with Physician Assistant Certification from Cook County Hospital in Chicago, IL, her Masters of Science in Nutrition from Southern Illinois University in Carbondale, IL and her Bachelors of Science from Purdue University in West Lafayette, IN. Maria currently lives in Chicago, IL with her husband, 2 daughters and son.
Brought to you in partnership with