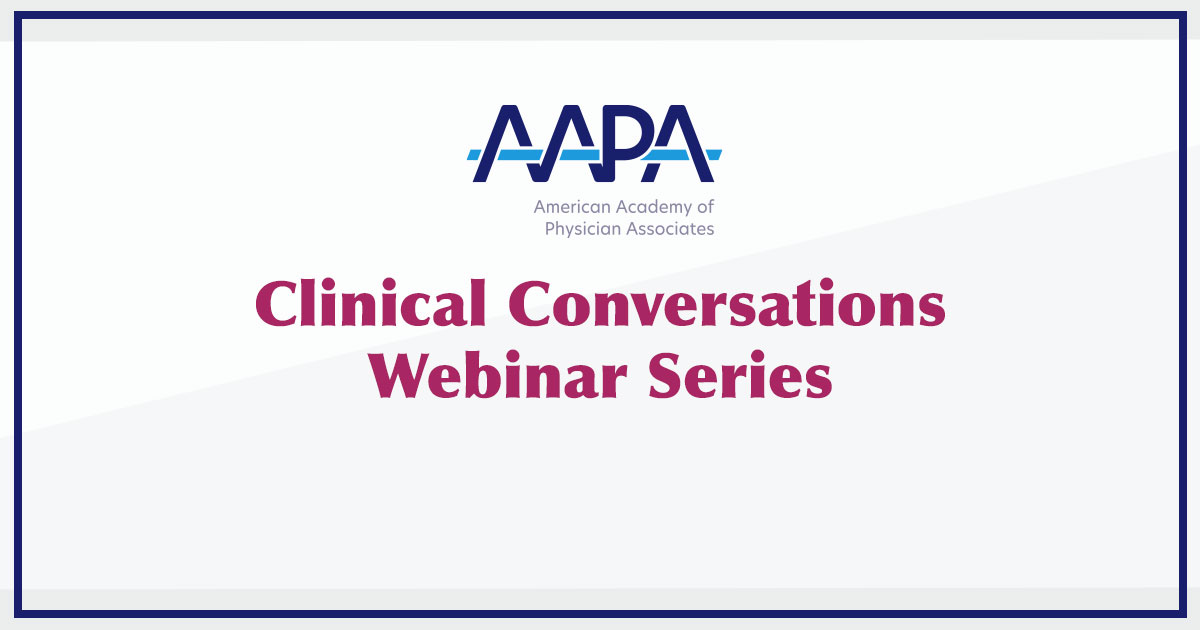 The Role of Healthcare Providers in Vaccine Promotion
Date: December 6, 3 p.m. ET
See how healthcare providers can increase the uptake of COVID-19, flu, and other vaccines in this Clinical Conversations webinar. Review three CDC strategies to increase vaccine uptake; hear examples of medical providers who have successfully implemented these strategies and increased vaccine uptake; and help consider how to integrate other healthcare personnel into vaccine promotion strategies.
Speakers
Click on a name to learn more about the speakers.
Melissa Rodriguez, PA-C
Melissa Rodriguez has been practicing as a Physician Associate (PA) for 12 years, primarily in Obstetrics and Gynecology. She is the current president of the Association for PAs in OB-GYN as well as the legislative co-chair for the PAs for Women Empowerment, the CME Committee Member for PAs for Latino Health, and the Secretary for the Florida Academy of PAs. She is also on the Medical Advisory Board for the Mansaray Foundation and Myovant. Her mission is to improve maternal health outcomes by increasing the number of PAs in Ob-Gyn due to their extensive medical, surgical, and obstetric education. Serving as a leader, advocate, faculty, and preceptor has contributed to achieving this goal.
Paola Gonzalez, MPAS, PA-C
Paola Gonzalez, MPAS, PA-C is a board member of the National American Academy of Physician Associates (AAPA) Caucus Physician Associates for Latino Health(PALH). As a bilingual clinical provider for over 18 years in Family Practice and Oncology, PA Gonzalez has extensive practice experience with Latino populations, health promotion, and disparities. As a first-generation immigrant, she was clearly able to see the health discrepancies in our Latino community and the language barriers that many people face day to day. She has a passion for growing her knowledge and loves helping others, especially the underserved communities who face diminished resources and inequalities in healthcare. She currently is part of the Board of Members with PALH and is helping to educate clinical providers and the community about the disparities across diverse populations.

PA Gonzalez has previously served in the Florida Academy of Physician Assistants as the Head of the Cultural Diversity Committee. She is a Fellow member of the American Academy of Physician Associates (AAPA), Association of Physician Assistants in Oncology (APAO), Texas Association of Physician Assistants (TAPA), and the Texas Gulf Coast Physician Assistants Association (TGCPAA). She holds many leadership positions within the social network platforms including the PA Women Community Group, the Wealth Building for Female PA group and is the current board chair for the PA's for Latino Health for the Public Relations and Membership board positions. She is actively involved in mentoring healthcare providers and encourages medical Spanish as an integral part of their learning to be able to relate and communicate more effectively with the Latino community. She has been a clinical preceptor for the Baylor College of Medicine PA Program since 2009.

PA Gonzalez earned her Bachelor of Physician Assistant Studies from Touro College in 2004 and completed her Master of Physician Assistant Studies from the University of Texas Rio Grande Valley in 2021. When she is not actively engaged in healthcare endeavors, she enjoys reading and socializing with friends. She can be found traveling with her twins who are also bilingual and love learning about other cultures.
Robert S. Smith, MS, DHSc. PA-C, DFAAPA
Dr. Robert Smith, PA-C, lives in Lewisville, TX. He served in the U.S. Coast Guard and as a Yeomen, Hospital Corpsman and Health Service Technician, while in the service he completed an undergraduate degree in science at the University of the State of New York (Excelsior College), Albany New York. He attended PA School at the University of California, Davis FNP/PA program. He completed a Master of Science from Arizona School of Health Sciences, A.T. Still University, and his Doctor of Health Science, from A.T. Still University Health Sciences, College of Graduate Health Studies, and has Graduate Certificate in Education, from ATSU as well. Dr. Smith most recently completed a certification program at Cornell University in Diversity, Equity, and Inclusion.
Dr. Smith, PA-C, has been a pioneer PA in most positions he has held, and has worked with many organizations, American Academy of PA's (AAPA), Nation Hispanic Medical Association (NHMA), PAs for Latino Health (PALH), Association of PAs & NPs (APANP), Texas Academy of PAs (TAPA) and others, serving at all levels from fellow to President. He is published and speaks for various organizations. He has an appointment as a Clinical Instructor for the University of North Texas PA program and is an Adjunct Clinical Instructor for University of Texas, Arlington, FNP program. He has provided health care most of his career to underserved communities and populations in both rural and inner-city settings. Currently work as a Regional Lead Clinician for MDMG/PA in Texas. He regularly precepts students in his clinic giving them an opportunity to learn how to provide care to the underserved communities of the DFW area in Texas, primarily in the Latinx Community.
Brought to you in partnership with the National Alliance for Hispanic Health (NAHH).