Clinical Conversations Webinar Series
Designed just for PAs, these webinars will bring you the latest on clinical breakthroughs, healthcare advances, policies and programs, and more.
Check out the topics, speakers, and descriptions below. Sign up to watch live or replay a past webinar on your own schedule!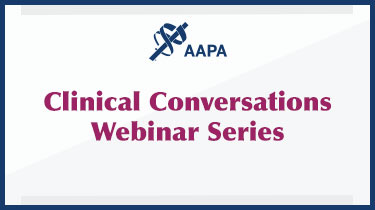 How to Increase Patient Participation in Health Research
Speakers: Karriem S. Watson, DHS, MS, MPH; Olveen Carrasquillo, MD, MPH; and Capt. Richard Montes PA-C, MMS
Can you imagine a future in which disease prevention, treatment, and care are personalized for your patients? You're invited to attend this FREE webinar on NIH's All of Us Research Program, which aims to accelerate health research and make this precision medicine possible. Our guest speakers will explain the significance of NIH's endeavor to build the most diverse biomedical data resource of its kind. They will also discuss strategies for enrolling participants from communities often underrepresented in health research. Brought to you in partnership with the National Alliance for Hispanic Health (NAHH).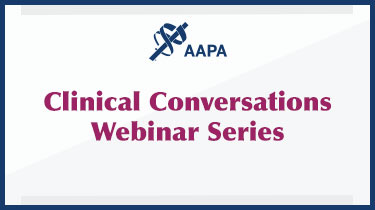 The Bone Health Benefits of Prunes for Men and Women
Speaker: Shirin Hooshmand, PhD, RD
Did you know that men have a higher risk of developing an osteoporotic fracture than they do of developing prostate cancer? You're invited to a FREE webinar on men's bone health and the protective benefits offered by prunes for both sexes. Our guest speaker will share her latest research that eating just 10 prunes per day provides benefits to men on par with the bone loss prevented in women with 5-6 prunes per day.