Behind the Scenes at Northwell Health as PAs Respond to COVID-19
Assessing Skills, Matching Providers to Acuity Levels Helped Understand Needs
May 11, 2020
By Eileen Denne, CAE, APR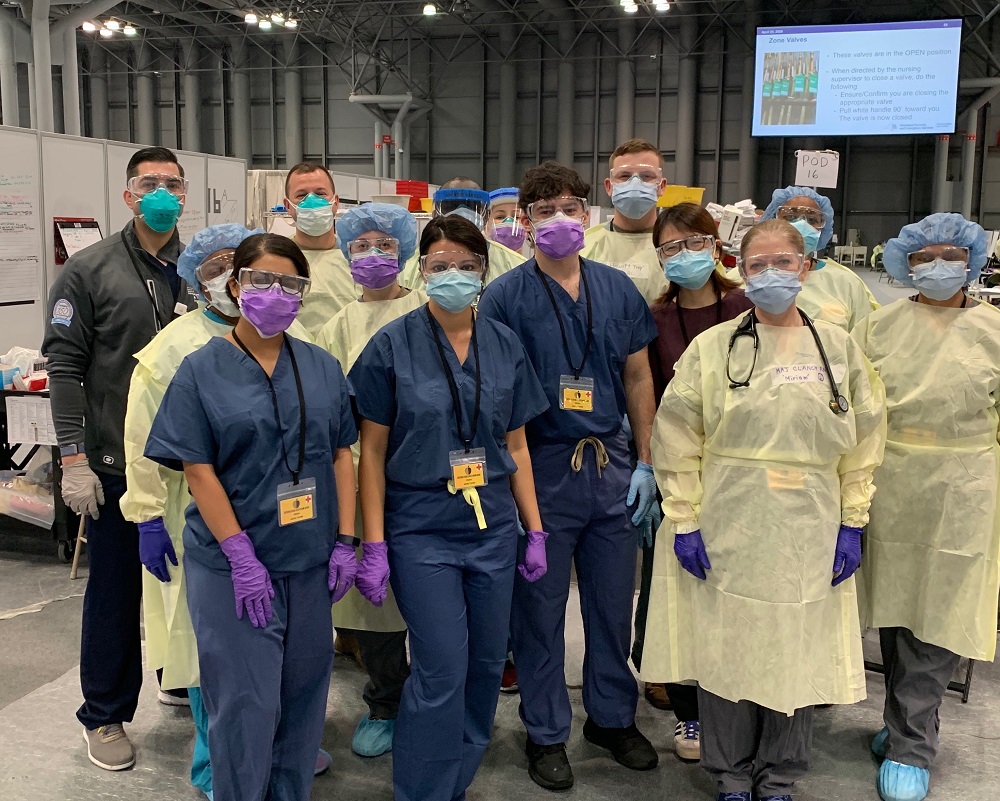 In the New York City area, Northwell Health has been at the epicenter of the COVID-19 pandemic response. According to its website, Northwell healthcare providers have treated thousands of COVID-19 patients since the outbreak began in early March.
New York is one of just eight states – along with Maine, Michigan, New Jersey, Louisiana, South Dakota, Tennessee, and Virginia – that has waived physician supervision or collaboration requirements for PAs in executive orders related to COVID-19. Waiving these requirements has allowed hospitals like those within Northwell Health to fully mobilize their PA workforce, redeploying and repurposing them to meet patient needs.
As of July 15, more than 13,000 patients have recovered within the health system's facilities, including nearly 5,000 patients discharged at North Shore University Hospital in Manhasset, Long Island Jewish Medical Center in New Hyde Park and Lenox Hill Hospital, in Manhattan.
Five PAs who lead Northwell's Advanced Clinical Provider (ACP) teams that include PAs and NPs take AAPA behind the scenes and talk about their workforce deployment and utilization in response to the COVID-19 surge. The providers include:
Christopher J. Anderson, MBA, MS, PA-C, Senior Administrative Director, Advanced Clinical Providers, Lenox Hill Hospital in Manhattan
Daniel Zaldivar, PA-C, Clinical Director, ACP and Quality – Surgery Service Line, Northwell Health System
Jonathan Sobel, DMSc, MBA, PA-C, DFAAPA, FAPACVS, Senior Administrative Director of Advanced Clinical Providers, North Shore University Hospital, Manhasset, on Long Island and immediate past president, AAPA Board of Directors
Jason McGrade, MBA, PA-C, Assistant Vice President, Advanced Clinical Providers, Northwell Health
Lara West, MHSc, PA-C, Director, Clinical Initiatives for Advanced Clinical Providers, Northwell Health, Staten Island University Hospital
Assessing workforce needs
An important first step in Northwell's response to COVID-19 was assessing ACP workforce needs. At Lenox Hill Hospital, their initial approach was to do a comprehensive review of all their inpatient units and bed capacity. They also worked collaboratively with departmental physician leadership and house staff leadership to assess and create new care models designed for COVID-19 patients. "We removed specialties of our PAs and NPs and identified their abilities to manage a certain level of acuities," reports Anderson. "We created comprehensive Excel workbooks with cognitive and procedural competencies listed and matched the most appropriate providers to acuity levels."
Adds Sobel, "At North Shore University Hospital we worked with leadership to develop a COVID-19 care model plan that allowed us to assess the ACP staffing requirements to meet the model on an ongoing basis. We always maintained a 40-bed-ahead approach in both our critical care and med/surgery areas."
As the ACP director at Staten Island University Hospital, West worked with executive leadership, the chief medical officer, medical chairperson, local HR, and ACP supervisors to identify team members as well as competencies. "Having a PA or NP as an ACP supervisor for each department made the planning and reassignment more fluid as they have a thorough understanding of the ACP profession and equal appreciation of the specific needs of his/her department."
According to West, the 200 PAs and NPs at Staten Island University Hospital looked at redeployment in three categories:
ACPs that were needed and stayed at their original departments such as the emergency department and intensive care units
ACPs that could be redeployed to help a medical unit such as surgical ACP team members in orthopedics, ENT/urology, neurosurgery
Team members who made themselves available to do additional shifts at other units with specific competencies in critical care management
Repurposing space and providers
Like other hospitals nationwide, Northwell repurposed space and providers to accommodate COVID-19 patients. Zaldivar describes how his surgery department was reorganized. "Some practices were merged to share resources. Some MDs stepped up and took more responsibility themselves to free up ACPs. All these combined efforts freed up 70% of the ACPs. There were also continued efforts to decrease the volume of patients and implement telehealth at the practice site to minimize resource utilization and in accordance with social distancing."
Anderson reports, "We were able to construct and reconstruct units in the hospital to create additional bed capacity, over 100 new beds. In addition, we constructed off-site locations to handle inpatients, and created plans to move services off site, such as OB, to create more inpatient capacity for the COVID-19 patient population."
He continues, "We created new teams with new interim leaders, that took a combination of inpatient and ambulatory NPs and PAs and created schedules for them. We have deployed more than 70% of our ambulatory NP and PA staff to help us within the hospital. In addition, new care models were created utilizing ACPs to practice independently with rounding on patients, and determination of care plans."
At North Shore University Hospital, Sobel adds, "We have ACPs from 'all walks of life' deployed to our inpatient areas caring for both COVID-19 and non-COVID-19 patients. We integrated outpatient providers into teams with experienced inpatient providers and moved many medicine inpatient ACPs to roles as supporting providers in the critical care areas. Backfilling these team members with the outpatient staff has allowed us to maintain patient care on the med/surg units. After cancelling elective surgeries, we redeployed some of our pre-surgical testing ACPs to the Employee Health Service to help with fit testing and screening team members who were ill. We also sent some of our PST ACPs to work with our orthopaedists reassigned to the fast-track area of the ED."
Creating new models of care and innovative practices
Responding to COVID-19 has led to hospitals creating new models of care and establishing innovative practices. At Lenox Hill Hospital, they created new roles such as intubation teams, central line teams, swab teams, and command center providers. As the inpatient landscaped changed, and initially many patients awaited placement, Anderson says, they created new units and teams to account for the change in population.
North Shore University Hospital also made innovative changes, Sobel reports. "We were fortunate enough to have both an ambulatory surgery center and a SNF on campus. We were able to decant our post-partum patients to the ASC and take over two units in the SNF for COVID-19 patients. We also set up field hospital tents that fortunately we have not needed to occupy. Within our building, we converted our auditorium and conference center into an inpatient COVID-19 unit.
"We also set up a Hospital Clinical Review Team made up physicians, ACPs, and ethicists who served as a third-party objective resource to discuss escalating care decisions in a support role for the primary team.  I had the honor of serving on this team for the past few weeks."
For West, the most memorable innovation during the crisis relates to her background as an emergency medicine PA. "It is the VanKong drape, a fenestrated drape to reduce exposure during endotracheal intubation, named after two EM attendings Dr. Anna Van Tuyl and Dr. Rodrigo Kong. Another notable innovation was the drive-thru anticoagulation testing. We understood the fear of our elderly population combined with the importance of following up with these patients and ensuring their coumadin levels are stable. We set up a drive through so these patients never need to leave their vehicles."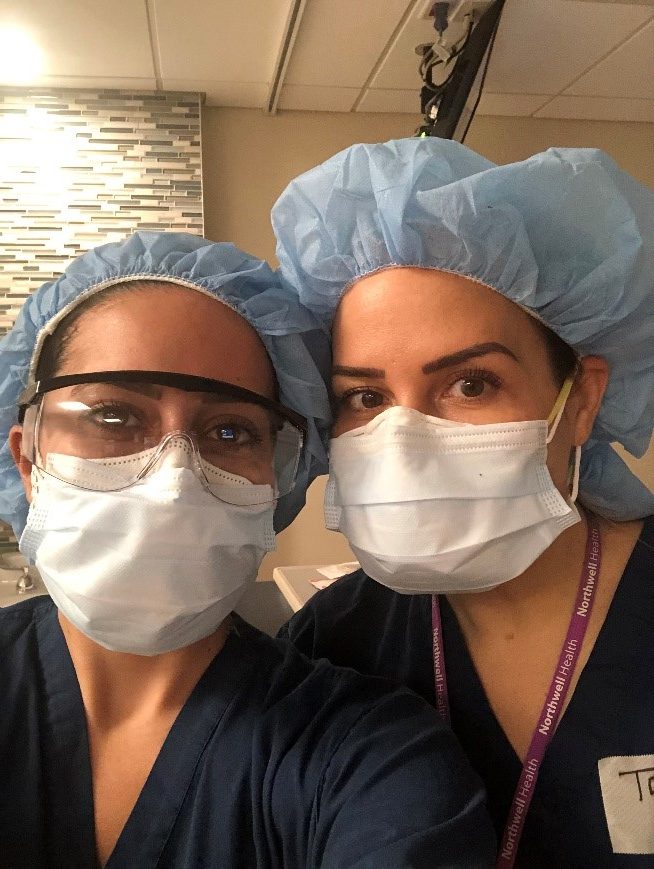 Out-of-the-box ways to ease hospital impact
To ease the hospital impact at North Shore University Hospital, according to Zaldivar, ambulatory ACP were redeployed to hospital services decompressing existing resources and providing extra resource as the capacity of the hospital was increased per State mandate. "Fortunately, the site leadership initiative helped to provide training and assurance by pairing Ambulatory ACP with more experienced ACP to facilitate workflow. ACP with no hospital experience stepped up to decompress exhausted hospital services."
He adds, "For existing resources in Valley Stream, townhall meetings helped set up expectations that ACPs are not just a provider anymore. They were encouraged to help in every little way to all patient care teams, like providing breaks to exhausted nurses, running to the pharmacy for supply and transporting patients."
Barriers to care
When asked about barriers to care, Sobel says, "The biggest barrier has been uncertainty of when a workforce might be needed to staff their regular position and the resulting reluctance to release them to the provider labor pool. Governor Cuomo issued an executive order removing the need for a supervising physician and the Board of the hospital approved a cross departmental privileging model. We were able to mobilize the PA workforce to where the need existed. Most of our ACPs were nervous to work in a new and dangerous setting, but their commitment to the community never wavered."
Lessons learned
Among the lessons the PAs learned: Ensure that communication remains consistent and thorough; monitor your teams frequently, see them often, and make sure safety is your top priority; join your hospital's committees, make connections and always look to be a source of help before a disaster happens.
Says Sobel, "This pandemic will tax your resources and is a true mass casualty incident. You will need all capable providers working at the top of their ability to serve this very sick population. PAs are trained as generalists and are designed to go where the need is; do not overlook the contributions that PAs can make to your workforce."
"In a crisis like this," says Zaldivar, "every resource must be utilized. The majority of our ACPs faced this challenge head-on and actually volunteered to be on the frontline."
Anderson adds, "We looked at this as an all-hands-on-deck moment, and in fact it has brought us closer together as an ACP team, and closer as an entire workforce within our health system. Many of our non-inpatient and non-medicine focused ACPs were excited to be deployed, and to continue their deployment as long as possible. Many of our staff felt obligated to dive in and work their hearts out to ensure patients had the best care possible."
You May Also Like
PA Andrea Lowe: Pandemic is a Marathon, Not a Sprint
Crisis Plan for APPs Reduces COVID-19 Exposure and Risk
How a PA in Telehealth is Helping Respond to COVID-19
Rush University PAs Integral to Coronavirus Response
Eileen Denne is director of Corporate Communications at AAPA. Contact her at [email protected].
Thank you for reading AAPA's News Central
You have 2 articles left this month. Create a free account to read more stories, or become a member for more access to exclusive benefits! Already have an account? Log in.