Optimal Team Practice
What Is Optimal Team Practice?
Optimal Team Practice occurs when PAs, physicians, and other healthcare professionals work together to provide quality care without burdensome administrative constraints.
To support Optimal Team Practice, states should: eliminate the legal requirement for a specific relationship between a PA, physician, or any other healthcare provider in order for a PA to practice to the full extent of their education, training and experience; create a separate majority-PA board to regulate PAs or add PAs and physicians who work with PAs to medical or healing arts boards; and authorize PAs to be eligible for direct payment by all public and private insurers.
Want more resources on Optimal Team Practice? Join AAPA today!
Do you want to help advance the profession in your state? AAPA members can access additional Tools for State Advocates related to Optimal Team Practice. If you're not a member, join now!
Optimal Team Practice FAQ
Read the FAQ below to learn more about Optimal Team Practice. Don't see your question here? Email us!
How OTP Can Improve Healthcare
The Convenient Care Association (CCA), the national trade association of companies and healthcare systems that provide consumers with healthcare in retail-based locations, recently voiced its support for eliminating the requirement for a specific relationship between a PA and a physician.
PA Khou Xiong's patients experienced an interruption in care when the health center she works for unexpectedly lost its physician medical director. Read how modernizing PA-practice laws could improve the status quo for PA Xiong and PAs in similar situations across the country.
Ann Miles, PA-C, achieved one of her life-long goals of opening a rural healthcare clinic in Frontier Nevada. Learn more about her journey and some of the challenges she still faces due to outdated PA-practice laws in the state.
Although PA Bob Cummings was competent and qualified to see his patients following the physician's death, Wyoming rules state that PAs shall not practice in any capacity if, for any reason, the supervising physician is not available to properly supervise the PA.
Behind the glitz and glamour of Los Angeles' bustling entertainment industry lies a huge problem: homelessness.
Across the U.S., many people who live in rural areas struggle with access to quality, affordable healthcare. Edwin Weih, PA-C, knows this challenge well as he practices in Oakridge, Oregon, a town with only 3,500 residents.
PAs are in a unique position to give back to their communities through volunteering, but some state laws are making it harder for them to do so. Nevada PA, Steven Xiao, shares his story about challenges he ran into in his quest to volunteer with his alma mater's mobile health clinic.
Comprehensive training gives PAs the ability to work in different specialties throughout their careers. Maine PA Dana Green took advantage of this flexibility, but experienced challenges finding a job in a much-needed area of healthcare due to outdated state laws. 
Guidelines for State Regulation of PAs
Updated in May 2017, this document provides recommendations for state governmental control of PA practice.
OTP Infographic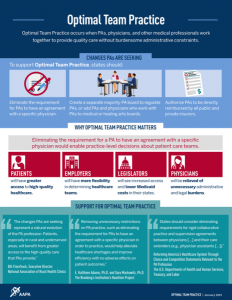 What OTP Means for Healthcare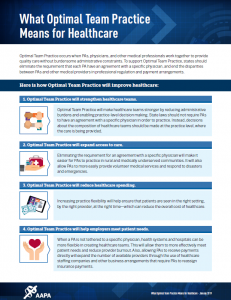 Articles and Reports on the PA Profession
View this bibliography to access articles and reports that show PAs provide high-quality care.
The Case for Separate PA Regulatory Boards
View this issue brief to learn more about the need for separate PA Regulatory Boards.
Direct Payment for PAs
View this issue brief to learn more about the need for PAs to receive direct payment under Medicare.
Medical Liability Implications of Modernized PA Practice
Updating PA practice laws and regulations using AAPA policy as a guide will happen over time, on a state-by-state basis, as political realities evolve.
PAs and Team Practice
The PA (physician assistant) profession, founded on the concept of collaborative practice, is a natural fit forteam-oriented care models.
Enabling Practice-Level Decision Making
State law requirements for PAs to have a specific relationship with a physician in order to practice were included in early PA practice acts.