Miles to go for Quality Healthcare
Frontier Nevada Residents Rely on PA Miles
May 3, 2018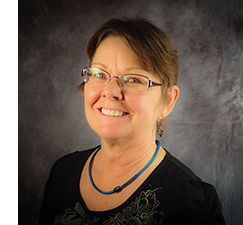 Ann Miles, PA-C, grew up witnessing the compassion and humility of her father, a doctor, and one of her biggest role models. His example led her to realize her true passion was to give back by providing healthcare to those in rural areas — something that ultimately drew her to become a PA.
Midway through her PA career, she and her husband were given an opportunity to move to Kingston, Nevada, a small town in the vast expanse of frontier Nevada. It was then she felt compelled to seize the opportunity and open a rural healthcare center. The process was arduous, but with persistence, financial support, and a partnership with the closest hospital, Battle Mountain General Hospital, Kingston Health Center opened its doors in June of 2015.
Now, PA Miles is the only healthcare provider for miles.
Thanks to her persistence, the 80 residents in Kingston and many of the 5,000 residents in the surrounding 75-mile area rely on her to provide much-needed medical care. Many can't imagine going back to the way things were, literally traveling miles for basic healthcare services or worse – losing precious time if an emergency were to arise.
The Kingston Health Center provides important primary care services to residents. Without it, residents would have to travel at least 90 miles to a telemedicine clinic with limited services or 120 miles to the nearest hospital in Battle Mountain, Nevada.
In fact, PA Miles' 85-year-old supervising physician must make the 240-mile trip once a month to consult and monitor the quality of care provided by PA Miles. When additional consulting is needed, she can also call him in real time. She values team practice and the relationship she has with her physician, but she can't help but worry about what would happen to her patients if her physician wanted to retire — a reality that may not be far off.
"I think all medical professionals whether they are physicians, nurse practitioners, or PAs, rely on each other. Team-based care is what we do and I know it helps us provide an even higher level of care for our patients," said Miles. "Removing barriers to PA practice in Nevada wouldn't change this, but it would increase healthcare access for those who need it most."
Even though Miles has backup from the physicians in Battle Mountain, due to state laws governing PA practice in Nevada, when her physician retires she will not be able to provide care until another physician signs an agreement to be her supervising physician.  While she is confident that she will be able to call on physicians at Battle Mountain Hospital regardless, just as she does now, it's the interruption in the continuity of care for her patients that is her biggest concern. How long would it take for an agreement with another physician to be signed? How far would her patients have to travel for healthcare in the meantime?
This is yet another example of antiquated laws and regulations that can act as a barrier for patients and for the PAs who want to do what they were trained to do — provide healthcare.
When PAs, physicians, and other medical professionals can work together to provide quality care without burdensome administrative constraints, they can achieve Optimal Team Practice. One way to achieve this is to remove the requirement for PAs to have an agreement with a specific physician. This will strengthen healthcare teams, expand access to care, reduce healthcare costs, and enable PA Miles to rest easy knowing she can care for her patients regardless of whether she has a formal agreement with a specific physician.
Find out how PAs can contribute to Optimal Team Practice.
Thank you for reading AAPA's News Central
You have 2 articles left this month. Create a free account to read more stories, or become a member for more access to exclusive benefits! Already have an account? Log in.