A Day in the Life of PA Faculty and Clinician
Nicole Cournoyer Translates Love of Teaching to PA Program
By Nicole S. Cournoyer, PA-C
I knew from the first semester of Philadelphia University's (now Thomas Jefferson University) PA Program that I would someday teach in a PA program. As a first-generation college student, my journey in undergraduate education was challenging.
I felt supported by the college community, but my science program was competitive, and I often felt out of place. My experience in PA school was radically different. The faculty broke down intricate, tortuous disease processes into easily digestible pieces and encouraged us to treat our fellow classmates as family; competition was discouraged!
After graduation, I worked in oncology for six years in a community-based oncology office. Most of my teaching experiences revolved around teaching patients and family members about disease processes, medications and interventions. I started lecturing at my alma mater, Philadelphia University, in 2014. I made the full-time transition to academia in 2016 and continue to practice clinically once a week at a volunteer primary care clinic.
I completed my undergraduate degree in biology/pre-medical studies at Providence College in 2005. I worked as a certified nursing assistant for two years then enrolled in Philadelphia University's PA Program in 2007. I received my master's degree in PA studies in 2009. I work as a full-time faculty member at Thomas Jefferson University, East Falls campus.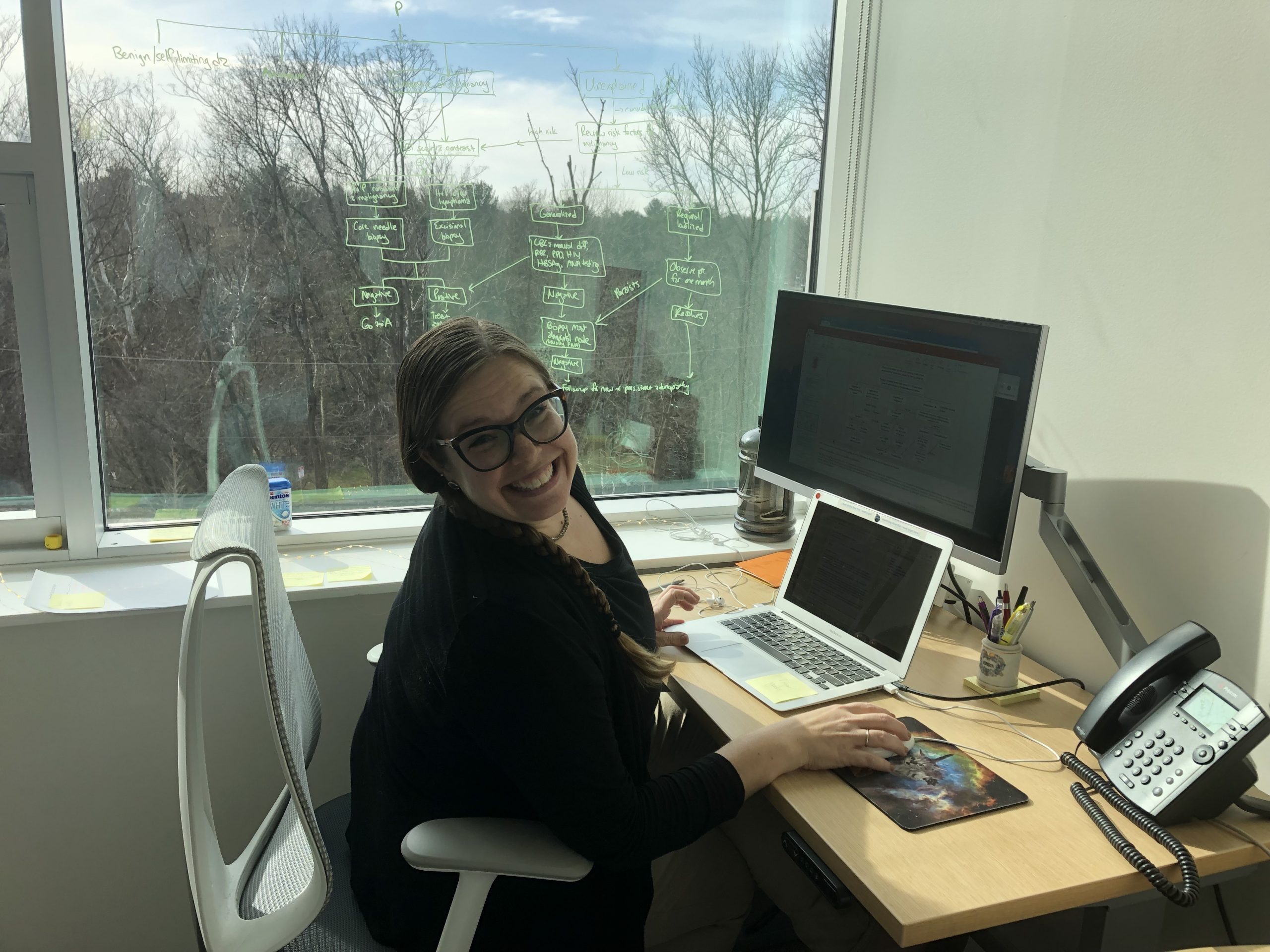 Monday, 7:00 a.m.
I arrive to work and start working on a new lecture on cardiac arrhythmias. I create new lectures best in the morning because the office is quiet, and my brain is fully caffeinated! Creating a two-hour lecture can take anywhere from 10 to 20 hours, so I plan it out in small chunks over the course of two to three weeks before I give the lecture. It's been a surprisingly fun way to explore new ways of harnessing student engagement, not to mention express my creativity. I love to paint and sing in a band in my free time; discerning that teaching is an inherently creative role has been a welcome discovery for me.
9:30 -Noon
I leave my office and head to small group sessions for our clinical reasoning course. There, I work with a group of 12 students, acting as the patient and guiding them through clinical decision-making situations in a supportive environment. The group will ask me history questions to try to create a list of all the possible diagnoses that may be the reason for my symptoms. They then review what physical examination components they would do that would help them figure out my diagnosis. We then review diagnostic testing and management of my "condition" together as a group. This is a relaxed class where there is often laughter and lots of discussion. Any time spent with the students is always my favorite part of this job.
12:15 p.m.
A student and I eat lunch in my office together. They are struggling with a particular course. We discuss their study strategies, time management and concentration. I also ask them if there are any new personal stressors affecting their ability to study. It's always important for me to check in about the student's well-being and to help guide them to the appropriate resources on campus.
1 p.m.
I meet up with two faculty members to write an exam for an eight-credit class which we co-teach. We try hard to make sure the questions are fair. We also reflect upon what the students have been told in class, in their lecture slides, and what is in their book and objectives. Questions get more challenging as students work their way through a PA program. The support and guidance of senior faculty members make things that seem foreign-like writing an entire exam for a class-much more manageable.
2 p.m.
I leave the office and drive to a local primary care office, where I meet a second-year PA student who is on their primary care rotation. I observe them interact with a patient in the office, and make sure they are practicing medicine in a professional, thorough, and accurate manner. Our program has more than 90 students on rotations, and all faculty members work together so we can visit every student over the course of the year.
4 p.m.
Back in my office, I take a 20-minute meditation break. I've been cultivating a meditation practice for over a year now and find that 15 to 20 minutes of meditation during my workday keeps me grounded. It also helps me stay focused on the task at hand. I recently started pursuing a certification in Mindfulness-Based Stress Reduction and have plans to investigate the potential benefits of meditation practices with PA students in the future.
The best part of being a faculty member is witnessing the students grow and learn an incredible amount of information in 26 months. I am filled with gratitude that I get to go on this journey with them.
Wednesdays, 5 p.m.
I arrive at Community Volunteers in Medicine, where I see patients once weekly in the evening. Community Volunteers in Medicine deploys hundreds of compassionate, skilled volunteers to provide free comprehensive medical and dental care, behavioral health services, medications and health education to low-income families who have no insurance and nowhere else to turn for healthcare. I start seeing patients right away and interact with multiple patients each night. The patient I spend the most time with has a history of diabetes and needs a diabetic checkup. She also confides in me that she is feeling depressed. She has many new stressors regarding her job and her personal life. I listen closely as she shares her concerns. She does not want to try any new medications or talk to a therapist at this time. Still, I give her information about our free counseling services and the antidepressant that I think might work best for her. We also talk about the mental health benefits of exercise and community. She says she is going to try to see her daughter more regularly and is considering volunteering at her church. She agrees to call me later this week and let me know how she is feeling.
Serving the community by volunteering as a physician assistant brings me great joy and inspiration.  Working in primary care is a constant adventure. The needs of the patients vary greatly from room to room! In an underserved clinic, I often use my creativity to meet the patients where they currently are in their lives and help them overcome obstacles that are unique to their living situations. At the end of a volunteer shift at the clinic, I often feel an inexplicable mix of fatigue, peace and rejuvenation. It's a great way to end a day!
COVID-19 update
With the suspension of in-person classes on March 12, life changed drastically for both faculty and students matriculating through our program. Shortly after the campus shut down, my email inbox flooded with remote learning resources from Jefferson support staff. This institutional support combined with outstanding faculty teamwork—not to mention flexibility and positivity from the students—made the lightning quick transition to online classes considerably easier to manage.
For the first time in our PA program's 22-year history, we are teaching remotely. To support all students, including those with unstable WiFi or those with new familial obligations in the setting of homeschooling or caretaking, we deliver all material in an asynchronous fashion. Students can review material at the time that is best for them. We check in with students on biweekly video conferencing calls, holding open forums for students to ask questions and for faculty to support them. In this current situation, there is much uncertainty, added stress and anxiety. I frequently remind my students to prioritize not just their studies, but also their well-being. I also try to model that for them in my personal life.
Volunteer hours are currently suspended at the clinic I volunteer at on Wednesday nights. The clinic has a small group of core medical providers who quickly transitioned to telemedicine and are working diligently to keep patients informed and safe. They are providing guidance on COVID testing, dispensing refills from the dispensary, seeing emergency patients, and doing many telemedicine visits. I am hoping to return to serve at the clinic as soon as possible.
Nicole S. Cournoyer, PA-C, is a full-time faculty member at Thomas Jefferson University, East Falls campus, in Pennsylvania. Contact her at [email protected].
You May Also Like
Day in the Life of a Texas Children's Hospital Pediatric Surgical PA Fellow
A Career in Orthopaedics: Why I Love the Specialty
PA in Critical Care Shares 4 Crucial Tips
Profile of a PA Specializing in Cardiac Electrophysiology
Thank you for reading AAPA's News Central
You have 2 articles left this month. Create a free account to read more stories, or become a member for more access to exclusive benefits! Already have an account? Log in.