Day in the Life of a Texas Children's Hospital Pediatric Surgical PA Fellow
Fellowship Allows for Rotating Through Multiple Subspecialties of Surgery
April 2, 2020
By Devon Gersh, PA-C
The Pediatric Surgery Physician Assistant Fellowship at Texas Children's Hospital is one of a kind. It was the first program to focus entirely on pediatric surgical subspecialty care and continues to be one of few post-graduate fellowships in the country. One of the valuable components of this fellowship is that it allows certified PAs to gain exposure to all aspects of the surgical process – pre-operative, perioperative, and postoperative – as well as clinic and inpatient medicine. We gain vital knowledge, experience, and expertise in all of these areas.
Throughout this rigorous 12-month program, fellows get the opportunity to rotate through multiple subspecialties of surgery including general surgery, urology, plastics, orthopedics, ENT, congenital heart surgery, transplant, trauma, neurosurgery, ophthalmology, and hand surgery. If you have a specific interest, you can likely find it at Texas Children's Hospital.
This year, the fellowship offered a unique opportunity. The Department of Surgery Advanced Practice Providers (APPs) developed a new branch of their existing fellowship in which one fellow would be based at Texas Children's community hospital in The Woodlands, Texas, about 45 minutes from the Texas Medical Center. This excited me for two reasons: I grew up in a smaller community outside of Los Angeles so the idea of being in a community setting outside of a big city was appealing to me; and I am drawn to any opportunity to trail blaze. I applied, flew to Texas to shadow and meet the current fellows, interviewed multiple times and was offered the position of Pediatric Surgery Community Fellow. Overall, we have eight fellows in the program – six who are based in at the Texas Medical Center, one community fellow and one orthopedic fellow. In addition to our clinical responsibilities, we meet weekly for lectures, simulations, cadaver labs, and various workshops on important skills such as suturing, casting, splinting, and ultrasound techniques.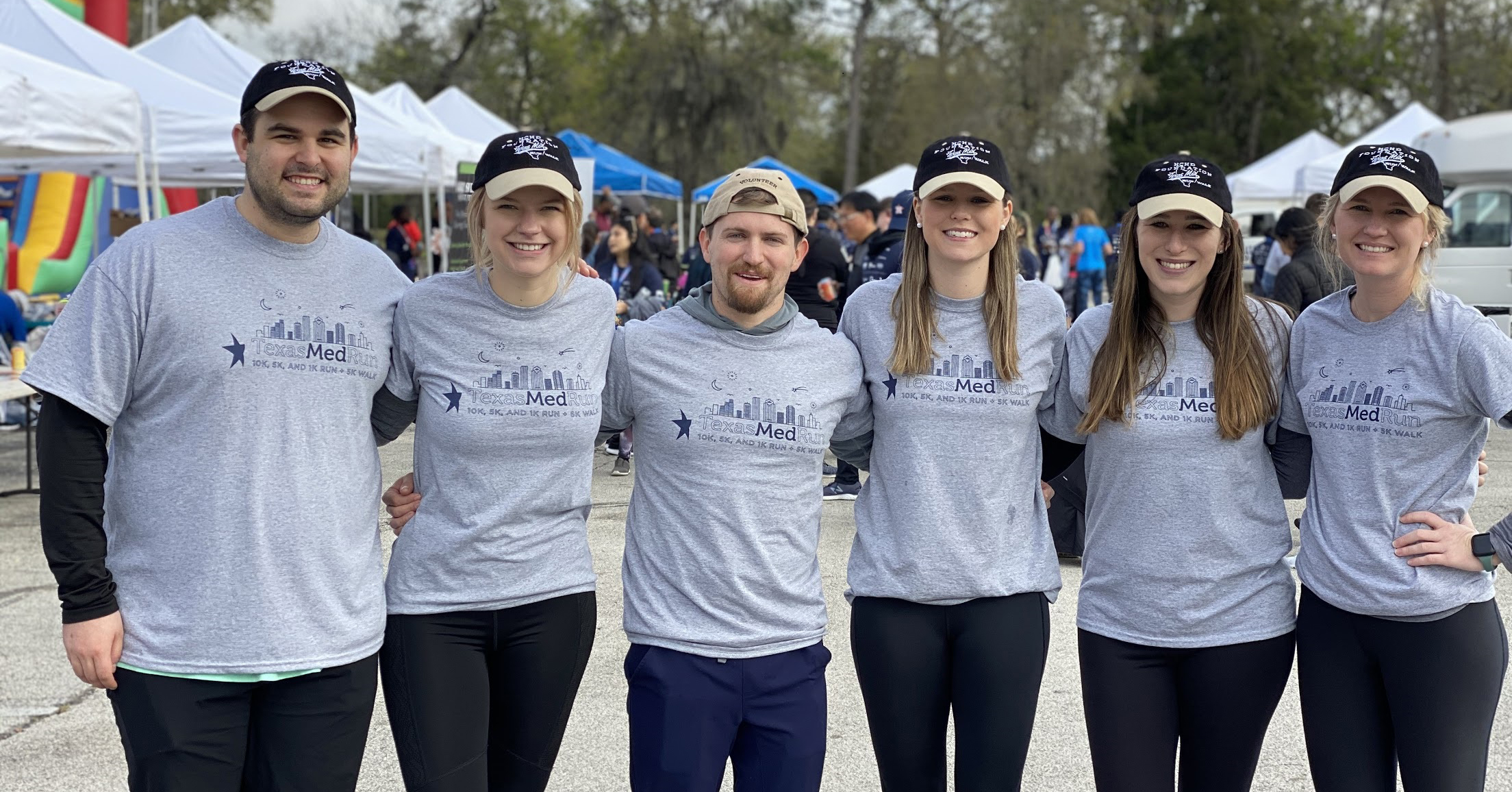 Experiences I have gained as the community fellow and opportunities I have encountered are invaluable. APP's are highly utilized at Texas Children's Hospital – The Woodlands as many of the learners – medical students, residents, and MD fellows – spend most of their time learning at the Texas Medical Center. This translates into many opportunities for hands-on experience and getting to know co-workers on a deeper level. I have ample opportunities to first assist in the OR, participate in procedures on the floor and in the Emergency Department (ED), join multidisciplinary teams on challenging consults, and involve myself in patients' continuity of care throughout their time at the hospital.
I am currently rotating on general surgery, which means many laparoscopic cases – a newly acquired and challenging skill for me.  Let me take you on a journey through a day in the life of a pediatric surgery fellow:
7:00 a.m. – Grand Rounds
Every week, the department of surgery attends grand rounds. Grand rounds consists of a CME-approved activity on an interesting and pertinent topic from a world-renowned expert on that subject. This week's lecture is on maternal fetal medicine – which definitely sparks my interest. Watching videos of surgery being done on a fetus in the womb is incredible.
8:00 a.m. – Morning Inpatient Rounds
Once grand rounds are over, I join the surgeon of the day and the surgical hospitalist PAs on morning rounds. We visit the NICU, PICU, and Acute Care floors to round on all patients admitted to general surgery. We also consent patients who will be having surgery that day, complete physical exams, and discuss treatment plans with the family.
9:30 a.m.- OR Cases Start
Today we have two inguinal hernia repairs, a cholecystectomy, and an open partial colectomy. This gives me a great opportunity to first assist. The best part is that I am paired with a seasoned PA who helps guide me through the procedure and sets me up for success. The partial colectomy is a two-attending case that I also get to scrub in and assist on. We remove the enlarged portion of the patient's colon and perform a primary anastomosis. Throughout the day, I get to work on skills such as prepping the patient, maneuvering the camera to guide the surgeon, and suturing. The patients range from infants to teenagers. Working with children of all ages is one of my favorite parts of general surgery. OR cases will account for a majority of my day today. I get to work with multiple surgeons on each rotation which allows me to experience different styles of operating. Every provider is passionate about their specialty and excited to share what they have learned from their experiences. The clinical pearls, feedback, and advice are abundant!
4:00 p.m. – OR Cases Finished, Floor Time
Once finished in the OR, I join the PA and NP surgical hospitalists on the floor. I jump in on afternoon rounds and help with any procedures, consults, and post-op checks that need to be done. I often see the same patients on the floor whom I have been with in the OR, and possibly even saw in the clinic for their initial consultation. For many patients and families, this is a very frightening time in their life. Following them throughout their time here provides me with special insight into the overall experience. I likely would not get that opportunity without the fellowship.
4:30 p.m. – Emergency Department Consult
We are called down to the Emergency Department to complete a consult on a patient with a shoulder laceration after falling into a glass window. We palpate the laceration and attempt to feel the foreign body. This will help determine if the glass is superficial enough to remove in the ED or if the patient must be taken to the OR for removal. We are unable to palpate the shard of glass and send the patient for an X-ray in order to confirm the presence of the foreign body and determine its depth. The imaging indeed shows a sharp object wedged deep into the patient's shoulder. We discuss the case with the attending surgeon, who agrees that this foreign body would best be removed in the OR under anesthesia. We explain the plan to the patient and family, obtain consent, and post the case to the OR. This is a chance for me to work on my ability to convey complicated medical and surgical terminology in a manner that a pediatric patient can appreciate, in order to provide optimal education to patients and families.
5:30 p.m. – Back to the OR
A patient has arrived to the ED with acute appendicitis and is posted to the OR for a laparoscopic appendectomy. I review the chart and imaging and scrub in for the surgery. The patient has perforated appendicitis and must be admitted for IV antibiotics. Once the case is complete, I bring the patient to the PACU and write the admission orders. I will head back to the floor to communicate this admission to the PA who is on night shift.
7:00 p.m. – Sign Out
I join the APPs in their evening sign-out. We discuss every patient who is currently admitted, possible consults that may arise, and any patient that we are keeping on our radar. Communication is key during handoffs to ensure proper care is administered and nothing is overlooked. Now it is time for me to go home!
I end my night by checking in with the other fellows. We all have a unique bond because not many other people understand the intensity of this program. I love hearing about the medically complex cases they are involved in. Claire is rotating in urology and got to assist on a hypospadias repair; Erin is in congenital heart surgery and just finished an organ procurement; Kasey assisted on a pyloromyotomy; and Clare's favorite case this week was a thyroglossal duct cyst removal in ENT. All so incredible! Overall, this comprehensive program provides necessary experience in a very specialized field. I am grateful to be a part of this program and am beyond confident that I made the right decision by embarking on this journey.
Special Postscript on COVID-19 Response: It is an unprecedented time to be a Pediatric Surgery Physician Assistant Fellow at Texas Children's Hospital. With the rapidly evolving COVID-19 pandemic, the fellows are utilized in multiple capacities throughout the institution: in addition to our clinical duties, we are contributing wherever we can on the front lines–testing patients and employees, helping triage individuals with symptoms, and screening patients and essential employees upon their entrance into the buildings. Like many hospitals around the nation, elective cases are being rescheduled, however we are making the most of our skill sets as we continue to provide care for inpatients and have begun completing clinic appointments via telemedicine.  Although there are many changes that have occurred since the beginning of the coronavirus pandemic, we continue to gain valuable knowledge and experience. I am prouder than ever to be a member of the cohesive team at Texas Children's Hospital as we all fight to serve our patients and the community.
You May Also Like
A Day in the Life: How PAs Practice
Contact Devon Gersh, PA-C, at [email protected].
Thank you for reading AAPA's News Central
You have 2 articles left this month. Create a free account to read more stories, or become a member for more access to exclusive benefits! Already have an account? Log in.