A Career in Orthopaedics: Why I Love the Specialty
Almas Abbas, PA-C, Shares Details of Her Work Week
February 12, 2020
By Almas Abbas, PA-C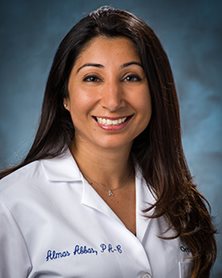 As someone who grew up playing sports, the inevitable injuries gave me an early interest in both how the body works and how best to treat myself so I could get back on the field. This interest stayed with me through college and landed me in a clinical research job at the University of North Carolina Department of Orthopaedics. An orthopaedic resident at that time directed me into the PA world by telling me that a PA who worked with the chair of the department had the best gig around. I began PA school at Yale University in 2003, and my rotations in sports medicine and general orthopaedics only cemented my love for orthopaedics. I have been practicing as a PA in orthopaedics for the past 14 years and have never looked back.
REGISTER FOR 2020 MUSCULOSKELETAL GALAXY
My current practice, OrthoVirginia, is the largest private orthopaedic provider in Virginia. We have locations all over the state with approximately 70 PAs. Orthopaedics is one of the most popular specialties for PAs – with good reason! One of the best things about being a PA in orthopaedics is that there is so much variation in what your job could entail. I have worked for hospital-owned, military, and private practices, and operated out of both hospital operating rooms and ambulatory surgery centers. My routine includes a rewarding mix of inpatient and outpatient clinics, and surgery. Even at OrthoVirginia, PAs fill a variety of different roles. My location in Arlington, Virginia, uses a team-based approach. I work with a great group of PAs, and we work together to make sure all patients are seen, surgeries are covered, and messages get answered expediently. I often work with several surgeons in a week, which means that I may be doing arthroscopies one day and total joint replacements the next. We see a wide range of patients, and we try to see patients whenever there is availability.
I love working in orthopaedics because no week is exactly like the next, but here is what a typical week looks like for me:
Monday
In the morning, I round on inpatients in the hospital from the weekend. This could include an elective patient from Friday who may have needed a few extra days, but mainly I see consults and traumas that came in over the weekend. After rounding and discharging patients, I will return patient phone calls, refill prescriptions, and catch up on paperwork at the office. On days that I round I am responsible for all of the messages, but my fantastic colleagues help me out as their schedules allow. I reciprocate on other days when I am available. In the afternoon, I see patients in the office, which includes new patients, follow-ups, post-ops, and injections (my personal favorite).
[Join us for 2020's Musculoskeletal Galaxy conference]
Tuesday
I assist one of our sports medicine surgeons in the operating room all day. He specializes in shoulders and knees, so the day may include rotator cuff repairs, ACL reconstructions, and total shoulder replacements. Our day starts at 7 a.m., when I meet with our first patient and take care of pre- and post-operative paperwork to include a history and physical exam (H&P), post-op medications, and discharge instructions. Our patient may receive regional anesthesia, and then we head to the operating room. There, I get the patient positioned correctly for surgery, place a tourniquet if needed, and do any preop injections of local anesthesia. Once the patient has been prepped and draped, we begin the case. I assist the surgeon with positioning, retraction, operating the arthroscopic camera, and drilling/placing anchors. At times, I also may be inserting cannulas or using a grasper to pull sutures. Additionally, I am responsible for the graft preparations for ligament reconstruction (most commonly ACLs), which we usually harvest from the patient's own hamstring or patellar tendons. Once the surgery has been completed, I help close the wounds and apply dressings and any slings, ice units, or braces as needed. Then, I assist with transporting the patient to the recovery room (PACU), and the surgeon speaks with the family. We do between four to seven cases a day, depending on the complexity, with our day ending anywhere between 3 and 6 p.m.
Thursday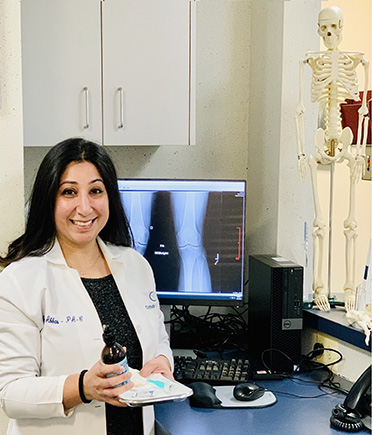 I am with one of my general orthopaedic surgeons in the operating room most Thursdays. We usually do one or two total joint replacements at the beginning of the day and end the day with other types of cases. They could include carpal tunnel releases, ankle fractures, quadriceps repairs, and routine knee and shoulder arthroscopies. Thursday also starts at 7 a.m., when I see our patient in the holding area as they are usually getting a spinal block, a type of regional anesthesia. Prior to going to the operating room, I take care of the H&P and admission orders. Assisting on knee and hip replacements is much more hands-on than arthroscopies. I help by holding and positioning the leg, retracting soft tissue and bone, and placing cutting guides and pins. I may use a saw, drill, or cautery. Closures for these cases require several layers, which the surgeon and I complete together. When I am done early and between cases, I help with messages in the office, similarly to how my colleagues assist me on Mondays.
[Do you see musculoskeletal conditions in your daily practice?]
Having worked in orthopaedics my entire career (and with this practice for 11 years), I can safely say that this is a wonderful specialty. There is a beauty that comes from being in the operating room with a surgeon you have worked with for a while. It is like a dance, where each person knows what the other is about to do and is ready with the next instrument or piece of equipment without needing to ask. Despite this being a surgical specialty, I have also developed wonderful relationships with some of the long-term patients I have taken care of over the years. Working at OrthoVirginia has allowed me to help take care of athletes at all levels of experience and across many different sports: NFL players, D.C. United and U.S. National Team soccer players, Washington Ballet and Cirque du Soleil dancers, college athletes, and, of course, youth and adult-league participants. I was recently even able to go part-time after having my daughter, which is a great benefit. The flexibility you can find within this specialty means any PA could find something that works for them.
If you are new to orthopaedics, or if you are a family practice, emergency medicine, or urgent care provider who sees musculoskeletal conditions in your daily practice, consider attending the 2020 Musculoskeletal Galaxy conference, brought to you by AAPA and the American Academy of Orthopaedic Surgeons, which will be held in Atlanta from June 3 – 7. Faculty will discuss topics across orthopaedic specialties, including the most common conditions of the spine, shoulder, elbow, wrist, hand, hip, knee, ankle and foot. The conference is full of interactive sessions, and you'll have the chance to meet and network with some of your PA and NP colleagues. There's plenty to do and see in Atlanta, so what are you waiting for?!
Almas Abbas, PA-C, currently practices at OrthoVirginia in Arlington, Virginia. She can be reached at [email protected].
You May Also Like
2020 Musculoskeletal Galaxy
Daniel Acevedo: A Week in the Life of a PA in Orthopaedics
Travis Randolph: A Day in the Life of a PA in Orthopaedics
A Day in the Life: How PAs Practice
Thank you for reading AAPA's News Central
You have 2 articles left this month. Create a free account to read more stories, or become a member for more access to exclusive benefits! Already have an account? Log in.