PA in Critical Care Shares 4 Crucial Tips
Clinical and Professional Lessons Learned
January 8, 2020
By Erin Stutz, PA-C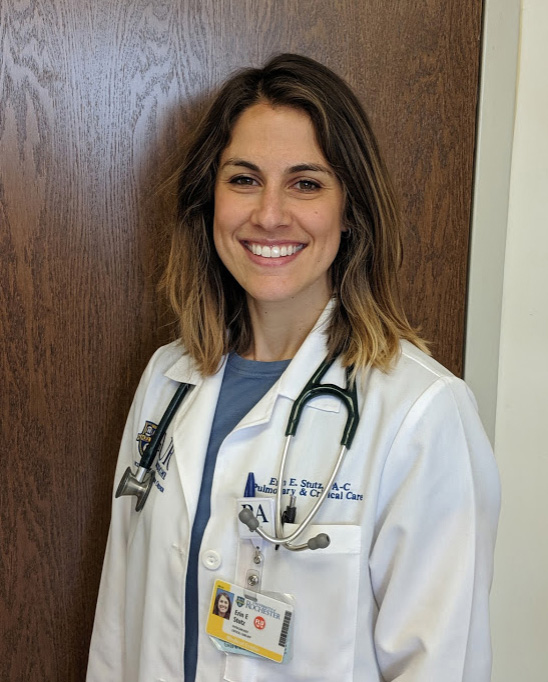 I am a PA in critical care and I currently work in an academic medical center in upstate New York. But my career began in hospital medicine, where I took care of patients on medical floors as well as step-down units. When I was a PA in hospital medicine, I can remember the sense of urgency and anticipation I felt when I made calls to other healthcare providers in critical care for consultations and assistance. I always tried to be prepared – I knew a lot of questions were coming! I wanted to come across as competent and professional. As the years went on, I established a rapport with the providers in critical care, and I found mentors among them who ultimately inspired me to change specialties and pursue a career in critical care.
[A Day in the Life of a PA in a Medical ICU]
With my experience in both hospital medicine and critical care, here are my top four tips for any PA who is caring for a critically ill patient.
Identify the problem at hand
When I have ample time to evaluate a patient, I want to know the caveats in their clinical history and the details surrounding the current complaint, so I can formulate an educated and thorough differential. Ideally, I like to do this in the same step-wise manner, taking time to look through the patient's record before I even meet with them. In the critical care unit, unfortunately, we don't always have the time to learn everything there is to know about a patient before we need to treat an acute event. When a patient is decompensating, there often isn't enough time to learn all the details and it becomes necessary to identify the problem at hand so we can intervene. For example, if the patient is hypotensive, it becomes necessary to treat the hypotension, and while you are doing so, start formulating the factors contributing to their hypotension. If a patient is obtunded, start with a neurologic exam while asking clarifying questions and ordering an arterial blood gas. Eventually, pulling relevant details from a lot of information will become second nature, and forming a differential, as pivotal as it is, will happen as you start treating the patient. Remember that physiologic stabilization and resuscitation can precede a definitive diagnosis and treatment of the underlying cause.
Prioritize perfusion
One of the issues we encounter frequently in the ICU surround perfusion. Hypoperfusion causes tissue damage by inducing ischemia from lack of sufficient oxygen delivery to tissues. One of the most common reasons for this is shock. Differentiating between the various forms of shock can sometimes be distinguished with an exam. Early recognition of this is key to good outcomes, as, left untreated, the patient is at risk for deterioration. The presenting signs and symptoms can be widely variable, but most commonly shock is manifested on physical exam by altered mental status, cold and clammy skin, mottling of the extremities, and decreased urinary output. I find one of the most helpful approaches to this is to start questioning whether this is a pump issue (cardiac-related), a tank issue (volume-related), or a vessel-related issue (vasodilation). Part of the recommended work-up is to obtain a serum lactate level, which would be high in a patient who has poor perfusion.
Evaluate for sepsis
Another frequently occurring problem in the ICU is sepsis. Patients with sepsis are at high risk for the complications stemming from hypoperfusion if sepsis is not recognized, or if there is a delay in restoring tissue perfusion and starting appropriate antibiotic therapy. The goal for initiating the following is within one hour of making a diagnosis of sepsis or septic shock: obtaining a serum lactate, initiating intravenous fluids at a goal of 30mL/kg, appropriate cultures, and starting broad-spectrum antibiotics.  When a provider has a patient that meets the criteria for sepsis, the above-stated interventions should be started immediately to improve mortality. At our institution, a sepsis team is alerted when a patient meets certain criteria for sepsis. A clinical pharmacist goes to the alert as well, and makes recommendations for initial empiric antibiotic dosing, based on the patient's risk factors and prior culture data. Repeating a serum lactate level within two hours after IVF have been administered is necessary. Rising lactate levels despite therapy are concerning for ongoing end-organ damage.
[Access over 27 AAPA Category 1 CME credits from 2019's Adult Hospital Medicine Boot Camp on Demand]
When choosing NIPPV, do so quickly, and call the ICU!
Acute respiratory failure is another frequently occurring problem in the ICU. Oftentimes, patients will have been started on non-invasive positive pressure ventilation (NIPPV), i.e. BiPAP, prior to the ICU getting involved. Patients with the inability to manage secretions, vomiting, and who are obtunded should not be placed on BiPAP. Other absolute contraindications include patients with significant agitation, shock, or severe cardiovascular instability and facial lesions (relative contraindications are not mentioned in this brief article). If a patient is being initiated on BiPAP, I would advocate that a call to the ICU be made at the time of initiation. The critical care team can help determine how long the trial of NIPPV should be before deciding to intubate or continue NIPPV. Arterial blood gases at the time of initiating BiPAP, or with any clinical change, are helpful for determining the cause. As with any acute change, confirmation of the patient's advanced directive wishes, should be confirmed and clarified.
Besides the clinical tips above, I encourage all PAs to pursue mentorship. In my estimation, the most promising characteristic among new providers is how willing they are to ask questions. We all went into healthcare knowing we would be learning and developing new skills throughout our careers. Competency comes as we gain knowledge, have a willingness to learn, let experience happen and find great teachers and mentors who motivate and equip us to succeed. Find those people, tell them you appreciate learning from them, and they will be all the more excited to teach you.
Expand Your PA Knowledge
I'm always trying to learn more, and I highly recommend the AAPA/Society of Hospital Medicine Adult Hospital Medicine Boot Camp. This year, it's in Phoenix, Arizona from Sept. 12-16, and the topics are relevant and the content exceptional. The lectures are not only on foundational medical topics, but they are coupled with evidence-based medicine updates and clinical pearls that pertain to practice pitfalls. The speakers are experienced, skilled, and engaging, and they want to make it an outstanding experience for attendees. There are traditional lectures, but also breakout sessions, where attendees can learn in an interactive classroom setting and have the opportunity to ask questions and contribute. I always look forward to attending this conference for the clinical knowledge I gain, and the many networking opportunities that arise as well.
You May Also Like
A Day in the Life of a PA in a Medical ICU
Boot Camp on Demand 2019
AAPA Conference on Demand
Mentor Match: 5 Tips You Should Know
Erin Stutz, PA-C, works in the pulmonary critical care department at the University of Rochester Medical Center in Rochester, New York. She can be reached at [email protected].
Thank you for reading AAPA's News Central
You have 2 articles left this month. Create a free account to read more stories, or become a member for more access to exclusive benefits! Already have an account? Log in.