What to Expect This Year: New AAPA President Outlines Priorities
OTP, Constituent Organizations, Telemedicine, Family Practice and Advocacy Top List
July 1, 2019
AAPA recently had the opportunity to interview new AAPA President Dave Mittman about the coming year. Here are his thoughts about what's ahead for the organization and profession.
Q. As you begin your year as AAPA President, what are you most excited about?
A. Building on our positive momentum, we have much to be excited about. We will support states going for Optimal Team Practice (OTP). We will be hearing about and studying how to implement a new title. Given the chance, we should get more traction on a direct reimbursement bill in Congress. And I will appoint three ad hoc committees. One will look at virtual health care/telemedicine and our place in it; another will study how to increase our future in primary care; and a third committee will be tasked with moving us forward in the field of psychiatry/mental health. Also, we hope to hold meetings with medical, physician and consumer groups like the American Association of Nurse Practitioners (AANP) and AARP.
Q. What kind of progress do you hope we can make on OTP at the state level?
A. We need to look at OTP from where each state is currently. I believe that every state should be planning for OTP legislation. For some, it might be a few years away and for others, possibly this year. We need to explain to our members that OTP is about what every other profession has – acknowledgement of our responsibility for the care we provide and regulation of our own profession. We need to remove barriers that hinder our ability to provide care to our patients. We should also meet with physician and advance practice registered nurse (APRN) stakeholders in our states to better understand each other, talk about what we have in common, and look at the areas in which we can work together.
Q. What is the best way to educate payers and insurers about the disparities that PAs experience in direct payment and transparency in billing?
A. Right now, PAs are the only health profession authorized to bill Medicare, but unable to receive reimbursement directly. This restriction can limit PA employability with staffing companies and certain group medical practices. There is currently direct pay legislation pending in Congress and we are hopeful we can see some movement on this bill this year.
We're also working for improved transparency for PAs and patients. For example, in certain situations under Medicare PAs have to bill their services under the name of the physician. Medicare can't tell what percentage of care is delivered by PAs versus physicians. We believe it's very important for patients and the public to know who is doing what.
Q. Regarding the Title Change Investigation, why do you think this project is so important right now? How will WPP do its work in the coming year to come up with the branding strategy and possible titles?
A. In my opinion, our title has never represented who we are and what we do, and the PA title is confusing to those we serve. I'm not alone in this opinion. According to research conducted by WPP, the agency selected to lead the Title Change Investigation, 90% of PA respondents cite a disconnect between our official title and our role in healthcare. After 51 years, we have been unable to brand ourselves as many still think we are medical assistants. In the next phase of this project, WPP will leverage the qualitative and quantitative research learnings to develop a strategic foundation for positioning the PA brand and inform title development. There will also be an evaluation of the business and legislative impact, as well as the costs associated with a potential title change. This and other information will be shared at the HOD meeting in May 2020, so that the policy-making body of AAPA can make an informed decision about the future title of physician assistants.
Q. What impact do you think telemedicine, or virtual health, has now and will have on the PA profession?
A. Virtual health will be a major way to deliver care in the future. We have to be in on the ground floor, not figuring it out after we are left out of it. We must establish a roadmap and advocate for ourselves. The ad hoc committee will forge a path for us in this new and exciting area.
Q. AAPA is doing a lot of work in mental health; why do you feel it's important to build on that?
A. Mental health is an area of need for our patients that PAs understand well by virtue of our broad medical education. We need to become leaders in this area and work together with nursing, social work, and medicine. There are areas in America with few or no mental health professionals. PAs can make a real difference here.
Q. How do you envision helping our constituent organizations grow stronger and why is that important?
A. We can help our constituent organizations by supporting their efforts to build membership, member engagement, and communication. We are all in this together and AAPA has resources our chapters can use. We need strong, confident constituent organizations as that's where much of the groundwork is laid.
Q. Looking into the future of primary care, why do you feel it's important to recruit more PAs into the specialty?
A. My personal feeling is that the breadth of PAs' education is best served in primary care and family practice. Fewer physicians are entering this field. There is such a shortage that our talents could be significantly utilized here. In order to do that, we have to make primary care and family medicine attractive to early career PAs, and decrease the barriers to practice in these areas.
Q. You have been a PA for many years. Why do you think it is important to be involved today in advocacy efforts as a PA? Has this changed from 30 years ago?
A. More than ever, PAs need to see themselves as full clinicians. Years ago, it truly was about survival. We could have been eliminated as a profession in the early years. We are at a point in our professional existence where we know our education is sound and we have studies that show we are good at what we do. Barriers are stopping our ability to care for patients. We need to change and evolve in an ever-changing healthcare system.
Q. Many people may not be aware of your early efforts to establish PAs in New Jersey. Tell us about the March in Trenton. Why is it important today?
A. Although New Jersey had a PA program at Rutgers, the state actually outlawed PAs so it was hard to gain a normal foothold. As an officer in the New York State Society of PAs (NYSSPA), I went to New Jersey and watched as physicians and nurses marched and lobbied against PA practice. At the time, I served as Associate Publisher of PHYSICIAN ASSISTANT Journal, then the official journal of the AAPA, and I wrote an editorial asking every PA in the U.S. to meet me on the steps of the State House in Trenton. More than 500 PAs showed up with banners and flags, and we paraded and gave speeches. It was the first real social demonstration by PAs and we gained tons of press and significant recognition. A year later, legislation for PA practice was introduced. It is important because numbers and action work. A march has to be done for the right reasons, but it still works.
Q. You are a PA who transitioned from working in clinical areas to working in medical publishing and communications. What has the business world taught you that is helpful for PAs to understand?
A. The business world of publishing is wonderful. I fell into my job and selling PAs was something I loved. As I grew in my position and learned medical publishing, I saw that people who were smart and worked hard were usually recognized financially and with promotions. If you were excellent at what you did, people would offer you equity or partnership as they did not want to lose someone good. Shockingly, I realized that did not happen in medicine – at least not with PAs. Teams were structured as you believed in each other and were even willing to start new businesses together when you felt you would have a real chance at success. Again, this was something I did not see in medicine. In fact, there are still laws today that prohibit PAs and NPs being offered partnerships in medical corporations. Business taught me we were looking at our worth the wrong way at times.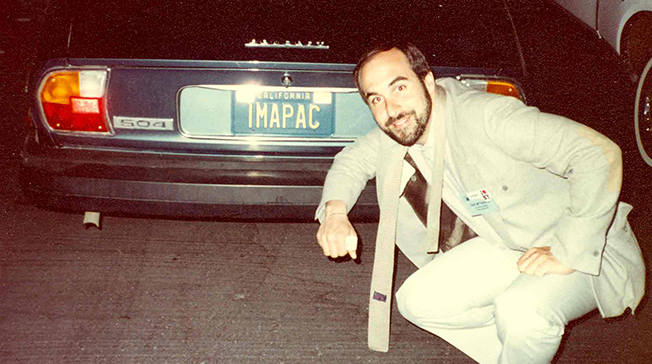 Q. You often characterize PAs as part of a family. Can you tell us more about that perspective? 
A. When I graduated there were few PAs. When we went to a conference, most of us became fast friends. If you feel PAs are misunderstood now, just imagine 1975, 1977, or 1980. As a senior student, my class helped send me and another PA to the 1975 AAPA conference. That's what family does. Many of us who met at conferences either on the state or national level got to be pretty close. We shared best practices and information by phone or letters, joined each other's state organizations, and pulled for each other. Getting to know other PAs, I gained life-long, wonderful friends whom I rely on and love very much. I know things are different today, but I still feel we are all family.
Q. Is there anything further you would like PAs to know about what you'd like to accomplish on behalf of the profession?
A. Yes, two things. I'd like to leave the profession in a secure, well-understood place and I cannot do it without your help. It's time for re-commitment by each and every one of you, including students, early career, mid-career, or old graduates like me. We are family, and our time is here. Our profession needs each of us more than ever. C'mon in. The water might be a bit cold but it's invigorating. I promise.
Read More
Mittman Enhances PA Profession Through Leadership and Advocacy
To contact President Mittman with any questions or concerns, email [email protected]
Thank you for reading AAPA's News Central
You have 2 articles left this month. Create a free account to read more stories, or become a member for more access to exclusive benefits! Already have an account? Log in.