PA Students in the Mile-High City
Student Highlights from AAPA 2019
June 28, 2019
By Caitlin Harrison 
At AAPA 2019, students from all over the country met in Denver, Colorado to share ideas, network, and move the profession forward. Find out about all the student events and the decisions that affect all PA students.
Assembly of Representatives (AOR) Meeting
AOR Representatives from more than 160 PA programs met on May 19 in Denver to discuss and debate AOR resolutions, elect new Student Academy Board members, and to hear from PA leaders during the Leadership Panel. The AOR debated 11 resolutions and passed nine, which will be addressed by the 2019-2020 Student Academy Board and Student Board Committees. Director of Outreach Kaila Gaughan also delivered the 2019 AOR Report to the AOR representatives, which summarized Student Academy Board and Student Board Committee accomplishments during the 2018-2019 leadership year.
[AAPA 2020: Make your breakthrough in Music City.]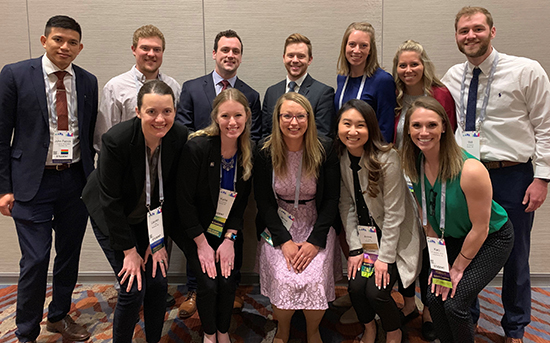 Student Board of Directors Election Results
29 students ran for 10 positions on the Student Academy Board. AOR Representatives elected these 10 leaders to the 2019-2020 Student Academy Board of Directors during the AOR meeting.
President-elect: Katie Ganser, University of Colorado
Chief Delegate: Kaci Hardsock, Monmouth University
Director of Outreach: Josh Loew, St. Catherine University
Director of Student Communications: Annie Yang, University of Southern California
Northeast Regional Director: Ashton Ogle, Sacred Heart University
Mid-Atlantic Regional Director: Jacob Gooden, Thomas Jefferson University-East Falls
Southeast Regional Director: Will Kabrich, Wake Forest University
North Central Regional Director: Katie Lukovich, University of Detroit Mercy
South Central Regional Director: John Patrick Cuenca, University of Texas Medical Branch
West Regional Director: Lauren Trew, University of Washington MEDEX Spokane
Current President-elect Cooper Couch will transition to the position of President beginning July 1, and the PA Foundation Student Representative Jamie Shelstad will continue her term into 2020. See the results of all the AAPA Elections here.
[PA Students: Experts Say Be Prepared to Treat Substance Use Disorder.]
House of Delegates (HOD) Meeting
PA students had a large presence at the HOD meeting on May 18-20 in a variety of capacities. 27 PA students were credentialed to the 18 Student Delegation seats at the HOD, making the student delegation the largest voting group in the House. Delegates worked diligently over the last year and authored two resolutions, both of which were adopted into AAPA policy and can be found here (2019-C-04 and 2019-C-05). Students also volunteered as tellers, scribes, and members of Reference Committees – all invaluable positions to ensure the HOD meeting ran smoothly. 
Yes, I Scan Student Ultrasound Competition and Workshop
The second Yes, I Scan competition and workshop promoted the importance of point-of-care ultrasound and gave participants hands-on experience. The New York Institute of Technology bested 35 other teams to win the Yes, I Scan title in Denver. In addition to the competition, students had the opportunity to learn by participating in ultrasound workshops and volunteering as model patients. 
2019 AAPA National Medical Challenge Bowl
The Student Academy National Medical Challenge Bowl is the hallmark quiz-bowl-style competition held during Conference. Congratulations to Penn State University for winning the 2019 Challenge Bowl! Charles R. Drew University and Rush University also competed in the final round, with the University of Alabama at Birmingham snagging the wild card spot. See the completed 2019 bracket and list of 104 participating teams here.
2019 Student Awards
Student Academy President Stephen Lewia, MPAM, PA-C announced the recipients of the 2019 Travel Grants during Challenge Bowl. Each year, AAPA funds travel grants to support PA students attending Conference and participating in the AOR and HOD meetings.
[A Primary Care PA Answers Your Most Pressing Questions.]
AOR Travel Grants recipients:
Matthew Robert Dorn – Campbell University
Kimberly Frank – Valparaiso University
Sarah Morton – Lenoir Rhyne University
Laura McKeown – Penn State University
Shannon O'Connell – Stony Brook University
Rachel Weitman – Towson University
 HOD Travel Grants recipients:
Brittany Dingler – Drexel University
Brendan Lucas – University of the Pacific
Christina Wojnarwsky – Shenandoah University
Two other student award recipients were recognized during General Session on May 18. One student society is recognized each year for its outstanding service to the profession. Submissions are evaluated on relevance to the profession, impact on community and/or individuals, and the uniqueness of each event. The 2019 Outstanding Student Society is Tufts University.
The PA Student of the Year Award honors one PA student who has demonstrated exemplary service and leadership as a PA student. The 2019 PA Student of the Year is Heidi Rossow from Jefferson College.
Whether you'll be a student or a practicing PA by next year, make plans now to attend AAPA 2020 in Nashville, Tennessee and be a part of the exciting experience!
Caitlin Harrison is AAPA's Manager, Student Academy, Volunteer Engagement & Governance. She can be reached at [email protected].
Additional Resources
AAPA 2020 in Nashville, Tennessee
Student Academy
Top 5 Most Popular CME from AAPA 2019
Thank you for reading AAPA's News Central
You have 2 articles left this month. Create a free account to read more stories, or become a member for more access to exclusive benefits! Already have an account? Log in.