A Day in the Life of a Critical Care Fellow at URMC
Fellowship Offers Six Rotations and Certifications for PA
May 23, 2019
By Glenna Regan, PA-C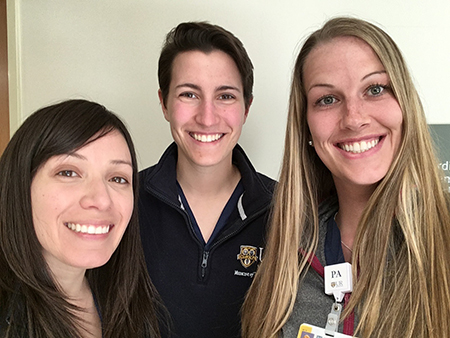 The Advanced Practice Provider (APP) Fellowship Program in Critical Care Medicine at the University of Rochester Medical Center (URMC) is a 12-month post-graduate specialty training program for PAs and NPs. The program is approximately 75 percent clinical and 25 percent didactic and includes side-by-side education with the URMC Critical Care Fellowship Program. The APP Fellowship includes a core program of critical care medicine and several specialty rotations. Critical Care rotations include experiences in the Cardiac ICU, Burn/Trauma ICU,  Surgical ICU, Neuromedicine ICU, Medical ICU, and a community hospital ICU.
Following graduation from Northeastern University Bouvé College of Health Sciences, I decided to join the APP Critical Care Fellowship Program at URMC for several reasons. Admittedly, when I started PA school I had been opposed to the idea of completing a fellowship. If PAs can practice without an additional year of formal training, why do it? However, my desire to work in a high acuity setting led me to critical care, a field with a rather steep learning curve for new graduates. I knew that I wanted to be comfortable making high stakes, evidence-based decisions quickly and confidently early on in my career, and it struck me that additional training in a fellowship would expedite that learning process.
Furthermore, I was particularly interested in the URMC fellowship because it provided the opportunity to work with a wide array of critical care specialists and to become certified in ACLS, ABLS, ATLS, ENLS, and FCCS. As a result, I'll be experienced and well-equipped to manage any critical illness, regardless of setting!
[A Week in the Life of a PA in Orthopaedics]
At URMC, I have received the breadth and depth of comprehensive training only possible in a post-graduate training program. I'm now a more confident and well-rounded clinician, and for this reason, I recommend all PA students consider a fellowship to hone their clinical skills and broaden their medical knowledge.
Here is an example of what a day is like for a PA Critical Care Fellow at URMC.
6:00 a.m. – Handoff 
The overnight team gives a report on the overnight updates for the unit. The incoming team, made up of APPs, residents, and medical students, divide up the list, and I sign on as the covering provider for three to four patients for the day. As the fellow, I get first dibs on the most interesting and most educational cases, which is great!
6:45 a.m. – Pre-rounding
Pre-rounding consists of performing physical exams and reviewing each patients' hemodynamics, recent labs, and imaging. I write a daily progress note with my own formulated plan for the patients, cleaning up their order sets and checking in with the nurses in the process. If family members are present, I give them updates, too. I love working independently during this time because it lets me test my own insight and instincts.
8:30 a.m. – Rounding 
Our attending physician, pharmacist, and social worker join us, and the team begins rounding. I present updates on my patients and fine-tune my plan with the team. I really enjoy the multidisciplinary approach on each patient and seeing what every member of the team brings to the table. I step aside to discuss a patient in renal failure with our consulting nephrologist, allowing me to pick her brain to advance my own understanding of the decision-making process.
[A Day in the Life of a Surgical Resident PA]
12:30 p.m. – Stroke Alert 
An overhead page announces an incoming stroke from our Mobile Stroke Unit –an elderly patient has left-sided weakness, and responders pushed tPA prior to arrival. Imaging on arrival shows patent vasculature and no hemorrhage, so the patient is prepped to come up to the ICU for monitoring. I insert an arterial line in the ED to keep a close eye on the patient's blood pressure and write an H&P. Every provider offers me their own procedural tips, and from them I get to craft the style that works best for me!
1:30 p.m. – Run the List 
The team meets in the ICU workroom and runs the list, following up on tests we had ordered in the morning and implementing recommendations from consults. This gives me some time to review a high-yield topic with my preceptor – one-on-one teaching time that is commonplace in the fellowship!
3:00 p.m. – Fellowship Conference
All three of the fellows present cases to our fellowship staff with other critical care APPs in attendance. My case presentation pertains to targeted temperature management post-cardiac arrest. Over the course of the year, I've grown much more confident in my ability to do a literature review and present the data in a clear, succinct way. Afterward, an ICU pharmacist gives a talk on sedatives.
6:00 p.m. – Handoff 
It's time to give report to the incoming overnight team. We provide some anticipatory guidance – that septic patient's blood pressures have been labile, so he may require an additional vasopressor support. Now that handoff is complete, it's time to head home. I'll be back in the morning!
The APP Fellowship Program in Critical Care Medicine at URMC has made the transition into my career much smoother and less stressful, has provided me with a ton of educational resources, and has given me the unique opportunity to work in a multitude of settings. Though I'm excited to land full-time in one of the ICUs and finally end my extra year of clinical rotations, I'm so grateful for all that I've learned and highly recommend a fellowship to anyone who is interested!
More Resources
A Day in the Life of a Cardiology PA 
What It's Really Life to be a PA in Hospital Medicine
Glenna Regan, MPAS, PA-C, practices in critical care in Rochester, NY. Contact her at [email protected].
Thank you for reading AAPA's News Central
You have 2 articles left this month. Create a free account to read more stories, or become a member for more access to exclusive benefits! Already have an account? Log in.