A Day in the Life of a PA Surgical Resident
The Norwalk Hospital/Yale Edition
January 10, 2019
By Kimberly A. Mackey, MPAS, PA-C
Choosing to complete the Norwalk/Yale post-graduate residency program is by far the best thing I have done for my career. I was exposed to numerous surgical sub-specialties including trauma as well as having daily first-assistant opportunities in the operating room. The experience was unforgettable because of the mentoring, networking, and close friendships I gained.
Only a small percentage of PAs complete a post-graduate residency or fellowship. About seven percent of PAs1 plan to complete post-graduate training. Of the PAs who complete post-graduate training, 95 percent recommend it2. Thinking of pursuing post-graduate training? Here is a list of the programs recognized by the Association of Postgraduate PA Programs. The Norwalk/Yale residency class is made up of 10 to 12 PA surgical residents. The program is unique in that PAs are the sole surgical providers along with the surgeons.
Here is an example of what a day is like for a PA surgical resident at the Norwalk Hospital/ Yale Physician Assistant Surgical Residency, one of the oldest, PA-exclusive surgical residencies in the country.
6:30 a.m. – Resident Teaching
The day starts early for PA residents!
The PA residents and students are taught by our attending surgeons first thing each morning. Today we are in trauma simulation lab. The simulation lab is set up just like a trauma suite. We have a patient mannequin who even turns blue if he isn't oxygenated properly. We act as a team as if we are treating a real trauma patient.
These trauma simulations are modeled after real-life scenarios and are very helpful in preparing us for a trauma in the emergency room.
[What It's Really Like to be a PA in Hospital Medicine]
7:30 a.m.  – Operating Room 
After lecture, the residents are off to the operating room.
I am scheduled to first-assist on a minimally-invasive gall bladder removal or cholecystectomy. As first assistants, we use laparoscopic tools to help the surgeon safely remove the gall bladder. The case wraps up and I close the surgical incisions.
12:00 p.m.  – Trauma Alert 
"Beep, Beep!" My on-call PA resident pager goes off.
I am on call today which means I am responding to all trauma alerts from the emergency room. I head quickly to the emergency room trauma bay. Once I arrive, I find the on-call ER attending, staff PA, and trauma surgeon and we work as a team to manage the patient.
The patient has fallen two stories, suffering a significant head trauma. Our service admits the patient, so we can continue monitoring the patient.
3:00 p.m. – Inpatient Surgical Unit
I rejoin my surgical team. We go over the plans for each in-house patient. Together, we summarize any concerns we have and follow up on pending tests that were ordered in the morning. We then update our attendings.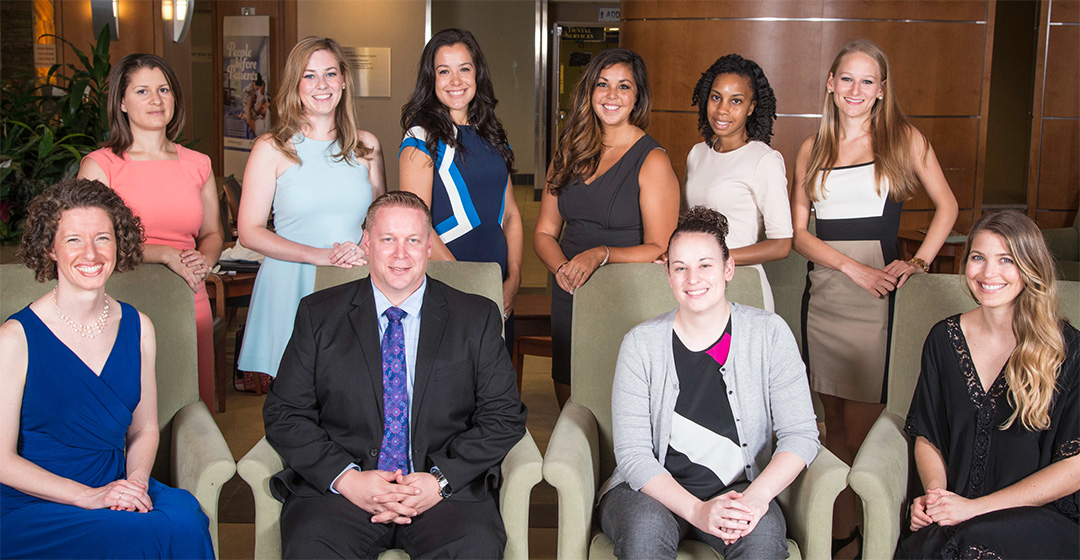 Communication is very important on our team. We communicate constantly with the PAs, the nurses, our patient, and our surgeons.
-05:00 p.m. – Sign Out 
Sign out is when the on-call PA resident is given a report on the patients whom they will be taking care of overnight. Since I am on call, all the other surgical teams — orthopeadic, neurosurgery, general surgery, colorectal, bariatric, urology, vascular, thoracic, and trauma services — sign their patients over to me for care.
Once a PA resident gives the report on their patients to the on-call PA, they can go home. I will be on call until 7:30 a.m. with a PA or medical student, staff PA member, and a trauma surgeon.
After sign out, I review the list of the in-house surgical patients and make a list of all pending items to follow up on.
[A Day in the Life of a PA in Orthopaedics]
6:30 p.m. – Trauma Alert
"Beep, beep!" My on-call PA resident pager goes off again for a trauma.
We arrive in the trauma bay and respond to a pediatric patient hit by a high-speed motor vehicle. The patient is critical, so our trauma team follows the patient to imaging. The decision is made that the patient needs to be life-flighted to a higher pediatric center of care.
11:00 p.m. – Emergency Room Admission 
The on-call surgeon calls me to evaluate a patient in the emergency room. A CT confirms appendicitis. I head to the emergency room to admit and prep the patient for emergency surgery.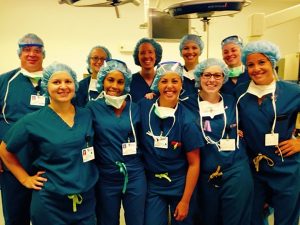 12:00 a.m. – Operating Room 
The pre-op work-up is completed and the patient is transferred to the operating room for an emergency minimally-invasive appendectomy. I assist in the operating room and the patient is successfully transferred to the floor.
As the on-call PA resident, we manage the surgical floor, traumas, and emergency admissions. We also cover the operating room after 11 p.m.
4:00 a.m. – Post-Op Check 
We like to check on our surgery patients four hours after surgery. I call the nurse to see how our appendectomy patient is doing. The patient is stable and is recovering well.
7:30 a.m.- Sign Out 
It is a new day and my 24-hour call shift is complete! It is time to pass the baton, the on-call PA resident pager, to another PA resident to take over 24-hour call.
My day ends as it started: I give the overnight report on the in-house surgical patients to each respective surgical team. Now, I'm off to sleep as I have the whole day to rest up and recharge.
Special thanks to all the Norwalk/Yale PA Surgical Residency faculty, surgeons, surgical PAs and nurses who contributed to our education.
More Resources
Association of Physician Assistants in Cardiothoracic and Vascular Surgery
Kimberly Mackey, MPAS, PA-C completed the Norwalk/Yale PA Surgical residency in 2016. She practices in cardiothoracic surgery in Atlanta, Georgia. She is the Communications Chair for the Association of Physician Assistants in Cardiothoracic and Vascular Surgery. Contact her at [email protected] or follow her on Twitter @kimmackeyPA or LinkedIn Kimberly Mackey.
References:
1 Fishfader, V., Henning, B., Knott, P. The Journal of Physician Assistant Education: Winter/Spring 2002 – Volume 13 – Issue 1. Post Graduate PA Program Listings. Accessed Dec. 17, 2018.
2 Will, KK; Williams, J., Hilton, G. Wilson, L. Geyer, H., Perceived efficacy and utility of postgraduate physician assistant training programs. JAAPA. 2016 Mar;29(3):46-8. doi: 10.1097/01.JAA.0000480569.39885.c8. Accessed Dec. 17, 2018.
Thank you for reading AAPA's News Central
You have 2 articles left this month. Create a free account to read more stories, or become a member for more access to exclusive benefits! Already have an account? Log in.