A Week in the Life of a PA in Orthopaedics
An Inside Look at One of the Most Popular Specialties for PAs
By Daniel Acevedo
April 5, 2019
I, like many other orthopaedic healthcare providers, was drawn to orthopaedics because of an athletic background and a musculoskeletal injury. Between the ages of 14 and 15, I suffered four patella dislocations due to high-impact sport. These dislocations finally culminated in a stabilization procedure. I was always deeply impressed by the care provided by every musculoskeletal provider – nurses, PAs, physicians, physical therapists. There was no doubt in my mind that I wanted to impact lives and give back to the community as a PA.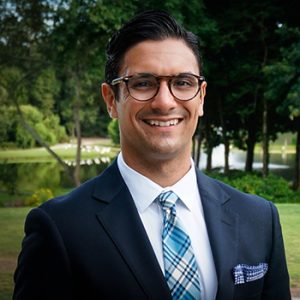 After undergrad, I immediately enrolled in a local college to complete my prerequisite science courses and began PA school in 2008. I graduated from the Pace University-Lenox Hill Hospital PA program in 2010 and began my career in orthopaedics.
[Register for the 2020 Musculoskeletal Galaxy.]
Orthopaedics is one of the most popular specialties for PAs. Almost 18,000 certified PAs practice surgical subspecialties including orthopaedics. PAs in orthopaedic surgery practice in all settings: hospitals, academic centers, private practice, and ambulatory surgery centers.  In my current role, I practice in various settings, depending on the day. Here's what a typical week for me looks like:
Monday, 6:50 a.m.
Once a week, my collaborating physician and I will have a 12-hour surgery block at our local hospital. We will perform between five and seven total joint arthroplasties, including total knee replacement, partial knee replacement, and total hip replacement. The day begins before 7:00 a.m. when we survey the operating room and make sure we have all the appropriate equipment and instrumentation for the upcoming cases. At 7:15 a.m., the first patient is transported into the room. I help transfer the patient onto the operating table and assist the nurses and anesthesiology team in preparing the patient for induction.
Once the patient is under anesthesia, we begin the surgical prep, which includes tourniquet and leg holder placement and positioning the lights for optimal surgical exposure. Over the next hour we will perform a total joint arthroplasty from incision to wound closure, place surgical dressings, wake the patient, and transport them safely to the post-anesthesia care unit (PACU). We will repeat this process four to six more times throughout the day. In between cases, I round on surgical patients from the weekend, check labs, change dressings, and dictate notes. Our last case usually ends between 5:00 p.m. and 6:00 p.m.
Tuesday and Friday, 7:00 a.m.
Once or twice a week, I perform orthopaedic hospital consultations at our local hospital. This can be quite busy – depending on the day – but is rewarding given the diversity of pathology. The most common surgical diagnoses that we encounter involve hip fractures. We tend to see one to three hip fractures per day, sometimes more. These may be intertrochanteric hip fractures requiring intramedullary nailing or femoral neck fractures needing arthroplasty or cannulated screws. Other common diagnoses include diabetic foot infections, radiating low back pain, joint effusions, and general orthopaedic trauma. In these cases, we will either recommend operative or conservative management. We routinely manage the non-operative treatment such as joint aspirations and injections, local bedside debridements, and fracture reduction and splinting. If the patient needs an operative treatment for their orthopaedic malady, we will assist the surgeon in the operating room. Common orthopaedic trauma cases that I assist with include hip hemiarthroplasty, open reduction and internal fixation of long bone and intra-articular fractures, irrigation and debridement of open fractures, and placement of external fixators for high-energy fractures, as well as the occasional fasciotomy for compartment syndrome.
[Learn critical orthopaedic topics from expert faculty at the 2020 Musculoskeletal Galaxy.]
For me, continuity of care is exceptionally satisfying. I love that I see a patient in the emergency department who has suffered an orthopaedic trauma, then shepherd them through the process of surgical management and postoperative care on the wards, and finally, see them back in the office. I am glad that, at each step of their journey, they are seeing a familiar face.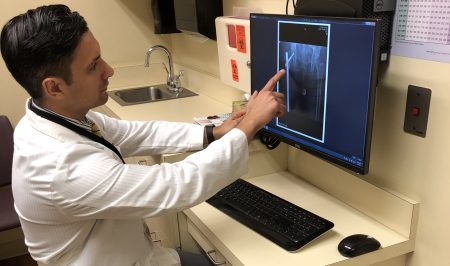 Wednesday, 9:00 a.m.
Every Wednesday, I am in clinic. I manage post-op patients and I run an osteoporotic hip fracture clinic.  Both patient populations require a certain skill set and must be addressed differently. For my post-op patients, I see anywhere between 10 and 15 patients on Wednesdays: total joint follow ups, those who have had arthroscopic surgery of the knee and shoulder, and occasionally patients who are urgently scheduled for suspected post-operative complications, such as infection or concerns of blood clots.
I've gained a lot of experience during my career; I've had to see hundreds of post-op patients to ascertain what is concerning or not. My experience also helps me when patients complain of calf pain after a knee or hip procedure. Complications are rare, but they do occur. Since I've been practicing orthopaedics for years now, I can act swiftly and methodically (ordering acute phase reactants, aspirating joints, ordering advanced imaging, or Doppler ultrasounds) and treat and manage any issues that may arise.
[Travis Randolph: A Day in the Life of a PA in Orthopaedics.]
The hip fracture clinic requires a completely different skill set.  Four years ago, I developed an interest in the management of osteoporotic hip fractures and have worked to increase my knowledge and clinical acumen in the treatment of this population. In 2016, I completed a fracture liaison service certificate program from the National Osteoporosis Foundation and completed my certified clinical densitometrist training from the International Society of Clinical Densitometry (ISCD).  Patients in the hip fracture clinic are usually two weeks post-op from hip fracture surgery and most are recovering at skilled nursing facilities. During today's clinic, I order x-rays, assess surgical wounds, and perform a thorough bone health wound assessment. I reiterate to the patients that their fractures are the result of osteoporosis, counsel them on fall prevention strategies, recommend empiric doses of vitamin D and calcium, and discuss pharmacologic treatments such as bisphosphonates or anabolic agents. I will also order DXA scans on these patients and refer them for treatment with medications, if appropriate and indicated.
Thursday, 7:00 a.m.
Every Thursday, my collaborating physician and I perform outpatient procedures at an ambulatory surgery center. We perform foot and ankle procedures such as bunion corrections, Achilles tendon repairs, rotator cuff repairs, ACL reconstructions, and minor fracture work. ACL reconstructions are particularly stimulating as I create the grafts from the hamstring tendon or the middle third of the patella tendon which are used as the autograft ligament. We have also performed over 200 total joint arthroplasties at the surgery center and we now routinely perform one or more per week.
It's a true team effort at the surgery center. It is very common that, after dressings are applied and patients are woken from anesthesia, I help turn over the rooms; I wipe down beds, mop the floors, and replace equipment as needed.  This helps keep the day on schedule and builds rapport with the team. These days are long and busy, but the team environment makes them enjoyable and less stressful.
Musculoskeletal Galaxy Conference
I've been a PA in orthopaedics for almost 10 years, and there's still more for me to learn. I spend countless hours before and after work and on weekends reviewing textbooks, articles, and watching lectures to improve my craft. I am motivated every day to improve my skills so I can better care for my patients.
Becoming a capable orthopaedic provider requires years of work and knowledge acquisition and I highly recommend CME courses. My favorite: Musculoskeletal Galaxy, an annual conference co-sponsored by AAPA and AAOS. It's a phenomenal resource for PAs – whether you're just starting out in orthopaedics, or you've been practicing in the specialty for years. The 2020 Musculoskeletal Galaxy topics are wide ranging: osteoarthritis, musculoskeletal imaging interpretation, common foot/ankle disorders, pediatric trauma, and sports medicine are all covered by expert faculty. The conference also features break-out sessions focusing on skills such as history and physical examination of the extremities, injection and aspirations, casting and splinting, and managing orthopedic trauma. I'll be in Atlanta in June, excited to meet and network with my fellow PAs in orthopaedics. Will you be there?
Daniel Acevedo is a PA in orthopaedics at OrthoVirginia in Lynchburg, Virginia. He will be speaking at the 2020 Musculoskeletal Galaxy and can be reached at [email protected].
Thank you for reading AAPA's News Central
You have 2 articles left this month. Create a free account to read more stories, or become a member for more access to exclusive benefits! Already have an account? Log in.