PA Like a Pro Webinar Series
Designed just for PA students and early career PAs, this webinar series is a quick and convenient way to get essential PA student information, tips, tricks, and advice. We're bringing you experts on everything from student loans and passing PANCE to getting hired and beating burnout.
Check out the topics, speakers, and descriptions below. Sign up to watch live or replay a past webinar on your own schedule!
USPHS SRCOSTEP: Why Every Student Needs to Know This Alphabet Soup
Date: January 29, 3 p.m. EST
Speakers: LTJG German S. Herrera, PA-C, LCDR Sherray Holland, PA-C, and LT Chelsea Makowicz, PA-C
Learn about the U.S. Public Health Service Commissioned Corps, one of the eight uniformed services. Then hear from a recent student and officer's experiences in the Senior Commissioned Officer Student Training and Extern Program (SRCOSTEP). Finally, learn how to apply for this elite paid internship for graduate students!
Study Less, Remember More
Date: August 20, 12 p.m. EST
Speaker: Ron Robertson, Co-Founder and CEO Picmonic
Are you stressed from struggling to retain the massive amount of information you're learning in PA school? Join Ron Robertson, Co-Founder and CEO of Picmonic, for a presentation and demo of this mnemonic study aid! Learn three techniques to boost test scores, how to efficiently prep for lectures, and how to maximize your study resources.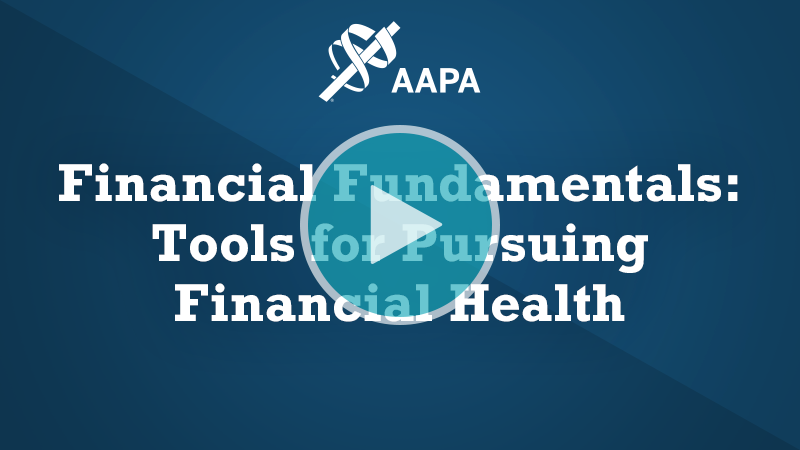 Financial Fundamentals: Tools for Pursuing Financial Health
Date: July 23, 1 p.m. EST
Speaker: Nicole Urbano, CFPTM, CRPCSM, Investment Analyst, Merrill Lynch Wealth Management
This session provides a basic overview of saving, debt management and use of credit. The presenter will offer insight, strategies and tools to help you accomplish your most important financial goals.
Protecting Your Assets and Your Career
Date: July 15, 3 p.m. EST
Speaker: Gary McCammon, President Professional Risk Advisor
Learn basic concepts of medical malpractice law, how they apply to PAs, and how you can transfer malpractice risk away from the PA's personal assets. Typically, this is through employer-provided malpractice insurance. But not all insurance is created equal; PAs should be aware of how their insurance works, especially when transitioning between jobs. After this session, participants should be able to: understand that PA practice and malpractice risk are necessarily intertwined; understand that PAs are personally liable to patients regardless of who provides malpractice insurance; know how employer-provided insurance varies from individually obtained insurance and the pros and cons of each; and what to "nail down" regarding malpractice insurance when changing jobs.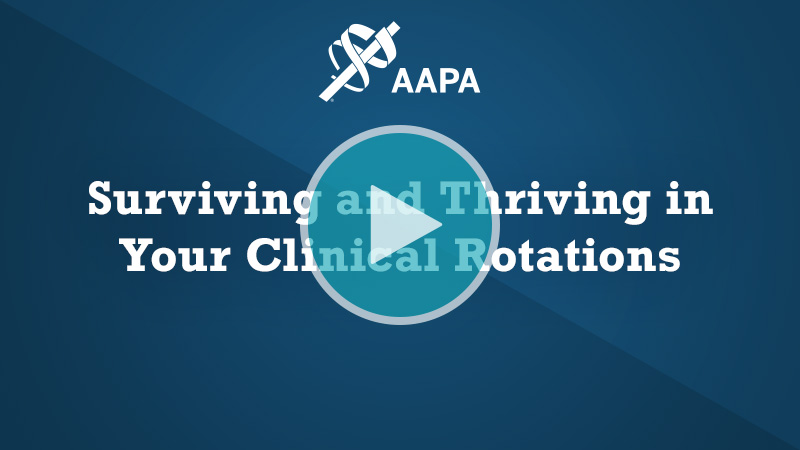 Surviving and Thriving in Your Clinical Rotations
Date: July 9, 1 p.m. EST
Speaker: Cynthia Booth Lord, MHS, PA-C, Associate Professor and PA Program Director at Case Western University School of Medicine
Lifelong learning is the ongoing, voluntary, and self-motivated pursuit of knowledge. It not only enhances personal development but also employability. Clinical rotations have a significant impact on a student's lifelong learning process so it is important to thrive, not just survive. Get an overview of helpful tips and pearls of wisdom for students entering the clinical phase of their education. Learn how to study during clinicals, how to elicit and act on feedback, and ultimately maximize the clinical experience.
Play WebinarDownload PresentationDownload PresentationDownload HandoutDownload Handout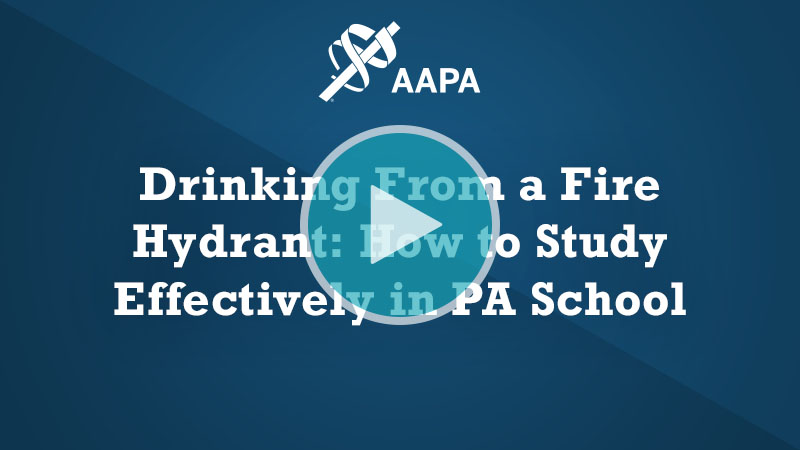 Drinking From a Fire Hydrant: How to Study Effectively in PA School
Date: June 30, 7:30 p.m. EST
Speaker: Savanna Perry, PA-C, a dermatology PA and the founder of The PA Platform
Everyone talks about how difficult PA school can be, but no one directly addresses how to study effectively. By focusing on the finish line from the very start, developing strong personalized study skills, and maintaining a willingness to adapt, students will learn how to feel confident on test day through both didactic and clinical years.
Missing Out Because You Aren't LinkedIn: What Every PA Student Should Know About This Powerful Platform
Date: June 25, 3-4 p.m. EST
Speaker: Krisi Gindlesperger, MPAS, PA-C, Vice President, National Director of Advanced Practice Providers, US Acute Care Solutions
Don't overlook the importance of a professional profile on LinkedIn while you are a PA student. This powerful tool can assist you in securing clinical rotations, help you polish your resume, search for jobs and connect you with thousands of potential colleagues across the country and around the world – all while you are worrying about passing the PANCE and getting your license. Krisi will share how recruiters, employers and PA leaders engage LinkedIn to meet their needs in the rapidly changing healthcare environment.
Beating Burnout and the Viability of Locum Tenens as a Solution
Date: June 18, 7 p.m. EST
Speaker: Thomas Massing, DMSc, MS, PA-C. FAPACVS CAQ Thoracic and Cardiovascular Surgery and Mike Freeman
Burnout among PAs is not limited to a specialty or setting or based on tenure. Some of this is due to the culture that has traditionally surrounded front-line providers of medicine. The idea that PAs are so focused on helping others they never stop to care for themselves. Thomas Massing, a Locums Tenens PA, and Mike Freeman, a dedicated staffing professional, will share with you what causes burnout among PAs and how locums can be a viable solution and how to capitalize on this opportunity.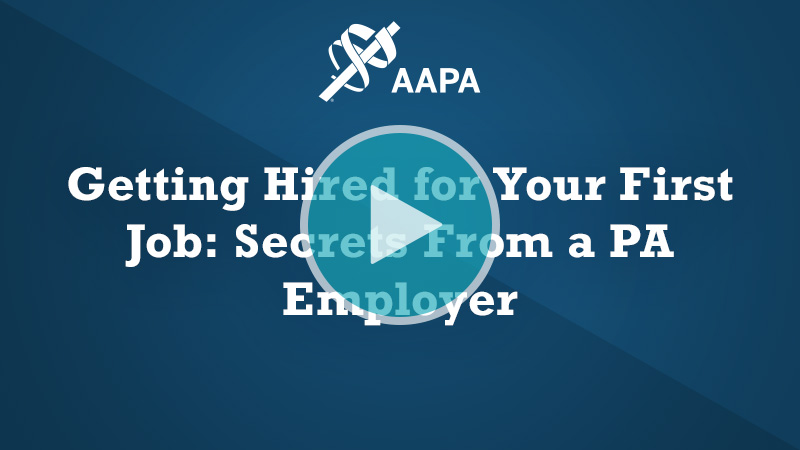 Getting Hired for Your First Job: Secrets From a PA Employer
Date: June 8, 12 p.m. EST
Speaker: Rev. Josanne K. Pagel M.Div., MPAS, PA-C, DFAAPA, Executive Director of PA Services at Cleveland Clinic Health System
Learn the top ten "secrets" to getting hired for your first job out of PA school, including the what to do and what not to do list.
Zip Up Your PANCE
Date: June 2, 12 p.m. EST
Speaker: Katie Iverson PA-C, MPAS Hippo Education Medical Editor, Assistant Clinical Professor, University of Iowa Carver College of Medicine, Department of Physician Assistant Studies and Services
Come hear tips and tricks as you prepare for the PANCE. From study hints to day-of pointers, this session is for all the test takers… the cautiously optimistic, the nervous wrecks, and all those in between.
Student Loan Repayment During Uncertain Times
Date: May 28, 12 p.m. EST
Speaker: Alex Macielak from Laurel Road
In these uncertain times, you may be wondering what options PAs have for paying back their student loans after graduation. Join Alex Macielak from Laurel Road for an interactive session exploring different options available including the federal aid provided in the CARES act, federal loan repayment options, and student loan refinancing and get a better understanding about what may be best for your unique situation.
What I Wish I Would Have Known: Surviving the Transition From PA-S to PA-C
Date: May 19, 12 p.m. EST
Speaker: Hillary Bennett, PA-C
PA school teaches us the science and medicine required to take care of patients. However, we are often not educated on the red tape we must cross in order to begin treating patients. PA Bennett discusses the strenuous process of hospital credentialing and the transition from PA school to real world medicine. Participants are provided a checklist and tips to ease the suffering through this process.
We hope all PA students join in on these learning opportunities. Being a part of AAPA's nationwide community has never been more important, and AAPA is here for you every step of your journey from PA-S to PA-C.
Looking for unlimited access to these webinars, exclusive PA student tools, and more? Visit our Student Resources page to see how AAPA membership can support you – and join today!