AAPA 2023 Highlights: Challenge Bowl and PAs Night Out
No one celebrates like a PA
May 23, 2023
Another successful day at AAPA 2023! Attendees from across the country attended a great batch of CME sessions, joined the much-anticipated National Medical Challenge Bowl, and took to the streets for PAs Night Out.
Keeping Patients in Mind: Mental Health and Health Equity
Another day, another batch of CME workshops for PAs to attend!
In line with Sunday's main stage event on the brain-to-body connection, PAs interested in mental health attended a session on its correlation with nutrition and learned that nutrition and healthy gut microbiota are important in preventing and treating mental health conditions. Chelsea Tersavich, PA-C led the presentation on holistic approaches to treating mental health, cutting down on medications and medical costs. For more information on mental health and nutrition, check out AAPA's National Health Priorities.
During AAPA 2023, the number of CME sessions concentrated on health equity and promoting diversity, equity, and inclusion was increased. Throughout the week, there are 25 unique sessions taking place as part of the diversity track. During a session led by Howard Straker, PA-C, EdD, MPH, Kara L. Caruthers, MSPAS, PA-C, and Susan LeLacheur, DrPH, PA-C, attendees examined how race is used in clinical algorithms in medicine. Throughout the session, the presenters focused on strategies to overcome implicit bias and discussed the importance of understanding how race factors into clinical tools to better promote health equity.
If you want to learn more about removing obstacles to healthcare for patients and tackling health inequalities, AAPA's DEI Resource Center offers a range of helpful tools and resources.
Time to Roll Up Your Sleeves
Student Academy leaders joined together at a Nashville warehouse to sort and package medical supplies, prepare shipments, and other similar tasks to assist Project C.U.R.E., the world's largest distributor of donated medical supplies.
Meet the Candidates: BOD and Student Academy BOD
During "Meet the Candidates" live events, candidates for the Board of Directors and the Student Academy Board of Directors answered questions on their approach to leadership and how they plan to represent the PA profession or student voice, respectively. With voting opening on May 24, these sessions allowed members to hear firsthand from the candidates who want to lead AAPA and the PA profession into the future. Candidate information can be viewed at http://www.aapa.org/elections.
Challenge Bowl – Do You Have What It Takes?
The much-anticipated Challenge Bowl was packed full of energy on Monday night. Eighty-nine teams representing PA schools across the country tested their medical knowledge in AAPA's National Medical Challenge Bowl.
PA students strutted their school spirit and cheered on their classmates as they played the game show designed specifically for PAs. But, despite the room being full of bright and intelligent students, only one school could be named the winner. After a grueling fight to victory, Bridgeport University PA Program took home the prize!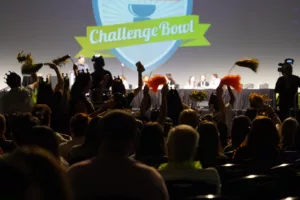 PA Night Out! Six Bars, Three Hours, One Epic Night
AAPA's first ever PAs Night Out was a raving good time! For three hours, PAs took over six of the most popular Nashville bars – Miranda Lambert's Casa Nova, Luke Bryan's Luke's 32 Bridge, Aldean's Kitchen & Bar, Wanna B's Karaoke Bar, Tequila Cowboy, and FGL House.
Hundreds of PAs came out on Broadway to let loose, network, and party with their fellow PAs in support of the PA Foundation.
Attendees who upgraded to VIP access were granted special privileges, including a performance from Nashville star, Charles Esten!
AAPA 2023 is almost at an end, but there is still much to do! Keep an eye out for the next recap!
You May Also Like
AAPA 2023 Highlights: Research, Technology, and Innovation Redefining the Patient Experience
AAPA 2023 Highlights: Brain Health and Overall Wellness
Thank you for reading AAPA's News Central
You have 2 articles left this month. Create a free account to read more stories, or become a member for more access to exclusive benefits! Already have an account? Log in.