Through 'She's the Veteran,' PA Brooke Jackson Kahn is Building a Community to Improve Women Veterans' Mental Health
'She's the Veteran' Provides Women Veterans with a Supportive Community
May 15, 2022
By Sarah Blugis
Growing up in east Tennessee, Brooke Jackson Kahn, MHS, PA-C, says that in many ways, her career path chose her. She comes from a long line of military members: Her grandfather was a World War II Army veteran who took part in the Normandy landings, and her father is retired U.S. Army Special Forces. Just about every man in her family – Navy on her mother's side, Army on her father's side – served in the military. Many of the women, meanwhile, were nurses.
So, Jackson Kahn enlisted in the Army as a combat medic. "I joke that I joined the military to combine the two," she says, "being a medic when I first enlisted. I knew that I wanted to do something in medicine, and I knew that eventually I wanted to go to PA school when I did enlist."
Serving as an Army Combat Medic
As a combat medic, Jackson Kahn was in a medical evacuation platoon attached to the Third Infantry division, specializing in stabilizing injuries at the point of injury. Jackson Kahn and her team had to decide what steps to take for patients based on how long it might take for a helicopter to arrive, or how far away someone would need to be transferred. She also trained to respond to mass casualty incidents, both wartime and domestic.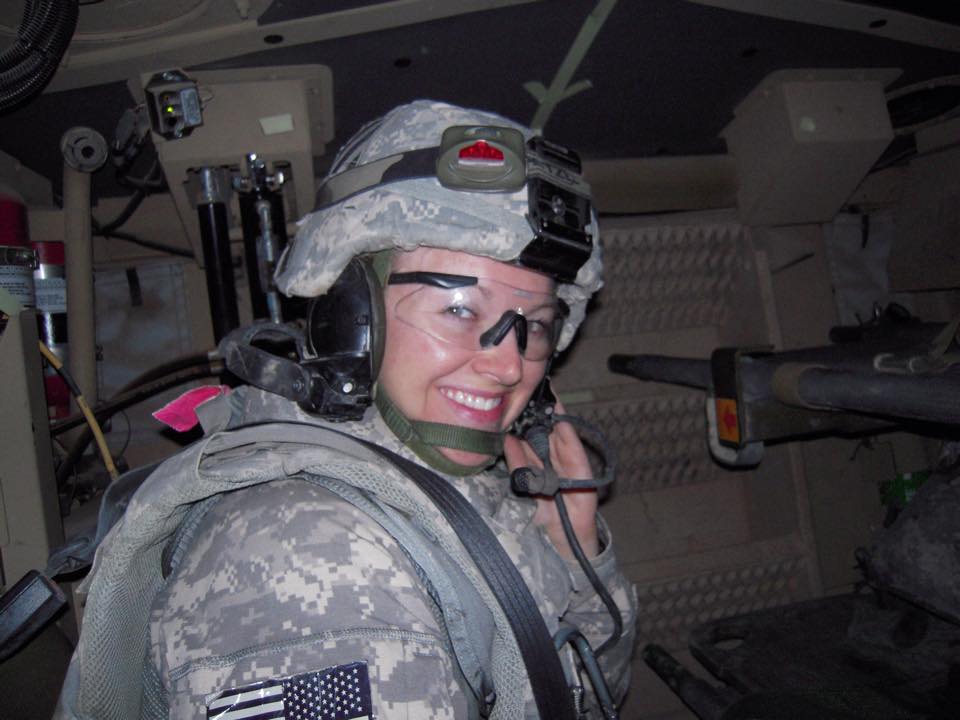 Jackson Kahn didn't know too much about the PA profession, she says, until she joined the military and got to work with PAs. She had some great mentors – PAs who would choose her out of a platoon of medics to work with them at clinic, due to her interest in the field. Also important, she said, was observing Army PAs and watching them advocate for their patients.
"PAs in the Army basically have battalions that they take care of, so that's a lot of soldiers that they are medically responsible for," Jackson Kahn says. "I would see PAs standing up for the soldier that was injured that should not be doing XYZ, or mobilizing, or whatever it is that could sustain or prolong the injury. I just always had such a big respect for all of the things I saw them do, and how they could help soldiers."
Practicing as a Neurosurgery PA
Following her time in the Army, Jackson Kahn attended the University of South Alabama PA program, and her first job out of PA school was at a Level I Trauma Center. There, she did a lot of surgery for the first couple of years – both pediatric and adult neurosurgery.
In addition to being in the U.S. Army Reserves, Jackson Kahn now practices clinically in the department of neurosurgery at Roper St. Francis in Charleston, South Carolina. In her day-to-day, she works in the operating room (OR), does inpatient consultations, goes over scans, and more. In the OR, she works in tandem with her surgeon – and on one day, for example, her team may handle everything from spinal nerve decompressions to a brain tumor resection case.
"It varies and I love that about neurosurgery. It's always something very different and always keeps you on your toes," she says. And while working in the operating room is what she loves most, Jackson Kahn says that her clinic work is valuable, too. "It is nice actually having the face-to-face with your patients and seeing them from the beginning, when they're in pain – they have this problem that you can fix. Then you go into the OR and you're able to help actually fix that problem and see them afterwards. It's a very rewarding cycle."
Like her military service, Jackson Kahn jokes that neurosurgery also chose her. When she went to PA school, she felt like many of her classmates knew exactly what they wanted to do. Because of her military service, she knew she wanted to branch out beyond emergency medicine and expand her skillset.
"I've always been a procedure-based person. Even in the Army, I always enjoyed that. So I knew surgery might be right for me," she says. Neurosurgery, too, held personal significance for Jackson Kahn. "I also have an interest in the brain. I've had people that I know who have had brain tumors or brain injuries, things like that." She requested neurosurgery as one of her clinical rotations and never looked back.
Creating a Support System for Women Veterans
For her capstone project in PA school, as she thought about an area where she could make a real difference and fill a gap, Jackson Kahn landed on missing research around women veterans and PTSD. Among women veterans, Jackson Kahn says, PTSD is both underdiagnosed and undertreated.
"I was astounded to see the lack of research and the lack of resources," Jackson Kahn says. "Even for that project, I had to use some things that were based on just men in the 1970s, about PTSD from Vietnam. [PTSD in women veterans] is just not really talked about enough. It hasn't been researched enough."
Following PA school, the subject remained important to Jackson Kahn. Upon moving to South Carolina in 2019, she thought it would be fairly easy to find a community of women veterans – but quickly discovered there really wasn't anything like what she was looking for, even in a veteran-friendly state that's home to over 45,000 women veterans. So she decided to create that community, herself, and center it around women veterans' mental health.
Jackson Kahn started a group for women veterans in 2019 and formally launched She's the Veteran in 2020. The organization was just granted official nonprofit status this year, which allows them to accept donations.
The mission of She's the Veteran is improving mental health in women veterans through programmatic activities and by building a supportive community. The group holds skill-based activities once each month – things like fishing, swimming with stingrays, horseback riding, and more – and helps women to retrain their brains, turning negative things into positive things.
"Maybe you've never gone shooting before, because not every branch does shooting," Jackson Kahn says. "So you don't really have a lot of confidence, you're not really having that great of a day. But you get out there, you learn a new skill. Before you leave you've shot some clays, you have a big smile on your face, you've made some friends along the way."
These events are exclusively for women veterans: no partners or children. This is a very intentional decision, according to Jackson Kahn, to keep the door open for single women and to give every woman in attendance an opportunity to spend time as themselves, for themselves. It's not really a mental health break, she says, if you have to take care of other people.
Overall, She's the Veteran reports great feedback from participants, some of whom didn't even know they needed a community until they found one. Returning from deployment, Jackson Kahn says, many women jump right back into civilian life and oftentimes reassume the responsibility of running a household, with little to no time to decompress.
"Nobody gives them a break. Nobody says, 'OK, you need a break.' Women just march on," Jackson Kahn says. "It really is an internal, silent suffering of some kind because it's just what ends up being expected. And women just do it."
Along with their in-person events, She's the Veteran also holds monthly "Vet Connect" virtual meetings to reach homebound women veterans, as well as women veterans around the country. The group also speaks to women at local community events, sharing information and resources, and holds an annual event in June for Women Veterans Day.
A Feature on the History Channel
In 2022, Jackson Kahn was featured on the "Variety Salute to Service," which premiered on the History Channel on Veterans Day. The special highlights veterans who have continued to give back to their communities even once they have finished their military service.
A casting director reached out to Jackson Kahn earlier in the year and she jumped on the opportunity to spread the word about She's the Veteran. The special focused on both her clinical practice as a PA in neurosurgery, as well as her nonprofit work.
What propelled her decision to start She's the Veteran, Jackson Kahn says, was her reflection on her own life: her support system, a job that she loves, her career as a PA. She realized that all that was left was to find a way to give back, to live the PA mission to make a difference every day.
"As PAs, we make a bigger difference than we sometimes realize," Jackson Kahn says. "It's important for us to always remember our 'why.' Everybody talks about that in school – 'Remember your why.' Why did I become a PA? To make a difference, to help people."
Editor's Note: This article originally appeared in November 2022.
You May Also Like
Texas PA Provides Critical Psychiatric Care in El Paso Region
Meet Two PAs Working to Improve Access to Maternal Mental Health Care
Interventional Radiology PA Thea Nolan's Advocacy on Behalf of Patients Led to a Nationwide Medical Device Recall
Thank you for reading AAPA's News Central
You have 2 articles left this month. Create a free account to read more stories, or become a member for more access to exclusive benefits! Already have an account? Log in.