Interventional Radiology PA Thea Nolan's Advocacy on Behalf of Patients Led to a Nationwide Medical Device Recall
When People Aren't Listening, Nolan Says, Speak Louder
October 11, 2022
By Sarah Blugis
When Thea Nolan, MPAS, PA-C, finished PA school, she knew without a doubt that she wanted to do something surgical. So she took a job placing peripherally inserted central catheters, also known as PICC lines, at the bedside – an experience that allowed her the opportunity to work with patients and keep them comfortable during an invasive procedure.
"While [that job] wasn't what I expected, it was an important step in getting to my current position. There is a huge difference between performing a procedure on a patient who is under anesthesia compared to the procedures I was performing on a patient who is awake and very aware of their surroundings," Nolan says. "It teaches you how to perform a highly technical and sometimes stressful procedure, while simultaneously keeping your composure and talking to the patient throughout in order to keep them calm for the procedure and confident in your abilities. These are skills I utilize to this day in my current position."
Finding the Way to Her Dream Job

A year into her first job out of school, a colleague suggested that Nolan try working in cardiac surgery. For two years, she split her time between cardiac surgery and the PICC department. While she enjoyed cardiac surgery, it didn't afford her the work-life balance she was looking for.
"Every experience has helped shape me into the provider I am today," Nolan says, but emphasizes that knowing when to move on to the next challenge is just as important as knowing when something is the right fit for your personal and professional goals. "Although cardiac surgery and critical care was not the right position for me at that time, it did provide additional exposure to procedures, only strengthening my desire to do more."
In 2015, she landed the "job of her dreams" – working at UMass Memorial Medical Center in interventional radiology (IR), where she combined her bedside procedural experience with the medical knowledge she gained from caring for critically ill cardiac surgery patients.
"Interventional radiology is really an incredible field," says Nolan. "It's one of the few specialties that touches on almost all other facets of medicine. When I was a PA student, I don't recall having much exposure to IR. Even when I was working as a PA, my encounters within interventional radiology were limited to the vascular procedures we couldn't perform at the bedside, necessitating help from our IR colleagues."
Despite her limited exposure to interventional radiology, Nolan knew it was the right specialty for her. Building on her prior experience, her days are spent performing procedures with imaging (ultrasound or fluoroscopic) guidance. A common aspect of day-to-day practice in interventional radiology is inserting implantable ports, a type of central venous tunneled catheter inserted beneath the skin of the chest and perfectly placed in a vein at the entrance to the heart, traditionally used by patients receiving chemotherapy.
Discovering a Defective Device
Last year, what started as a seemingly normal day for Nolan turned out to be the catalyst for a series of events that would eventually lead to a nationwide recall of eleven lots of implantable ports.
Nolan was asked to take a look at a patient's implantable port. After examining the patient's chart, discovering when the device was placed and what type it was, and whether there had been any recent imaging with the device, she noticed something unusual. There had been a contrast extravasation event, something which can be caused by a needle that hasn't been pushed all the way down to the back of the device, or more worrisome, a malfunctioning device. She also noticed on the patient's chart that the last time the device had been accessed, the patient experienced discomfort, and the oncology nurse had noted that the blood return was dilute.
"That was my first indication that okay, something's wrong here," Nolan says. "At the time I thought, well, maybe the blood return is dilute because there's still contrast that was supposed to go into the device, because they're power-injectable devices." But this was still a red flag for Nolan, and she wanted a better idea of what was going on.
The patient arrived at the fluoroscopy suite and Nolan was able to aspirate the patient's blood. Like the oncology nurse, she saw that the blood was dilute – and it also contained contrast. She was surprised by how much she was able to aspirate. With the patient's permission, she completed a dye study by injecting contrast into the port and even with a small amount, it was clear that the contrast was leaking around the port's reservoir.
"Contrast can be very damaging to the tissues and if it's not immediately identified, it can cause serious, long-term complications," Nolan explains. "Patients could have to have major surgery to remove the tissue that's been affected. Though it's very rare, if you have a central line and the device isn't totally sealed, a major concern would be the potential of getting air inside, which can lead to an air embolism."
Nolan knew that the patient needed the port removed right away and brought her back urgently, out of concern that the device may be malfunctioning. When she opened the port pocket, she was shocked to find that the lumen – the device's access point – was blown out. She removed the device and kept it to show her fellow PA who had implanted it, relieved to have identified the problem: The port was defective.
She told her attending physician about the device and that she planned to hang on to it. The next day, he noticed another device with the same malfunction and informed Nolan.
"When he told me the name and I looked up the information and I saw the two devices had the same lot number and I thought, something's not right here," Nolan says. "I had been placing ports for five years and I had never seen that happen, ever."
Speaking Up – and Speaking Louder
Nolan wrote down the lot number and told her attending physician that she had filed an incident report at the hospital, so it could be tracked. She also checked with her department manager, who checked the most recent U.S. Food and Drug Administration (FDA) list outlining recent concerns or recalls of medical devices and found nothing about the port that concerned Nolan.
"I thought, maybe we got a bad batch and this is a fluke. But then patient three, four, five…they all came within the same week, and it was shocking," she says.
Even after raising concerns through the established processes and making the problem known to the appropriate people, Nolan felt like she wasn't getting results quickly enough. She was told to wait for the risk management team to get in touch with patients who may be at risk – but after the discovery of an eighth patient with a defective port, she urged her department chair to take immediate action. He listened, putting a plan in place right away.
"We are advocates for our patients and I felt like I wasn't going to stand by for one more second while [this issue] goes unaddressed, because I knew with every fiber in my being that something was wrong," Nolan says. "You hear about medical device recalls but you never think it's something in your career that you'll see, let alone identify."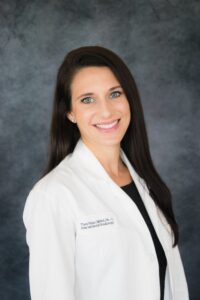 As it turned out, many patients nationwide were affected by the defective ports. Nolan's diligence led to an investigation which eventually resulted in a nationwide voluntary recall by the manufacturer. UMass Medical Center was given a commendation from the FDA and Nolan received the Josie King Hero Award, given to those who go above and beyond to create a culture of patient safety.
The recall wasn't without its drawbacks, Nolan says. Though it potentially saved thousands from unintended harm, some patients – most of whom were undergoing cancer treatments – had to go through additional procedures to remove and replace the ports. "It's important to understand that although we made a great catch, the toll that a medical device recall can have on patients is not lost on us as providers," she says.
For Nolan, the entire experience was a powerful lesson, one that only reinforces her practice and desire to advocate for her patients, and she hopes that other PAs can learn from her example. PAs of all levels, but especially those who have worked in a particular field for a long time and who understand the nuances of their field, should never be afraid to voice their concerns, Nolan says.
"If you feel like something's wrong, speak up. And if people aren't listening, speak louder. Go above and climb as high as you need to in order to take care of your patients," Nolan says. "We all have the ability to bring about change."
You May Also Like
From Practicing in War Zones to Remote Islands, Melinda Rawcliffe Finds Endless Opportunities as a PA
PA Susanna Storeng Pushes for Legislative Changes in Colorado to Improve Access to Care
PA's Relatability, Determination Help Expand Access to Care in Rural Tennessee
Thank you for reading AAPA's News Central
You have 2 articles left this month. Create a free account to read more stories, or become a member for more access to exclusive benefits! Already have an account? Log in.