Texas PA Provides Critical Psychiatric Care in El Paso Region
PA Elisa Hock Advocates for PAs to Practice in Mental Health
October 13, 2022
By Katy Shenk
When PA Elisa Hock (nee Hernandez) was just nine years old, her father passed away, leaving her mother to provide for three children – the youngest of whom was only seven months old. In this formative experience with grief, she found a calling to work in the field of psychiatry. Witnessing their mother's  strength also convinced Hock and her siblings of the importance of servitude and sacrifice. They each carry on her example through careers in the medical field: Hock's brother Carlos is also a PA, and her brother Raul is an NP.
At 17, Hock enrolled in an early acceptance medical school program. In her third year she experienced personal loss, family health complications, and anxiety. Although she decided to withdraw from the program, her passion for the medical field did not end there.
Instead, Hock pursued becoming a PA at the Texas Tech Health Science Center PA Program. When it came time to complete her rotations, Hock – who grew up in the Rio Grande Valley – boldly expressed a desire to work in El Paso, Texas, knowing she eventually wanted to practice in a border town.
During her last rotation, Hock received a call from Jean Joseph-Vanderpool, MD, a psychiatrist in El Paso, offering her an interview upon graduation. She accepted the position and, with his guidance over the next six years, began working as one of the first PAs in psychiatry in the region.
Practicing in El Paso
For the last 16 years, Hock has served the greater El Paso region, comprised of over 1 million inhabitants and spanning across the U.S. border into Juarez, Mexico. In her current position with Emergence Health Network, the designated Local Mental Health Authority (LMHA), Hock focuses on meeting the needs of the socially and culturally diverse border population. One way she is specially equipped to do this is as a bilingual PA.
"Being able to speak to a patient in their native language is important in any field of medicine. But in psychiatry, it holds a greater significance as the context in which things are said – the tone and quality of verbal expression – reveals so much to the medical provider," she says.
In addition to facilitating accurate diagnoses, Hock finds conversing in Spanish to be integral to her ability to engage and educate patients and their families. "The uniqueness of psychiatry is that you can build a great rapport and relationship with patients. Being in their community creates this sense of comfort for those you are diagnosing and treating, which facilitates their confidence in your care."
On any given day working in adult outpatient psychiatry, Hock sees patients with schizophrenia, depression, bipolar, ADHD, and other conditions. She sees about 20 patients every day and provides onsite crisis stabilization if needed.
Giving Back in the Clinic and the Classroom
In addition to providing outpatient psychiatry services, Hock is involved in monthly emergency crisis calls for the city of El Paso. She is also a psychiatric provider in an integrative medical care clinic that provides primary care, addiction services, and psychiatric services.
Reflecting on the importance of these programs, Hock says, "Providing an adequate linkage for psychiatric care in a state of emergency is of utmost importance. EDs, psychiatric hospital intakes, and even a Crisis Intervention Team create a safety net for patients at all levels of acuity. Whether it is a referral to our outpatient services, an admission to inpatient care, or a substance abuse rehabilitation, our team servicing all of El Paso can prevent further decompensation in patients."
Hock has also established a preceptorship program for Texas Tech, her alma mater, to instill her passion for psychiatry in students. In her spare time, she reviews essays for pre-PA students and assists them with questions about the application process, recognizing that not all students have the same financial resources to pay for such services.
Hock also gives back to the profession through volunteer leadership. She is a founding board member and current vice president of PAs for Women Empowerment (PAWE), an AAPA caucus seeking to uplift, support, and empower women in the PA profession.
Advocating for PAs to Practice in Mental Health
Hock's employer services almost 6,000 patients per month, providing vital services to the El Paso community throughout the COVID-19 pandemic. Like many hospitals, Emergence Health Network has offered telepsychiatry to ensure continuity of care with patients and expand access to care. One of the central challenges El Paso faces now is a shortage of providers in the psychiatry field.
According to Hock, there are only about 200 practicing psychiatrists for the entire population of El Paso. Due to this shortage, patients seeking appointments wait six to eight weeks to be seen at the El Paso LMHA, and up to three to six months in the private sector. The future of psychiatric services in the region is further threatened as psychiatrists who retire are difficult to be replaced, decreasing the number of available providers.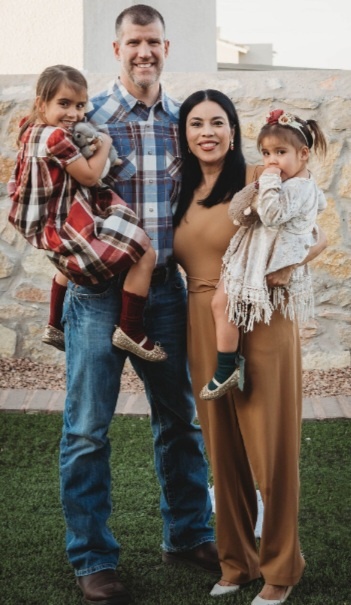 Hock sees PAs like herself as a solution to this ongoing crisis. In 2021, Hock lent her testimony to support Texas HB2093, which aimed to "include certain licensed physician assistants in the definition of non-physician mental health professional." As Hock explains, this would allow PAs to be utilized in state facilities that do not recognize them as mental health professionals due to "generalist training."
"Even with years of experience many state centers will not hire a PA because we are not classified as mental health providers," Hock said in her testimony. While PAs are on the front lines of mental health care, their hands are tied by bureaucracy. "PAs must be delineated as key members of this healthcare team as PAs are more than qualified to provide the full spectrum of services needed to ensure [the] gold standard of care for psychiatric patients in Texas," she concluded.
Through the efforts of Hock and others, the bill was signed into law and took effect on September 1, 2021.
Hock and her husband Bryan have two daughters, Brianna and Makayla, and hope to instill the importance of caring for others in their children. At the core of Hock's advocacy, volunteerism, and her clinical work as a PA in psychiatry are the patients she serves, and she continues to seek opportunities to expand access to mental healthcare.
"I'm privileged to help those through their darkest moments and allow the light to shine back in," she says.
You May Also Like
Resources on PA Burnout
PA Robert Smith Has Dedicated His Career to Advancing Healthcare for Latino Populations
2022 Preceptor of the Year Helped Students Adapt During COVID-19
Phyllis Peterson, MPAS, PA-C, Contributes to Clinical Support for Serious Mental Illness
Thank you for reading AAPA's News Central
You have 2 articles left this month. Create a free account to read more stories, or become a member for more access to exclusive benefits! Already have an account? Log in.