A Day in the Life of a Rheumatology PA
PA Lindsay Tom Diagnoses and Treats a Wide Variety of Rheumatology Conditions
November 4, 2022
By Lindsay Tom, PA-C
My entire life, I have always had a passion for the field of medicine. While attending The George Washington University for my undergraduate degree, I majored in biophysics and was a member of the school's gymnastics team as well. Through my years of gymnastics and my own personal injuries, I developed an interest in medicine, anatomy, orthopaedics, and general joint diseases.
After graduating, I worked various positions in the medical field and quickly realized that being a PA was the perfect career for me. I then went on to obtain my graduate degree from South College, and began working as a PA in 2018. While I initially took a job in gastroenterology, I realized that I missed working with the musculoskeletal system and joints. During my time in GI, I worked with many autoimmune conditions and learned more about immunology and use of biologic medications. Using this new interest and knowledge, combined with my passion for joint diseases, I found the perfect role for me working in rheumatology.
[Receive unparalleled career services and support – join or renew your membership today]
I currently work at an outpatient rheumatology practice, Northern Virginia Center for Arthritis. We have four physicians and three PAs at our practice, covering three different office locations. Our providers rotate between the various office locations throughout the week. We see patients Monday through Friday, typically 8:30 a.m. – 5:00 p.m., and on Fridays we end early at 2:30 p.m.
Morning Routine and Daily Schedule
I arrive to work at 8:00 a.m. to get settled for my workday. While my first patient appointment isn't until 8:30 a.m., I know that there will be several other tasks for me to complete beforehand. Upon arriving, I login to our EMR system to check messages, which include lab results that came in overnight, pharmacy refill requests, patient portal messages, and internal messages that has staff have sent me regarding patient care.
I have quite a busy schedule and typically see between 20 to 30 patients daily. Though I collaborate with a physician, we each have our own individual schedules and I see both new patients as well as follow-up patients. Our office does not specify certain conditions be treated by a PA or a physician, so as a result I am exposed to a wide variety of rheumatology conditions.
There are various diseases that I see on a day-to-day basis, with the most common condition being inflammatory arthritis. Approximately 70% of my patients present with a form of this disease: some with rheumatoid arthritis, others with psoriatic arthritis, ankylosing spondylitis, reactive arthritis, gout, vasculitis, polymyalgia rheumatica, or systemic lupus erythematosus. Additional conditions that I commonly treat include Sjogren disease, scleroderma, dermatomyositis and polymyositis, fibromyalgia, osteoarthritis, osteoporosis, and Lyme disease.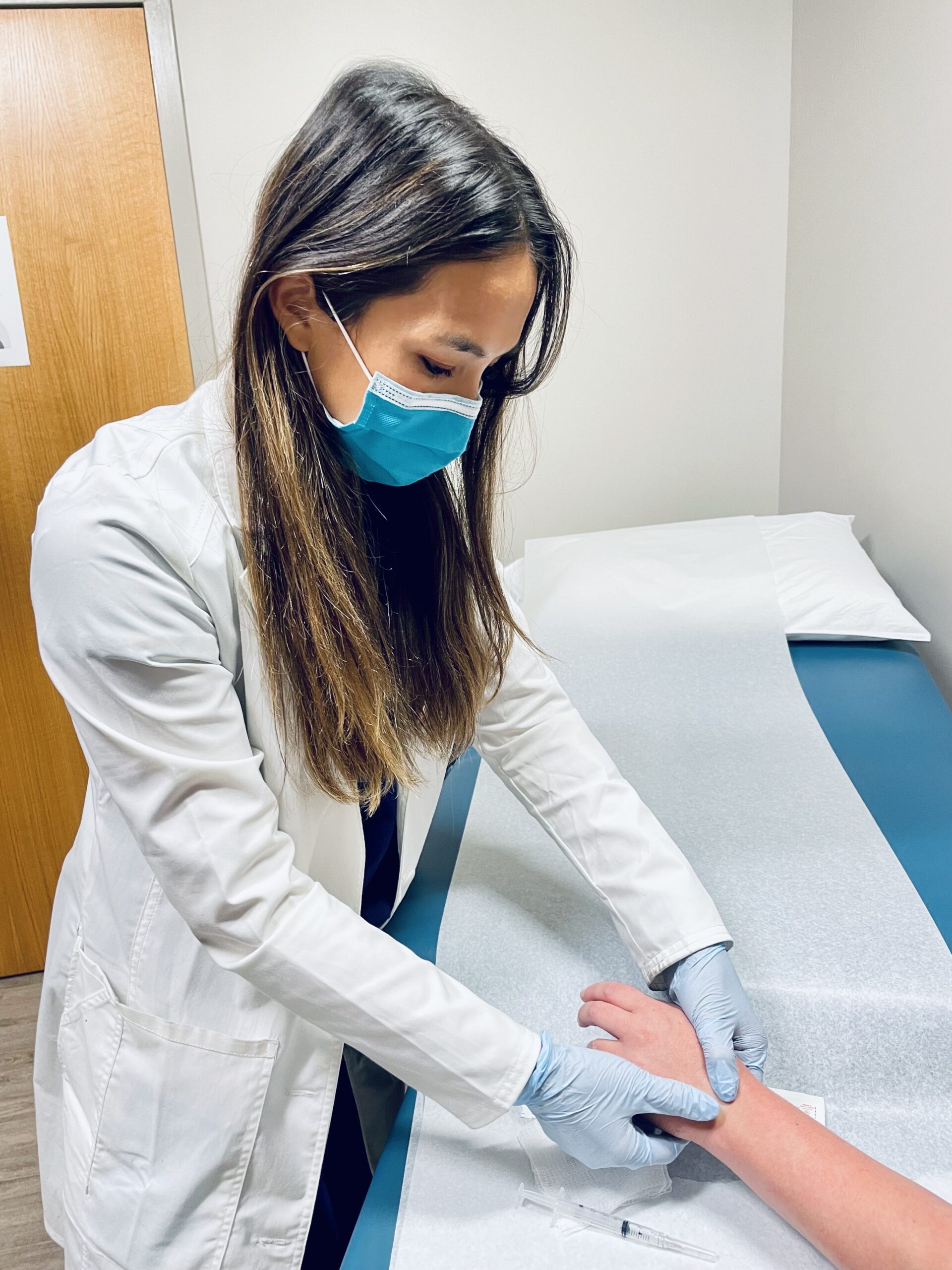 Many patients I see are in pain, some having gone months or even years without having a diagnosis. Being able to assist these patients with answers and help to return their quality of life is extremely rewarding. While there used to be more limited options for treating these conditions, advancements in medicine and the addition of biologic medications have expanded the way rheumatology diseases can be managed. Diseases that used to lead to inevitable deformities or organ damage can now be treated and sometimes placed in remission.
Upon finishing seeing patients I go into my office and complete any other remaining tasks that I could not get done throughout the day. While I try to sign off on my office notes during the day, there always end up being a few notes that I still need to complete. Sometimes I finish these at the end of the day while at the office, other times I choose to complete them at home on my work laptop. Additionally, I make sure to take care of any other lab results, returning phone calls to patients/physicians, medication refills, etc.
Radiology, Procedures, and the Infusion Suite
In addition to seeing patients and evaluating with a physical exam and laboratory testing, one of our office locations has an x-ray machine where we complete in-office imaging. I read and interpret the x-rays on my own, but for challenging cases or x-rays that are more obscure I consult with my physician for another opinion.
Furthermore, I perform joint aspirations and injections in the office. Aspiration of synovial fluid is a valuable tool in rheumatology, as laboratory evaluation of the fluid can further help to distinguish between inflammatory arthritis vs structural damage vs infection. Along with aspirations, I also perform injections with cortisone and viscosupplementation. I tend to perform shoulder or knees injections every day.
Some other areas I commonly inject include finger joints (DIPs, PIPs, or MCPs), wrists, elbows, ankles, trochanteric bursa, and trigger point injections. Our hip injections are done with ultrasound guidance and I often join and assist my physician with these ultrasound-guided hip injections. This allows me to have more experience with this procedure so that with time, I can advance to doing these on my own.
Each of our office locations has an infusion suite. We have a nurse who administers injections and infusions of our biologic medications, in addition to osteoporosis treatments. At times I am called into the infusion suite to examine a patient and make sure that they are fit to receive their medication. Other times, I am there to assist with any infusion reactions, which are less common, but require a provider to lead in handling the emergent situation.
Importance of PAs in Rheumatology
I feel very strongly that PAs play a valuable role in rheumatology, and are a vital part of this field of medicine. It is well-known that there is a shortage of rheumatologists along with a high demand for care from patients, and PAs have the ability to help fill this gap. I hope that by sharing my passion and some details of my position as a rheumatology PA, I can help to lead and inspire others to join this specialty.
Lindsay Tom is PA working in rheumatology in the DC metro area. She currently works at Northern Virginia Center for Arthritis and can be reached at [email protected]
You May Also Like
Areas of Practice Guide
Prepare for the Ins and Outs of Practicing in Orthopaedic Surgery
PAs in Dermatology Offer Advice for Breaking into the Competitive Specialty
Thank you for reading AAPA's News Central
You have 2 articles left this month. Create a free account to read more stories, or become a member for more access to exclusive benefits! Already have an account? Log in.