Prepare for the Ins and Outs of Practicing in Orthopaedic Surgery
Experts Suggest Key Resources for Recent Graduates and Experienced PAs
June 15, 2022
By Katy Shenk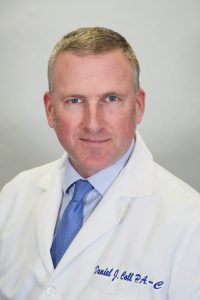 According to the 2022 AAPA Salary Report, 9.8% of PAs practice in orthopaedic surgery, which is the second most popular specialty behind family medicine. AAPA's latest Huddle "Ask Me" session called on four experts to answer questions about starting a career in orthopaedic surgery, practicing in various subspecialties, and which resources will best prepare PAs for success in this popular surgical specialty.
All four hosts share a background in sports medicine. Kemuel Carey, MBA, MHS, PA-C, ATC, DFAAPA, is the chief operating officer at Peninsula Orthopaedic Associates in Salisbury, Maryland, and has worked in orthopaedic surgery since becoming a PA over 18 years ago. Dan Coll, PA-C, MBA, DFAAPA, practices orthopaedics and sports medicine at a Critical Access Community Hospital in North Lake Tahoe, California. Coll is especially committed to ensuring PAs in orthopaedics are equipped to address acute traumatic musculoskeletal care and is a regular speaker and instructor on this topic.
Mike Harvey, PA-C, MBA, is also a PA in sports medicine at Forté Sports Medicine and Orthopaedics in Indianapolis, where he works in spine care. He is the past director of urgent care at OrthoIndy, where he developed and grew an orthopaedic urgent care program. Rounding out the expert panel is Travis Randolph, PA-C, a PA in the Department of Orthopaedic Surgery and the clinical director of sports medicine at West Virginia University. Randolph is the chair of the AAPA Musculoskeletal Galaxy Conference and has been published in JAAPA on his academic orthopaedic practice.
Recent Graduates Learn on the Job
All four experts acknowledged that the world of orthopaedics is both overwhelming and rewarding. Carey suggests that while it will likely take newcomers at least three years to become comfortable in their area of practice within orthopaedic surgery, there are many ways to build competence in key skillsets in a new role.
Responding to a recent graduate working at a Level I Trauma Center seeking ways to bolster her knowledge of fractures, Harvey suggests taking the time to look at patients' scans and X-rays, especially ones that are "normal." "You have to know what normal is to understand what abnormal is," he says. This holds true for examinations, too, as Randolph stresses examining a patient's uninjured extremity (arm, leg, foot) prior to the injured body part for comparison and to pick up subtle differences on the injured extremity.
Randolph suggests calling on experienced co-workers and colleagues to discuss cases or ask questions. In advising another recent graduate seeking advice on getting accustomed to her workload – and hoping to become more confident with orthopaedic imaging – Carey also advises reading all radiology reports (e.g. X-rays, CTs, MRIs, and bone scans) while also viewing the corresponding images. As specialists, he says, PAs in orthopaedic surgery should always be reviewing films to correlate with clinical findings, not just reading radiology reports.
This practice, in addition to communicating with X-ray technicians and radiologists, can help PAs in orthopaedics become more fluent in imaging and better pinpoint patients' injuries.
Additionally, all four hosts contributed to a list of resources for PAs seeking specialized orthopaedic surgery knowledge, which can be found below.
[Enjoy all the perks of AAPA membership – join or renew today]
Managing Caseloads
Coll and Harvey recommend coordinating with the orthopaedic surgeon or other practice providers to become trained on more routine patient cases before tackling tougher ones. "You (and your surgeon) will gain competence and confidence in your abilities and contributions, then you can dive into the more complex patients," Coll says.
Finally, staying organized is crucial for providing quality patient care. Coll advises creating treatment templates to track patients and evaluate their response to treatments. "In patients with adequate mechanisms besides their complaints, consider developing a routine history and exam to reduce missing secondary injuries that are frequently found even after an ED or outside evaluation prior to your office visit," he adds.
PA Students: Prepare for Orthopaedic Surgery Rotations
For PA students interested in a career in orthopaedic surgery, hosts offered advice on maximizing opportunities available during didactic year rotations in the field.
Randolph underscores the importance of understanding anatomy and being able to easily identify anatomical landmarks. This is important for understanding injuries and narrowing down a differential diagnosis with special tests. "Don't stress over the number of special tests and names for particular fracture classifications," he says, as this knowledge will come with time and repetition.
He also suggests reviewing as many patient X-rays, MRIs, and CT scans as possible to practice combining imaging results with patient examinations when making a diagnosis. Finally, Randolph urges students to request rotation time in multiple orthopaedic subspecialties, including trauma surgery, hand surgery, spine surgery, foot and ankle orthopaedics, joint replacement, sports medicine, and pediatric orthopaedics.
Carey echoes Randolph's advice about anatomy and shares his own experiences as a preceptor for PA orthopaedic rotations. "I would frequently have students jump in on day one and evaluate patients, present to me, and then we would see the patients and learn together," he says. After taking the time to see and learn how their preceptor evaluates patients, he says volunteering to see patients allows students to gain confidence taking histories, performing physical examinations, splinting/casting, and applying Durable Medical Equipment (DME). "This is your opportunity to make mistakes, learn, and re-engage with your new knowledge," he reassures.
Orthopaedic Surgery Resources

Conferences and Professional Organizations

Websites and Online Resources
Orthopaedic Educational Services offers recorded presentations on a variety of orthopaedic topics.
Chris Beaulieu, MD, PhD, a Stanford professor, posts the School of Medicine's musculoskeletal radiology lectures on YouTube.
OrthoBullets.com is geared toward residents, but their PEAK program contains a useful guide through the orthopaedic curriculum.
Academic Publications
"Netter's Concise Orthopaedic Anatomy, Updated Edition (Netter Basic Science)," 2nd Edition
Journal of the American Academy of Orthopaedic Surgeons (JAAOS)
Read the full Huddle thread online and find out more about this specialty by using AAPA's Areas of Practice Guide.
You May Also Like
A Day in the Life of a PA in Orthopaedic Surgery
PA in Orthopaedic Surgery Shares What It's Really Like in a Week
A Career in Orthopaedics: Why I Love the Specialty
Thank you for reading AAPA's News Central
You have 2 articles left this month. Create a free account to read more stories, or become a member for more access to exclusive benefits! Already have an account? Log in.