AAPA 2022 Conference Highlights: Mental Health Conversation with Two Professional Powerhouses
Kicks Off with General Session, Mental Health CME, and Reception Events
May 22, 2022
Thousands of PAs arrived in Indianapolis Friday and Saturday to commence AAPA 2022, the first national in-person PA conference in two years. Couldn't join us this year? Get caught up with this highlight reel of Saturday's events!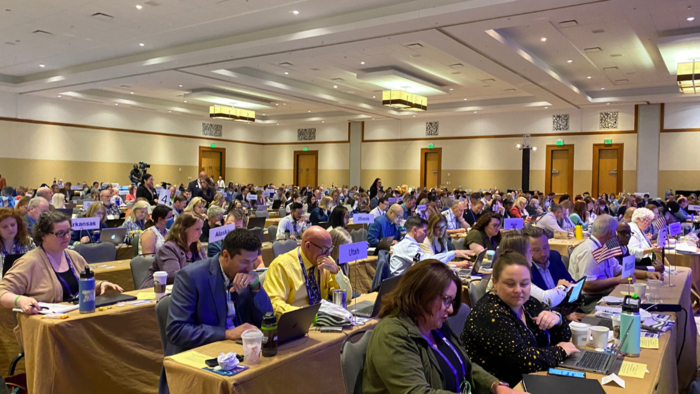 AAPA's House of Delegates
AAPA's HOD meets during the conference to enact policies that establish the collective values, philosophies, and principles of the PA profession. Since Friday, delegates have been hard at work considering, voting on, and reviewing resolutions; accepted resolutions become AAPA Policy for all members. Learn more about how the HOD works in this article by Todd Pickard, MMSc, PA-C, DFAAPA, FASCO, the AAPA Vice President and Speaker of the House of Delegates.
AAPA 2022: Mental Health
The theme of this year's conference is mental health, reflected in a host of CME sessions, workshops, and presentations addressing mental and behavioral health. In the morning, Heidi Posey, PA-C, and Talia Sierra, DMSc, PA-C, presented on the "Darker Side of Medicine," sharing information about the prevalence of depression, anxiety, and suicidal ideation among PAs and PA students. As most research has focused on physicians and medical students, Sierra emphasized that much of the data shared in the session is new and novel. One key takeaway from a recent study is that a greater percentage of PA students endorsed symptoms of anxiety, depression, and suicidal ideation compared to PAs. "Recognizing symptoms of depression and anxiety in ourselves may be challenging, just like they can be challenging to see in our peers," said Posey. "If you are getting to that point, reach out. You are not alone and you are at an apparent risk where these things do happen to you at a higher [risk] than the general population."
Later Saturday afternoon, Timothy McCreary DMSc, PA-C led a workshop on cognitive behavioral therapy (CBT) drawing from applied clinical case studies. Participants learned about the basics of implementing a CBT treatment plan for patients, including how to build patient relationships and structure therapeutic sessions.
Mental health and wellness are interwoven throughout this year's conference, with designated spaces for mindfulness and relaxation to balance out busy conference schedules. At the Wellness Lounge, attendees are able to receive complimentary massages and unwind in the Exhibit Hall.
Hands-on Learning:
At an "Introduction to Point-of-Care Ultrasound" workshop this morning, participants spent several hours learning the basics of ultrasound operation and other applicable skills. Learners practiced taking focused cardiac and lung ultrasounds under the guidance of several experienced PA instructors. "It was a very well-run course, with incredibly useful, hands-on, and practical information," said Katryna Horton, PA-C, a session attendee. "As a PA educator, I attended to learn more about how ultrasound is used to educate students and get them exposure to different types of scans," she said.
Journeys of Courage: Simone Biles and Jane Pauley on Mental Health
For this year's General Session, AAPA invited Emmy Award-winning journalist Jane Pauley and gymnast Simone Biles to participate in a personal conversation about their mental health journeys. Responding to thoughtful questions from Pauley about her "double legacy" as a gymnast and mental health advocate, Biles spoke frankly about the stress she experienced while participating in the Tokyo Olympics, feeling the weight of responsibility as a decorated medalist and team captain. She also spoke about the outpouring of love and support she received from athletes and others around the world for withdrawing from the competition after realizing that her "mind and body weren't in sync."
"Everybody rallied around me. For the first time, I was recognized as being human. I am worth more than a gold medal," Biles said. Pauley shared what it was like to find out she had an "unrecognized genetic vulnerability – bipolar" in her 50s. Echoing a theme in her memoir, she said that "bipolar is a frightening thing, but it's been a blessing to do [mental health] advocacy." Pauley encouraged the audience to be honest when asked "How are you?" and to be transparent about emotions, especially when times are challenging. Biles advised attendees to "find things that fuel your tank" outside of work – for her, the gym – to balance professional life and personal passions, an integral part of maintaining mental health.
PAs Meet and Greet at Evening Receptions
Following General Session, PAs mingled in the Exhibit Hall and explored the medical innovations and exhibitor booths on display. PAs enjoyed refreshments, live music, and sports-themed decorations while catching up with friends old and new.
PA students from all over the country enjoyed their own party-within-a-party at the Taking Names and Making Connections event during the Opening Reception.
For one of the day's final events, AAPA honored new and existing Distinguished Fellows at a special reception on Saturday evening. Distinguished Fellows are members who have demonstrated outstanding commitment to the profession through distinction in medical practice, leadership in medicine and healthcare, professional involvement, and commitment to lifelong learning and community service. AAPA past president Beth R. Smolko, DMSc, PA-C, thanked Distinguished Fellows for their leadership and announced that the organization now has over 1,000 Distinguished Fellow members. "Through your accomplishments, you are truly going beyond, which is the core theme of our new PA brand," Smolko said to attendees.
Learn more about AAPA's new brand campaign or visit PAsGoBeyond.com to see for yourself!
You May Also Like
AAPA Puts Mental Health of Patients, Providers at the Forefront of First In-Person Conference Since 2019
Thank you for reading AAPA's News Central
You have 2 articles left this month. Create a free account to read more stories, or become a member for more access to exclusive benefits! Already have an account? Log in.