A Day in the Life of a PA in Dermatology
From Acne to Melanoma, PA Sara Wilchowski Sees it All in a Single Day
March 9, 2022
By Sara M. Wilchowski, MS, PA-C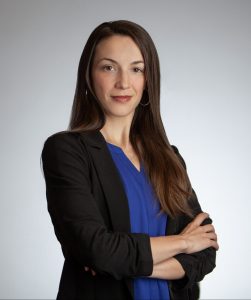 Growing up in a competitive sport, I was dedicated, persistent, and always enjoyed a good challenge. These formative years taught me discipline and the importance of exercise, nutrition, and overall wellness. Working to overcome numerous injuries led me to understand the pivotal role all healthcare providers play in the care of athletes and non-athletes alike.
As I sharpened my undergraduate focus on exercise physiology, I held jobs in cardiac rehabilitation and health and wellness coaching before matriculating at Wayne State
University for PA school. Little did I know these years would heavily influence my role as a PA.
I kept an open mind during PA school rotations. Truthfully, I wanted to work in cardiology. During rotations, I found myself fascinated with the varied presentations of rashes and how each presentation was unique to that diagnosis. I decided to do a dermatology elective, which solidified my love for the field. I strongly believe we are all called to this profession, however medical specialties have a unique way of picking us. In this instance, dermatology selected me.
The Broad Scope of a PA in Dermatology
As the largest organ, the skin is laden with numerous diseases with highly varied presentations. In any given day, I address skin cancer prevention and detection, congenital diseases, nutritional imbalances, autoimmunity, and external manifestations of internal disease, and this is only an abbreviated list! My focus has never been cosmetics, so you will not find this PA discussing fillers or microneedling. Instead, my bread and butter is skin cancer, inflammation, and immunology with a heavy focus on nutrition and lifestyle modification.
Genetics are only one piece of the disease puzzle and prescribing a pill (or cream) for every ill is not the approach I take with my patients. Allowing them to understand that their choices, in some cases, have led to their disease empowers them to implement changes that will impact the rest of their lives. My focus is not simply getting my patients better but getting them well.
With my significant focus on skin cancer detection and treatment, at least half of my scheduled patients are being seen for routine skin exams or excisions. These exams are detailed, with hair and scalp inspection, oral inspection, and not to mention the rest of the head-to-toe cutaneous exam. Yes, that also means where the sun does not shine­­—melanoma knows no boundaries! It is crucial to be meticulous during these exams to catch the disease early.
I utilize dermoscopy extensively to see deeper structures within the skin layers. This device is synonymous with a stethoscope. The students who rotate through my office learn quickly how important this device is. Many days are filled with shave and punch biopsies but my most utilized treatment is cryotherapy.
AAPA's Areas of Practice Guide
A Day Filled with Patient Visits
My day starts at 7:30 with a full-body exam on a patient with a history of melanoma with a depth of 2.8mm and a negative sentinel node. A cutaneous exam yields nothing, but the lymph node exam  reveals a fixed palpable node as well as recent onset shortness of breath with headaches. You are never fully prepared to have this conversation as you inform them of what you are seeing and the tears in the 34-year-old's eyes begin to fall. We discuss the next steps and initiate the appropriate immediate referrals.
The next five patients all receive full-body cancer exams.  After, thankfully, no cutaneous malignancies were detected, they are all scheduled for a one-year follow-up. Moving on to room 6, the next patient is diagnosed with delusions of parasitosis, and I immediately put on my psychodermatology hat. I then walk into room 4  to see an elderly patient with a leg bandage. I remove the bandage only to find the wound bed is filled with maggots. I ask how long this bandage has been left on and he does not recall; he lives alone. We arrange for transportation to the nearest Emergency Department.
As I take a deep breath, my medical assistant preps me for the next patient with a rash on the back of their neck. Little does this patient know this rash is a sign of insulin resistance. Lab work reveals a fasting insulin level of 75 and her A1C is 9. We initiate another referral and discuss dietary interventions. Fortunately, my subsequent patients are acne follow-ups who seem to be doing well and at least my day ends on a positive note.
Helping Patients Weigh Their Options
I shift my focus after patients have left to the end of day tasks. This includes reviewing pathology reports and chart notes, sending melanoma tissue samples for genetic sequencing, and returning patient calls. I end this particular day by calling the 34-year-old to check in on her from the tough conversation we had earlier. Her husband is on the phone with her, and they tell me they just found out she is pregnant. My heart sinks into my stomach. The advances in medical treatment options are favorable, however, and I try to keep the conversation positive. For this day, I feel blessed to see these patients and impact their lives. Some of these conversations are difficult, but that is what I signed up to do.
There is no typical day for me, and while dermatology encompasses many overlapping aspects of medicine, that is what I love about it. I leave my medicine hat at work to come home to my husband, fur baby, and my favorite place in the house, my kitchen.
[Wherever you want to go in your career, AAPA can help – join or renew your membership today]
Outside the 9-to-5
I dedicated the first decade of my career to advancing our profession by holding numerous leadership positions locally and nationally, including president of my state organization for dermatology. I recently completed my term as vice president of the Society of Dermatology Physician Assistants, AAPA's largest constituent organization. It was a privilege and an honor to serve alongside so many PAs who practice dermatology throughout the country. I can say with certainty that anyone looking to truly impact our profession needs to consider serving as a volunteer leader in one form or another.
My desire to serve also extends into the educational realm thanks to the influence of inspiring mentors I have met along the way. Lecturing at Wayne State University as well as locally and nationally to share knowledge gained over the years with others is the backbone of who I am. Whether behind a podium, in publications, book chapters, or in the classroom, this is my greatest honor. This is my favorite part of being a PA.
As I embark on the second decade of my hopefully long career, pursuing my doctorate is at the forefront. When I am not doing all things PA related, you can find me cooking, traveling, watching Marvel movies, adding to my Whiskey collection, or spending time with my fur baby, family, and friends. Finally, my PA family, may your coffee be strong but your SPF stronger!
Sara M. Wilchowski MS, PA-C, is a PA specializing in dermatology in Michigan. She holds two certifications from the Society of Dermatology Physician Assistants as a Diplomate and Diplomate Fellow. She has held numerous appointed and elected roles with the SDPA, spanning over ten years. She is past president of the Michigan Dermatology PAs and 2016 Michigan Dermatology PA of the year. Contact her at [email protected]
You May Also Like
PAs Champion Cancer Patients in Hockey Game Fundraising Marathon
PA Entrepreneur Develops Popular Skincare Line
How COVID-19 Impacted PA Salaries
Thank you for reading AAPA's News Central
You have 2 articles left this month. Create a free account to read more stories, or become a member for more access to exclusive benefits! Already have an account? Log in.