PAs Champion Cancer Patients in Hockey Game Fundraising Marathon
Seek to Send Disease to the Penalty Box Forever
November 10, 2021
By Hillel Kuttler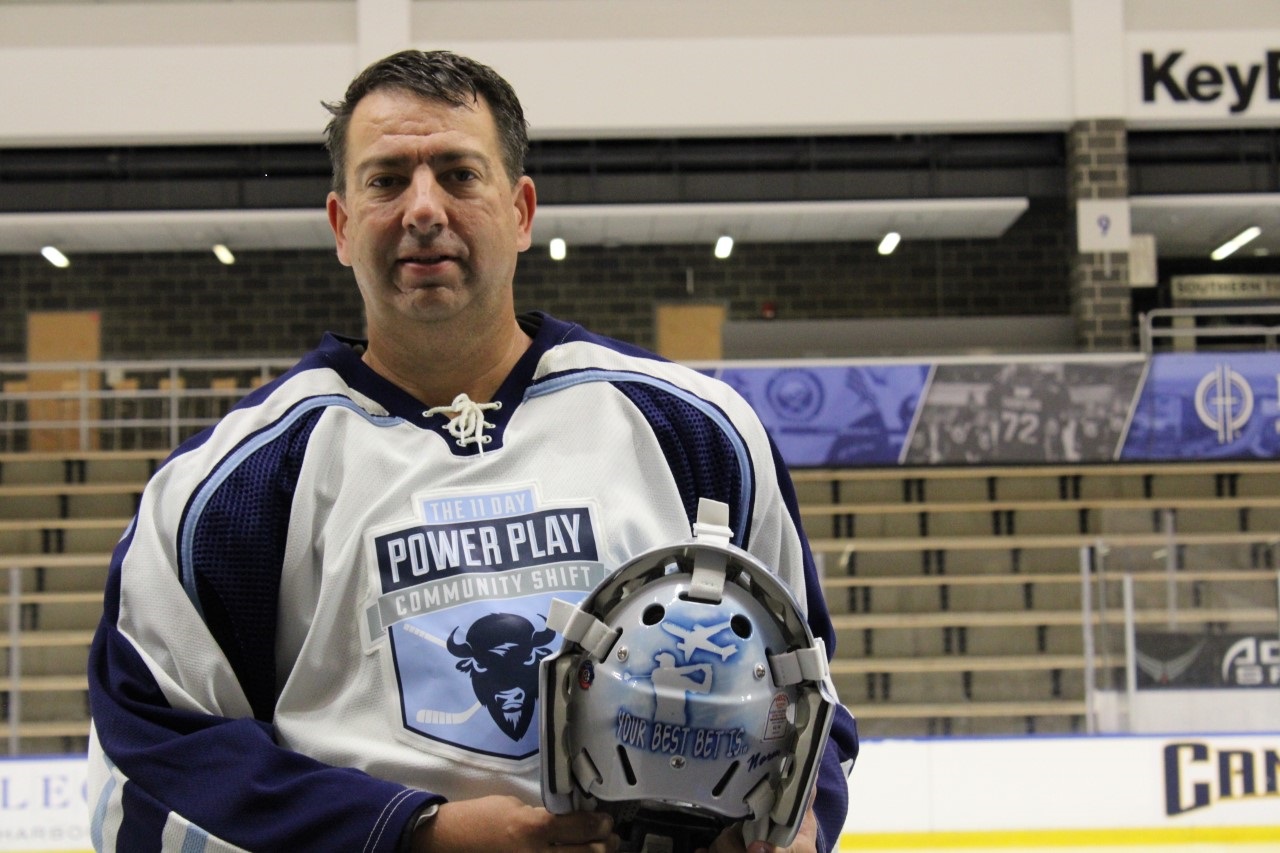 Glenn Buczkowski, PA-C, choked up while discussing the heart-wrenching decision in December 2011 to remove his father, Norm, from life support. Norm's lungs were failing from the effects of radiation treatment for cancer caused by four decades of smoking.
Buczkowski, a PA in general surgery and vascular surgery in Buffalo, New York, held a proxy to make such healthcare decisions. Family members gathered around Norm's hospital bed had weighed in. Now, they looked toward Buczkowski.
"I couldn't say, 'We should stop [life support],'" he recalled in a recent video conversation with AAPA. He paused and wiped a tear.
"I said, 'He wouldn't want to be kept on a ventilator.'"
So it was done. Norm passed away moments later at age 73.
His legacy and those of other cancer victims will be evoked beginning on Nov. 14, the start of a marathon, 11-day hockey game at the Buffalo RiverWorks outdoor rink between two teams of 20 players each bidding for inclusion in the annals of the Guinness World Records.
The event, now in its fifth year and dubbed 11-Day Power Play, has raised $6 million to benefit the cancer hospital where Norm was treated and related charities. As of Nov. 9, more than $1,650,000 has been raised in the 2021 campaign toward a goal of $2 million, said the event's cofounder, Amy Lesakowski, a breast cancer survivor whose mother-in-law died of lung cancer.
"During the pandemic, these charities need us now more than ever, and we hope we can bring this support to them," she said.
[Stay connected to your PA community – join or renew your membership today]
PAs Glenn Buczkowski and Andrew Case among 40 players competing
Said Andrew Case, PA-C, also among the 40 players competing this year in the marathon game: "Hopefully, we'll be contributing to PAs' popularity by setting the record and raising money for this cause." Case lost his father and stepfather to cancer.
An offshoot of 11-Day Power Play, known as the 40-Team Invitational, will take place at an adjacent rink. Approximately 1,000 players will participate.
Buczkowski, a hockey fan and longtime player, will lace up his skates as a jack-of-all trades: a defenseman, forward, and even goalie. The back of his helmet features images of a jet and a golfer's silhouette to represent his father's career as a customer-service representative for an airline and his sporting passion.
Father and son regularly watched the National Hockey League's Buffalo Sabres play on television and attended occasional games.
"We grew up in a modest household, so it was a treat to go to games," Buczkowski said.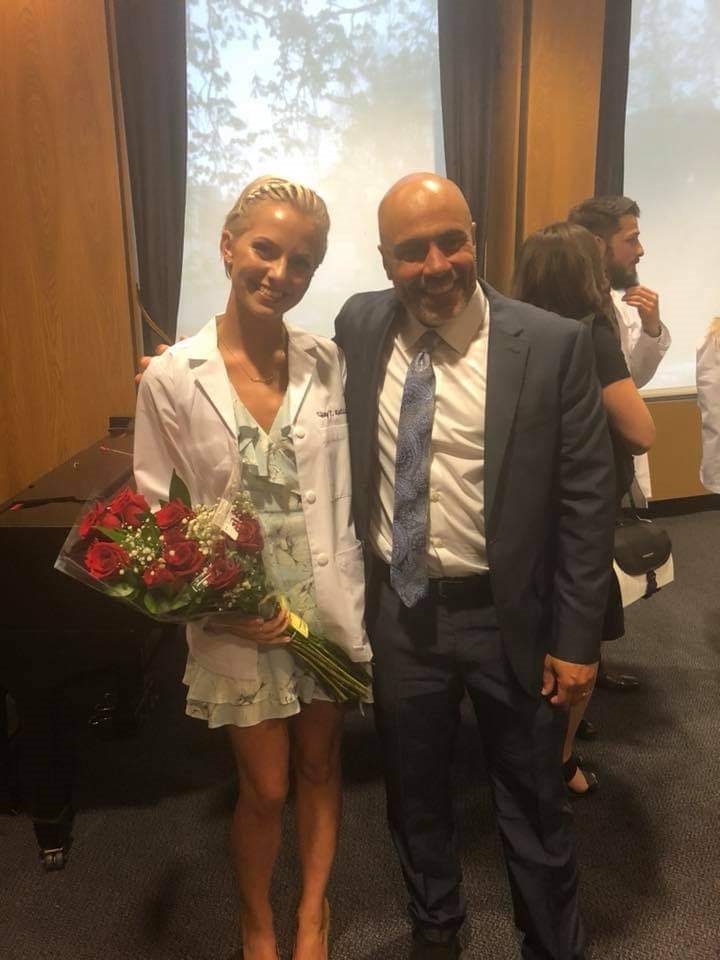 Case resigned from faculty positions for the PA programs at both D'Youville College and Canisius College to care for his mother, a breast cancer survivor. He also survived thyroid cancer.
He is involved in two ways in fighting cancer, he explained, because "I don't want other families to go through what my family has experienced."
Case plays forward in the charity games, as he does in pick-up games. A drummer, Case and his band, The Great Train Robbery, also played a concert fundraiser on Oct. 29 and hoped to exceed the $20,000 he raised in 2017 with his other band, The Outer Circle Orchestra, for the hockey-cancer cause.
That year, he was a member of the 11-Day Power Play contingent that, in its inaugural event, set a Guinness World Records mark for the longest hockey game played. An Edmonton-based group called the World's Longest Hockey Game overtook the Buffalonians' record in 2018 and 2020, also to benefit cancer research, but fully supports the latter's effort to grab the crown back, said Lesakowski.
Strict guidelines to attain Guinness World Record
"The challenge of fundraising for cancer research, using hockey as a vehicle," holds great appeal, Case said. "When you come together to raise millions of dollars to benefit cancer research and make this disease one that people can live with – that's what inspires me. We're hopefully contributing to answers about this disease."
The players are bound by Guinness's strict guidelines to attain the record. Short of a medical emergency, for example, all players must remain on the premises throughout the 11 days.
In preparation, the PAs and their 38 colleagues undergo physical fitness and endurance training and practice regularly on the ice. Their support staff includes medical professionals and nutritionists.
Among the prominent people participating in the companion event on the nearby ice is ex-Sabres right wing Pat Kaleta. While he won't be playing, Kaleta, whose grandmother died of cancer, has recruited high-level players to the cause for four consecutive years through his HITS (Helping Individuals to Smile) Foundation.
"I take pride in giving back to the community. One hundred percent, I was going to be involved in this event. That's the way we are for this city," said Kaleta, who coaches for the Buffalo Jr. Sabres' under-13 club and is one of a handful of native Buffalonians to have played for the Sabres.
Buczkowski dedicated to patients and hockey
When he spoke with AAPA, Buczkowski had just completed a twice-a-week, hour-long early morning workout with one of the group's trainers that involved stretching, tossing medicine balls, sprints, and push-ups, all of which "gets us ready to go, since [the marathon event] will be a grind," he said.
Buczkowski's commitment to 11-Day Power Play is consistent with his work as a PA, said the physician he has worked with for the past 20 years, Michael Vasquez, M.D.
"It's an extension of his nature. He's giving. He puts others first more than most," Vasquez said. "I'd describe Glenn as my right hand. He's just been a pillar. He understands what I'm thinking. He's got tremendous compassion for patients. He's benefited my patients, my practice, and myself in many ways. He's just been a pleasure to work with."
As to Buczkowski's playing in November's marathon, Vasquez said, "I can't imagine being in [only] one place for 11 days. He's a very dedicated individual – and when he puts his mind to something, he does it."
Vasquez himself had played hockey but dropped it many years ago following a knee injury. But being around Buczkowski brought Vasquez back to the sport, and now he, too, plays pick-up games occasionally.
"He got me involved again," said Vasquez, "which was good for my fitness."
Post-event update
2021's 11-Day Power Play concluded on Wednesday, November 24. Not only did the 11-Day Power Play exceed its fundraising goal of $2 million, but the participants broke the world record for the longest hockey game ever. What an achievement for all involved!
Hillel Kuttler is a writer/editor specializing in sports and healthcare. Contact him at [email protected].
You May Also Like
PA Soccer Referee Finds Work-Life Balance
Transplant Surgery PA Helps Turn Tragic Endings into New Beginnings
Emergency Medicine PA Braves Alaskan Tundra to Lead Iditarod Race Medical Team
Thank you for reading AAPA's News Central
You have 2 articles left this month. Create a free account to read more stories, or become a member for more access to exclusive benefits! Already have an account? Log in.