Kathryn Reed Makes Her Mark on the PA Profession
Founder of the NSBPA Talks about Diversity in the PA Profession, Championing Health Equity, and More 
February 8, 2022
By Jennifer Walker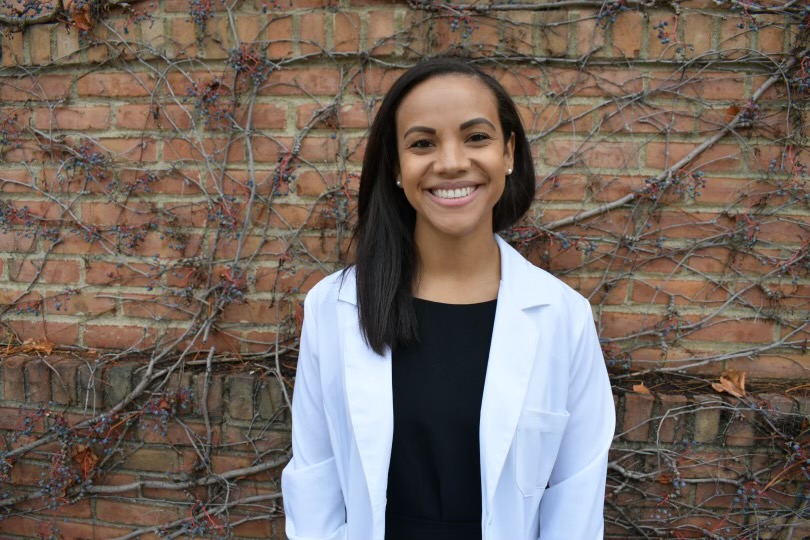 Kathryn Reed has only been a practicing PA for a few years, but she's already focusing her work on solving problems and finding solutions. From small inefficiencies to larger systemic issues, Reed has been working to address health inequities and diversify the PA student body. Reed's dedication, her solution-oriented approach, and her follow-through are qualities all PAs can emulate. 
Seven years ago, Kathryn Reed, PA-C, was one of a handful of students of color in her class at the University of Pittsburgh's PA Program. Reed is biracial—her father is Black and her mother is white—and she grew up in a predominantly white community in Ohio, so she reasons she might be more comfortable in primarily white spaces than others. But she still noticed she had a different reaction than her classmates to certain topics, such as health disparities in kidney donation. The group talked about how it was common for patients of color to continue to stay on dialysis instead of getting transplants, in part because there are a limited number of kidneys available to them that would be a match.
[PAs know what to do — and help patients understand why. Read more.]
"My colleagues and peers sitting around me were like, 'It's another number,'" she says. "But to me, this could be my dad or my uncle. These are people I care about and can picture." For Reed, these experiences underscored the health disparities that she already knew existed.
Reed also began to have feelings about the lack of diversity in the PA field: Only 3.3 percent of the physician assistant workforce identifies as Black or African American, according to the 2020 Statistical Profile of Certified PAs from the National Commission on Certification of PAs (NCCPA). Because of the data and her own experiences, Reed started thinking about how she might be able to support other students and PAs of color. Reed formed the National Society of Black Physician Assistants (NSBPA) in January 2020. Now with around 700 members, including pre-PAs, PA students, and practicing PAs, the NSBPA focuses on mentoring and virtual shadowing programs, educating young people of color about the PA profession, and creating a formal network of PAs of color who have access to each other for community and mentorship.
The NSBPA also strives to reduce health disparities and bring health equity to everyone—vital issues that Reed has been interested in throughout her young PA career. "If you are championing health equity in marginalized communities that are heavily impacted by health disparities, you tend to also improve the quality of healthcare for everyone else," she says. "That's because our system and structures are becoming better able to care for patients across all demographics. That's really the goal."
Removing Barriers and Creating Inclusive Spaces
As an undergraduate student, Reed majored in emergency medicine, which allowed her to become a paramedic. She then worked for Northwest EMS, a position in which she interacted with PAs during the transfer of patients from the ambulance to the hospital. This was her first exposure to the PA field. As Reed realized she wanted to shift to primary care to help patients manage their chronic illnesses, a PA career felt like the right fit. She began the PA program at the University of Pittsburgh in 2015.
Since her graduation, Reed has practiced at East Liberty Family Health Care Center, a federally-qualified health center where she cared for underserved patients, and at the U.S Department of Veterans Affairs (VA) in Pittsburgh, where her work as an internal medicine PA often focused on addiction medicine. In both positions, she enjoyed working with diverse patient populations at organizations that removed barriers to care, but she also ultimately felt burned out for different reasons: At the health center, she was the only full-time provider in a space that always had more patients than providers, and at the VA, she was juggling long work days with starting a nonprofit.
To find more balance, Reed shifted into academia in September 2021, taking a position at her alma mater, the University of Pittsburgh, as an assistant professor in the School of Health and Rehabilitation Sciences—a virtual position that allowed her to move back to Ohio to be close to her family.
In her current role, Reed works with the University of Pittsburgh's Physician Assistant Studies Hybrid Program, an almost fully virtual PA program that will welcome its first class in January 2023 pending ARC-PA accreditation. The hybrid program was created to reach people who have barriers to attending a traditional PA program, such as the location in which they live. Currently, Reed and her faculty peers are focused on interviewing applicants, preparing for an accreditation site visit, and planning the curriculum.
Reed is also the vice chair for equity, inclusion, and community engagement, a formal role with the University of Pittsburgh's Department of Physician Assistant Studies. She says it's important that roles like this be legitimized with titles and appropriate pay, as well as a workload that's incorporated into providers' existing job responsibilities.
"Healthcare and academic institutions tend to expect that the [diversity, equity, and inclusion (DEI)] work will be done by the minority employees," she adds. "But that's the minority tax we talk about, which is expecting that these folks will continue their current roles in addition to all the diversity and inclusion work within a space, which isn't a fair position to put anyone in. Folks will get burnt out. If health systems are really intentional about wanting DEI to be implemented, they have to pay people and provide time for the work that they are doing."
As the vice chair, Reed and her colleagues are looking at the PA program's admissions processes and where there could be unintentional barriers or biases within their metrics. The goal is to make the admissions process as equitable as possible. "If [admissions staff] are basing whether someone would be successful in a program on only one score like the GRE or a science GPA, we might be missing people who also would be successful but who don't meet those traditional metrics," she says.
Reed is also faculty advisor for PA Students Promoting Diversity and Inclusion (PASPDI). This student-led leadership team puts together quality content for newsletters and plans events that cover topics like mental health among people of color and caring for transgender patients. They are also working on a project in collaboration with the Wellness Pavilion in which they partner with The Homewood Community Engagement Center to discuss health science careers, including the PA profession, with diverse groups of middle and high school students at local public schools.
Then through a pipeline project, Reed is working with the University of Pittsburgh Medical Center (UPMC) to draw in more advanced practice providers from diverse backgrounds. The goal is to create affinity groups to show current PA students, who will soon be looking for positions, that there are people of color who work as providers within UPMC and that they will have access to a community and potential mentors if they choose to work there.
Building a community and introducing young people to the PA profession are also two of the reasons that Reed wanted to start a nonprofit. "About a year after I started practicing, I was having this recurrent thought that it would be really nice to know a large group of Black PAs, to be able to interact with them and to mobilize them to work with students, specifically students like me who didn't know what a PA was until they got to college," she says. This thought ultimately led to Reed starting the NSBPA.
Launching a Nonprofit
Before officially launching the NSBPA, Reed had to work on her fears around starting a nonprofit. She struggled with imposter syndrome and the feeling that, as a biracial woman, she wasn't "Black enough" to do this work. Then she discovered YogaRoots on Location, LLC®, a "community of antiracism [that practices] interactive Raja Yoga." Reed participated in the 200-hour teaching training program, which helped her process her feelings around race and identity and find the language to articulate how she was feeling about the lack of diversity in PA programs and the field in general.
From there, Reed reached out to her old advisor at the University of Pittsburgh, Dr. David Beck, to float the idea of starting a nonprofit. She also got in touch with friends who are people of color and who had attended other PA programs to learn about what their time as PA students was like in regard to diversity. For Reed, these conversations solidified in her mind the need for the NSBPA.
Since officially launching the organization, Reed's primary focus has been diversifying the student body within PA education. Along with her leadership team, she has created initiatives that bring education about the PA profession to diverse middle and high school classrooms and connect students of color who are interested in a PA career with practicing PAs and PA students for conversations and mentorship.
At the NSBPA, as well as in her role at the University of Pittsburgh, Reed is continually focused on reducing health disparities particularly among communities of color. A key action that educational and health systems can take in moving closer to this goal is emphasizing cultural competencies among providers. This includes taking into account the history of racism in the United States and how it might impact people of color today and their feelings toward the medical system.
"What might [systemic racism] feel like in terms of generational trauma? This, and the potential for having to deal with provider racial and ethnic bias, may play a role in whether people of color seek care.
"But if we can [talk] to providers about the history and health disparities that exist, my hope is that over time the disparities will slowly begin to disappear. When [we as providers] go into communities and we're caring for people, we have to be able to humanize the patient in front of us and treat them in a way that acknowledges their fear of the healthcare system and work to build trust. It takes time, but it is ultimately what will bring us closer to our goal of health equity. That's why I do the work I do."
You Might Also Like
AAPA's Diversity, Equity, and Inclusion CME Webinar Series
Founding Morehouse Program Director Highlights Health Disparities for People of Color
PA Moms Blog Through School and Practice
Thank you for reading AAPA's News Central
You have 2 articles left this month. Create a free account to read more stories, or become a member for more access to exclusive benefits! Already have an account? Log in.