Diversity, Equity, and Inclusion CME Webinar Series
Promoting equity and justice in healthcare exemplifies the values of the PA profession and is the responsibility of each and every PA with the support and leadership of AAPA.
This free CME webinar series is part of AAPA's commitment to identifying learning opportunities to advance the understanding of diversity, equity, and inclusion. Register below to reserve your spot today. Each webinar will be recorded and made available afterward in AAPA's Learning Central.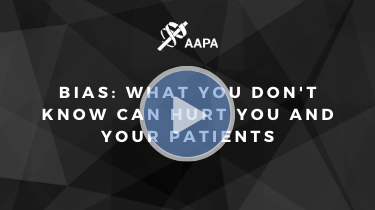 Bias: What You Don't Know Can Hurt You and Your Patients
Date: Friday, October 30, 2 p.m. EDT
Speaker: Deanna Bridge Najera, PA-C
Learn about issues related to equity in healthcare, understand the concept of implicit bias, and examine how your own biases can impact the care your patients receive. [Learn more by reading this news story].