PA Soccer Referee Finds Work-Life Balance
Katja Koroleva Moves from Onsite ED to Telehealth to Officiate More Games
July 2, 2022
By Hillel Kuttler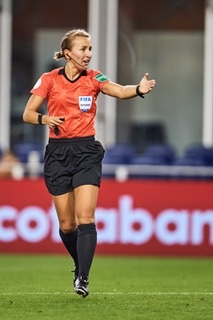 When Convergence Telehealth considered hiring Ekaterina Koroleva, PA-C, company executives learned through online searches that she was a high-achieving soccer referee.
They texted each other in surprise. Koroleva had only casually mentioned her sideline work.
"When you see the extent of it, it's very impressive," said Allison Winokur, Convergence's vice president for operations. "It's awesome that she can manage both."
The new job certainly agrees with Koroleva, who had worked successfully in emergency medicine but sought a position offering greater flexibility to grow in soccer.
The change came after the Seattle-based Koroleva, like many people during the coronavirus pandemic, took stock of her life and reordered her priorities.
For Koroleva, that meant an altered work schedule offering a better balance with her passion for soccer – this, when she already was among the top referees in the United States.
But she knew that her peak period in soccer is limited – Koroleva, 34, estimates her window to be 10–12 more years at a high level – and wanted to improve still more.
Throughout her career, Koroleva said, she reveled in the fast pace of working in emergency rooms: the adrenaline rush, assessing and making decisions quickly and accurately, the unrelenting pressure that she acknowledges "is not for everyone," and people depending on her to deliver with so much at stake.
Those descriptors are what grab her about soccer, too.
"The ER was incredibly attractive to me because of shift work and the fast-paced environment [being] the same as refereeing: You make decisions and continue," she said.
From the Emergency Department to telemedicine
But as much as the ED's shift-work nature freed up time to officiate games, Koroleva saw an even better option: seeing patients remotely. She now consults with medical residents at assisted-living facilities and nursing homes on treating their patients' emergent issues to avoid ED visits.
And she does it from wherever she happens to be officiating games. When Koroleva spoke with AAPA in early July, she was in Hartford, Conn., after refereeing a U.S.-Mexico friendly match.
With the Olympics taking place in Tokyo, Koroleva is looking ahead, hoping to earn her way into a refereeing assignment at a future Summer Games.
Soccer has pulled at Koroleva, who goes by the nickname Katja as is the norm in her native Russia, since growing up in Iowa City, Iowa. While playing right back and center back for her high school and club teams, though, Koroleva realized that "my capabilities as a player were limited," she said. She enrolled at age 16 in a referee-training program.
Koroleva became a certified referee while in high school, made what she called "a nice chunk of change in the summer refereeing" under-13 leagues and soon was assigned to officiate high school, college, and adult leagues, too. The breakdown of matches she officiates is approximately 70 percent women's games and 30 percent men's.
[Wherever you want to go in your career, AAPA can help – join or renew your membership today]
One of four female referees representing US at FIFA
Koroleva is a referee representing the United States at the Federation Internationale de Football Association (FIFA), the sport's governing body globally. "Any referee in the U.S. or the world at that level knows Katja," said Mohammad Zarrabi-Kashani, a national assessor of referees for the US Soccer Federation.
She attained soccer's pinnacle by refereeing at the 2019 Women's World Cup in France and hopes to be selected for the 2023 tournament in Australia and New Zealand. She participated in the 2022 FIFA U-17 Women's World Cup.
But Koroleva knows that 2019 wasn't her showcase.
"It's the top athletes performing at something they worked so hard for and that officials worked hard for. In that environment, you know the purpose and exclude all the distractions," she said of the World Cup experience. "You reflect afterwards on the accomplishments. The experience is so unique and so incredible. You think: How do I do it again? How do I train more? It leaves you wanting more and with a really positive feeling."
Koroleva's peers take notice of her skills. Koroleva's "presence on the field, her foul recognition [distinguishing a foul from allowable contact], positioning, work ethic and working with the assistant referees and the fourth official" are what Zarrabi-Kashani said most impress him.
"Refereeing is not just blowing a whistle and showing the yellow card or red card. It's managing 22 players on the field. It takes a lot of people skills. Everything you do can affect the game: your movement, your communication with coaches. … What stands out for me is the way [Koroleva] manages a game," he said.
"I'm sure that what she learns on the field, she applies in situations in which she deals with the patient," Zarrabi-Kashani said. "I'm sure the patients see the difference in her compared to another PA."
Winokur sees similar overlapping in her new employee.
"Quick on her feet and thrives under pressure"
Koroleva "is quick on her feet, is great with the medical residents, has great disposition with patients, explains to the nurses why she's ordering tests … and thrives under pressure," Winokur said. "You can draw parallels with soccer. She's far away from the patient, not knowing the patient and has to decide on the best course of care, quickly, to get the best outcome."
Koroleva's interest in medicine comes from her mother, Irina Koroleva, Ph.D., a geneticist and molecular biologist. Katja considered becoming a physician until realizing that medical school and the life that followed were incompatible with the schedules of national and international soccer competition.
In the Koroleva family, influence also flows from daughter to mother, as Katja's embrace of officiating also hooked Irina. Irina had never played the sport, but as a soccer mom in Iowa City who shuttled her daughter and teammates to competitions, she fell for The Beautiful Game.
When more referees were needed, Irina trained after work, passed qualifying tests, and soon found herself calling games for a few summers in the mid-2000s. She and Katja even refereed a few games together.
Irina recalled Katja having considered a career in pharmacy and interning at several pharmacies during college, but dropping it because "she wanted to be able to make decisions, like on a soccer field."
That's how Koroleva became a PA. She researched the profession and embraced emergency medicine. It was, and remains, the right choice.
"I love my life. I'm happy every day," she said. "I'm living my dream, and I'm incredibly lucky for the opportunities. Both [work and officiating] are accessible and balanced."
Originally published on August 5, 2021
Hillel Kuttler is a freelance writer-editor. Contact him at [email protected].
You May Also Like
Adrenaline Junkie: After 22 Years in Air Force, Pamela Lucas Now President of Veterans Caucus
Paving the Way: PA Patti Cuartas and Her Journey to the C-Suite
Reaching New Heights: From Cancer Survivor to Becoming the First PA in Space
Thank you for reading AAPA's News Central
You have 2 articles left this month. Create a free account to read more stories, or become a member for more access to exclusive benefits! Already have an account? Log in.