Transplant Surgery PA Helps Turn Tragic Endings into New Beginnings
Georgeine Smith Uses Special Skills and Persistently Positive Approach
July 30, 2022
By Dave Andrews
Giving someone a second chance at life is an extraordinary opportunity. And even though she's done it well over one thousand times throughout her career, Georgeine Smith, lead PA of transplant surgery at the Penn Transplant Institute, says each case is uniquely rewarding.
For more than 13 years, Smith has served a critical role within the carefully coordinated and highly time-sensitive process of organ procurement. Despite the rigors of her responsibilities, Smith summarizes her work into one word: fun.
"For me, going to work is as fun as going to my own birthday party," Smith said. "It's exciting to be a part of these life-changing and life-saving experiences. In fact, there are times when I'm in the OR and I realize I need to calm myself down because I'm so excited to be participating in such a fantastic procedure, working with amazing surgeons and assisting the Fellows with their education."
Smith's team primarily procures livers, kidneys and pancreases, performing about 120-130 transplants each year. On a moment's notice, day or night, the team will regularly travel across town, across state lines or even across the country to procure an organ.
Timing is Everything
Their form of transportation—whether by car, ambulance, helicopter or private jet—will not only depend on the location of the donor, but also the type of organ being collected. For example, while kidneys can be cold for up to 24 hours, livers ideally are sewn in within eight hours of cross-clamp time of the aorta.
For each precious organ, the clock is ticking. Smith and the surgical team will perform the operation and conduct an assessment of the organ's quality to determine its suitability for the intended recipient. In some cases, a biopsy of the liver may also be necessary.
Occasionally, the team will make two or even three consecutive trips, with little or no downtime in between. Though the work can be taxing, Smith says it is nothing compared to what she gets in return when she sees her patients' health begin to improve almost instantaneously after a successful transplant.
"Many of these potential liver transplant recipients are some of the sickest patients you'll ever see—they are literally dying right before your eyes," Smith said. "But post transplant, even when they're still in the ICU, they'll tell me they're already feeling significantly better. It's truly a miraculous and transformative event."
Sunshine Effect
Many other providers with experience in the field will express similar sentiments about how profound the transplant process can be. And they will also acknowledge it takes a special set of skills and a persistently positive approach to excel in a role like Smith's.
"It's not particularly glamorous and it can be a real grind sometimes," said Dr. Paige Porrett, MD, PhD, associate professor of surgery at the University of Alabama at Birmingham and a former colleague of Smith. "But Georgeine is so great at it because she has this aura of positive energy. It's like she brings a ray of sunshine into some very 'dark' moments—times when it is so desperately needed by her patients."
[Wherever you want to go in your career, AAPA can help – join or renew your membership today]
Smith's compassionate and energetic approach is recognized by her colleagues just as much as it is by her patients. Dr. Porrett, who worked alongside Smith for more than a decade while at the Penn Transplant Institute, recalls numerous occasions when the work was especially difficult or stressful, and Smith would assuredly offer some words of encouragement to help the team push through.
"She's always the first person to roll up her sleeves and help another person in the OR—no matter what their role or capacity is—to help get the job done," Dr. Porrett said. "She's exceedingly proactive but without being aggressive or threatening."
To Dr. Porrett, Smith has been both a personal friend and a peer mentor. After the two initially met, it wasn't long before Smith had gained her respect and admiration.
"Technically, as the surgeon, I was in a role that was more empowered than her role as a PA. But to be completely honest, I quickly learned it was better to just shut my mouth and listen to her because she is so incredibly wise," Dr. Porrett said. "I've since emulated her approach in countless situations throughout my career."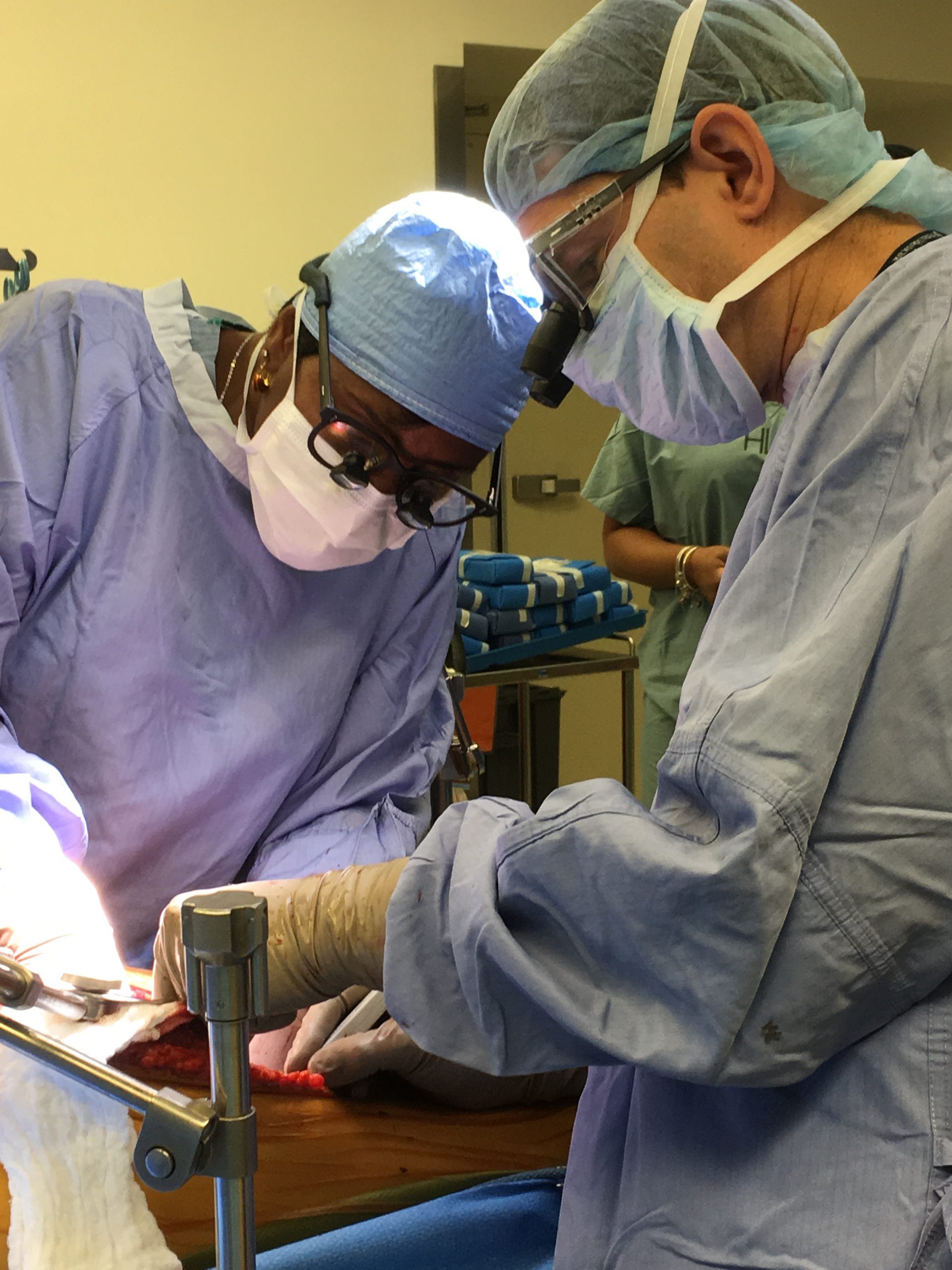 Moments of Honor
At no other time is Smith's passion for her practice more evident than in the moments just prior to the first incision of the donor surgery. During what is commonly referred to as the "moment of honor," all members of the surgical teams will customarily pause for about two minutes to recognize the loss experienced by the donor's family and the significant gift of life they made possible.
"No matter how late it is, how tired we might be or how many other hurdles we have in front of us to get the organ to the recipient, the moment of honor is something we never take lightly," Smith said. "Whether it's a poem, a phrase, a song or prepared comments from the donor's family, it's an important reminder about the magnitude of what's about to happen."
Dr. Peter Yoo, MD, associate professor of surgery and program director of surgical residency at the Yale School of Medicine, says the moment of honor is a crucial component of the donor surgery.
"It never becomes routine, to stop and reflect on the remarkable event of organ donation and the great tragedy that [the donor's family is] experiencing," said Dr. Yoo, who worked closely with Smith when he was an organ transplant fellow at the Hospital of the University of Pennsylvania. "It's important that we recognize how something so tragic for one family can potentially turn into something so positive and life changing in the lives of others."
Not many PAs have achieved such high-level positions like Smith's within a renowned transplant program. However, Dr. Yoo and Dr. Porrett both agree the range of opportunities in the transplant field that are open to PAs is constantly growing, especially for those who have enough determination.
"PAs who challenge themselves to obtain a strong, broad-based education and continually absorb all that they can are most often the PAs who excel the furthest," Dr. Yoo said. "The key is to develop and demonstrate a high level of flexibility, creativity and problem-solving skills—qualities that describe Georgeine to a T."
Dr. Yoo adds that working in the transplant field is very demanding in numerous ways mentally, emotionally and physically. However, in his opinion, the incentives are unsurpassed.
"The satisfaction of a transplant well done exceeds the satisfaction found in any other career or profession on earth," he said. "Does it come with a cost? You bet it does. But is the upside worth the downside? A million times over."
Originally published July 28, 2021.
Dave Andrews is a freelance writer based in Northern Virginia. Contact him at [email protected].
You May Also Like
American Association of Surgical PAs
Insider Perspective from a PA in Family Medicine
Health Inequities: How PAs Can Help Bridge the Care Gap
A Week in the Life of a PA in Radiation Oncology
Thank you for reading AAPA's News Central
You have 2 articles left this month. Create a free account to read more stories, or become a member for more access to exclusive benefits! Already have an account? Log in.