A Week in the Life of a PA in Radiation Oncology
Katey Wert, PA-C, Shares Details of Her Job
December 21, 2022
By Katey Wert, PA-C
My name is Katey Wert and I've been a PA for 13 years. I live just outside Jacksonville, Florida, where I was born and raised, and am only a brief 10-minute drive from my childhood home, where my parents still live. I attended the University of Florida for undergrad and graduated with my MPAS in 2008. Naturally, I am an avid Florida football fan (Go Gators!).
I'm also a dedicated and passionate PA, and I've worked in radiation oncology at Jacksonville's Mayo Clinic for six years, primarily specializing in head/neck and lung cancer patients. Our treatments can be grueling, and it's not uncommon for my patients to require hospitalization at some point during their course. Radiation oncology is a relatively small specialty, but I believe it's a great career and more PAs should consider it. I love my job, as I have an opportunity to impact patients' lives at a time when they need the most support, both medically and emotionally. Working in radiation oncology can be complex, but it's a very collaborative specialty. In addition to seeing patients, I attend a variety of meetings and trainings each week. Here's what a week looks like for a PA in radiation oncology.
[Wherever you want to go in your career, AAPA can help – join or renew your membership today]
Monday
Mondays are often busy and full –  not just because it is Monday, but because this is when we see our patients under treatment. Patients are seen at least once a week to monitor their tolerance of treatment, offer support for the side effects they are experiencing, and encourage them as they continue their treatments. Today no trips to the emergency department are needed, and everyone is tolerating therapy as expected.
Tuesday
Tuesday morning, the clinic staff attends chart rounds, where physicians, residents, APPs, physicists, dosimetrists, therapists, and nursing staff review all patients who are starting treatment. We discuss patients' history and treatment plans as part of our quality assurance. After chart rounds my clinic begins for the week where I see patient that have recently completed treatment, as well as those previously treated. Today I start with a 52-year-old gentleman who recently completed treatment for an oropharyngeal squamous cell carcinoma, p16 positive. He has recovered well following treatment and is here for his first post-treatment follow-up imaging, including PET, CT neck, swallow exam, and physical exam including laryngoscopy. Fortunately, his imaging and exam show complete response to his treatments and no evidence of disease! We discuss the expected changes in taste and saliva, which can continue to improve for up to two years, and what to expect until we see him again in three months.
At noon, physicians, PAs, NPs, and nurses join our Head and Neck Tumor Board with our ENT surgeons, medical oncologists, radiologists, and pathologists. We discuss the history, diagnostic imaging, and pathology of several complicated cases, three of which we will see this afternoon. Following our meeting, we meet one of the patients we discussed for our multidisciplinary clinic where the patient is seen simultaneously by the surgeon, radiation oncologist, and medical oncologist. Head/neck patients can be quite complex, and this collaborative effort ensures the patient's evaluation is streamlined.
[PA in Orthopaedic Surgery Shares What It's Really Like in a Week]
Wednesday
Wednesday morning starts with a lung cancer patient who is two years post-treatment. Unfortunately, his recent CT showed concerns for regional recurrence in the mediastinum. We repeated the PET scan, which shows hypermetabolism in the mediastinum and lesions in the pelvis and liver. We discuss this unexpected news and that although we need a biopsy to confirm, we are highly suspicious these areas represent a progression of his disease. These conversations are sad, uncomfortable, and honestly quite difficult. As humans, we do not like giving bad news. However, as providers, we must provide straightforward information and support the patient. During moments like this, I remember something my dad (a career firefighter) always told me: The day my career does not affect me is the day I need to re-evaluate where I am in my career. It reminds me that being passionate about my job and compassionate for my patients is an asset to a PA.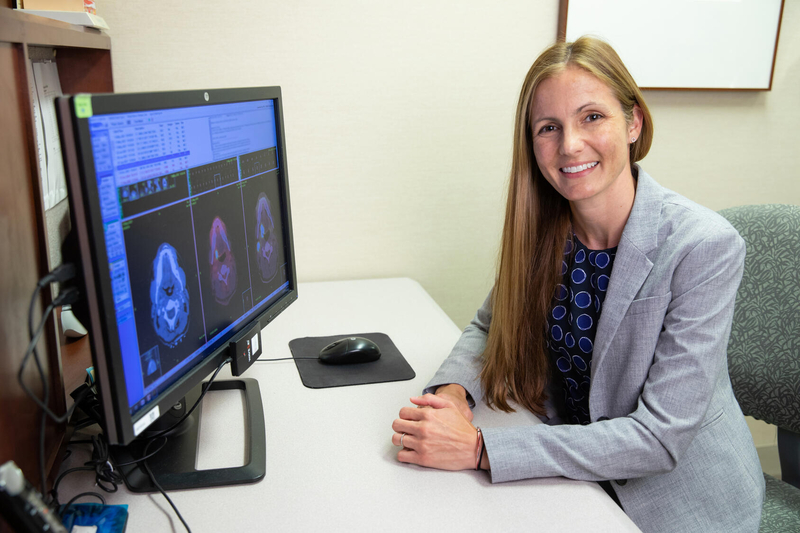 Thursday
Thursdays begin early with our Lung Tumor Board. This collaborative meeting includes providers from radiation oncology, medical oncology, radiology, pulmonary medicine, cardiothoracic surgery, and pathology, where we present new cancer diagnoses and cases of patients undergoing evaluation.  Unfortunately, many of our lung cancer patients have multifocal pulmonary nodules, which must be routinely followed. They often are longtime smokers, although not always, and frequently have chronic pulmonary diseases. Our collaborative conversation allows for open discussions among the specialties, providing different perspectives, all with the same goal to provide the best possible care for our patients.
I then join my Communication in Healthcare group for our biweekly modules, facilitating communication skills practice focusing on effective communication and cross-cultural communication. These were placed on hold early in the pandemic, and we are thankful for the opportunity to resume this vital education virtually.
[Paving the Way: PA Patti Cuartas and Her Journey to the C-Suite]
Friday
To close out the week, Fridays start with Journal Club with our residents. We have an excellent partnership with our residents and participate in many educational sessions throughout the year. Clinic then begins with a head and neck patient who has just reached five years post-treatment and is now cured! The patient and I reminisce about how difficult his treatments were. We talk about his life events over the past five years, including losing the love of his life and celebrating his 80th birthday. Most importantly, we celebrate that he doesn't have to return for a laryngoscopy (everyone's least favorite part) for one year.
I quickly run to my desk, grab a sip of coffee, and off to the next patient. This is a sweet lady we have followed for years and treated for three separate lung cancers. Fortunately, there is nothing new or growing on this visit, so she mainly updates me on plans to travel as soon as possible. At noon we have our monthly APP Grand Rounds and then wrap up the week with an afternoon of clinic. My last patient for the week is an oral cavity cancer patient. He completed treatment approximately six months ago. Although he was able to discontinue his feeding tube a few months ago, he is finally feeling the improvement in his ability to eat. Between surgery and radiation, he has experienced significant difficulty eating (anatomy changes, taste changes, lack of saliva). However, as time has passed, these are all starting to feel more normal. We celebrate that he ate a meal without needing to wash every bite down with water and that he has even gained two pounds! He's off to celebrate another surveillance visit without concerns, and I'm off to finish charting!
Radiation oncology is a rewarding specialty. I get to collaborate with many other healthcare providers, not just my collaborating physician, and I see patients regularly and am able to develop relationships with them over the years. While at times it can be difficult, I find it a rewarding and meaningful career.
Katey Wert, PA-C, practices radiation oncology at the Mayo Clinic in Jacksonville, Florida. She can be reached at [email protected].
Editor's note: This article originally appeared in June 2021.
You May Also Like
PA Career Pivots: 6 Tips for Redirecting Your Future
5 Things PAs Need to Know about the New Areas of Practice Guide
PA in Orthopaedic Surgery Shares What It's Really Like in a Week
Thank you for reading AAPA's News Central
You have 2 articles left this month. Create a free account to read more stories, or become a member for more access to exclusive benefits! Already have an account? Log in.