A Day in the Life of a PA in Hospital Internal Medicine
Adrijana Anderson, PA-C, Splits Her Time 50/50 Between Critical Care and Hospital Medicine 
August 14, 2022
By Adrijana Anderson, PA-C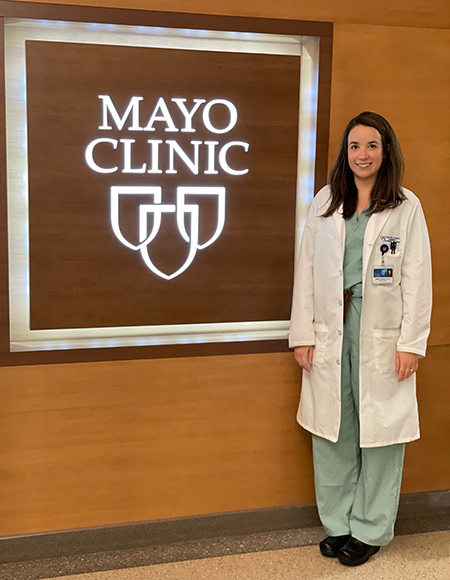 From an early age I had an interest in medicine. I chose to study physiology at the University of Arizona. There were several wonderful shadowing and volunteer opportunities during my undergraduate career that opened my eyes to the possibility of becoming a PA. I can still vividly remember shadowing a PA in pediatric cardiothoracic surgery. I saw the difference he made for his patients and their parents during such difficult and trying times in their lives. It was truly inspiring.
A unique position
Given what I knew of the profession and my many positive experiences with PAs, I went on to attend PA school at Midwestern University in Glendale, Arizona. During my rotations, I was repeatedly drawn to the pace and complexity of hospital medicine. I decided to pursue a post-graduate PA fellowship in hospital internal medicine at the Mayo Clinic in Arizona, with an emphasis on critical care. I was fortunate to stay on as a staff PA at Mayo, in a unique clinical position. I split my time 50/50 between two departments: hospital medicine and critical care. 
Every six weeks, I switch between the two departments. This has provided me with a great balance in the work that I do, and has been very helpful in preventing burnout. It has also been helpful for our hospital to have PAs who can facilitate the transition of patients in and out of the intensive care unit (ICU), since they have a complete understanding of the workflow and patient care on both sides.
Register today for Adult Hospital Medicine Boot Camp
Hospital Medicine
There is so much to love about hospital medicine. The patients we encounter are incredibly complex, and sometimes stay in the hospital for quite some time. We get a chance to develop meaningful relationships with patients and families, and participate in planning a safe discharge for them. We typically work 13 or 14 12-hour shifts per month, and have several shifts to choose from. Our day shifts start at either 6 a.m. or 7 a.m. We also have night swing shifts starting at noon and 2 p.m.
The day shifts involve rounding on patients in the morning with one of our physicians, followed by new admissions, consults, and discharges in the afternoon. The night shifts are primarily focused on new admissions. Many of us on staff work both day and night shifts, and this flexibility is one of the best parts of the job. It creates for a great work/life balance, as well as a lot of balance in our clinical workload from day to day.
[Top-notch CME comes with AAPA membership – join or renew today]
Critical Care Medicine
The ICU is also challenging and rewarding in the best possible ways. Being able to resuscitate a critically ill patient and watch in real time as their organ perfusion recovers from a shock state, or as their respiratory status and work of breathing gradually improves from a state of extremis, is a feeling unlike any other. We also do many exciting procedures in critical care, which makes our job fun! We work 12 13-hour shifts per month, and we work both day and night shifts.
A typical day in the ICU involves arriving at 6 a.m., pre-rounding on patients and being ready for multi-disciplinary rounds around 7:30 a.m. These rounds are one of the best parts about working in the ICU. They include many team members: nursing, pharmacy, physical/occupational therapy, respiratory therapy, nutrition, case management, advanced practice providers (APPs), and physicians. It is a great way to improve communication and prevent errors in patient care. After rounds, our afternoons are spent on new admissions and ongoing resuscitation for current patients. We also get to work closely with residents and fellows, which is a great experience and allows us all to learn from and teach each other on a daily basis. We are all better providers because of this collaboration.
One of the best parts of my job is getting to work with world-class clinicians. There is a team-based and collaborative approach to patient care at Mayo Clinic; our physicians really value the APPs and the mutual respect we have contributes to overall job satisfaction. We all consider ourselves part of a work family.
[PA in Critical Care Shares 4 Crucial Tips]
Outside the hospital
Teaching was an unexpected passion for me, but I have found it to be incredibly enjoyable and rewarding. I am adjunct faculty at Midwestern University's PA program. I also teach at other local PA programs and regularly precept nurse practitioner (NP) and PA students. In 2018, I became the program director of the Hospital Internal Medicine NP/PA Fellowship at Mayo Clinic. I find this role just as fulfilling, if not more, than my clinical work. I consider one of my greatest achievements that I get to teach and mentor our fellows.
While I am incredibly proud of all my professional achievements, my greatest accomplishment in life has been becoming a mom to my two beautiful children – Evan (2 years old) and Kaia (4 months old). Work/life balance can be a tricky thing, but while I love my many jobs, I love being at home with my kids and my husband, Matt, even more! I am also blessed to have wonderful parents and sisters and in-laws who have really been our village with raising Evan and Kaia. I love to fill any down time I have by spending time with my family and close friends.
Come to Austin!
If you're as passionate about hospital medicine as I am, be sure to check out AAPA/SHM Adult Hospital Medicine Boot Camp. Whether you recently started working in hospital medicine, or you are an experienced clinician looking to brush up your skills and review some evidenced based practice updates, you'll find valuable CME that will enhance your practice. This year, Adult Hospital Medicine Boot Camp will be in Austin, Texas from Sept. 14 – 18. There's also a virtual option if you aren't able to attend in person. I always look forward to attending this conference – for the knowledge I gain but also the wonderful networking experiences that arise.
Originally published in July 2021.
You May Also Like
AAPA/SHM Adult Hospital Medicine Boot Camp
PA in Critical Care Shares 4 Crucial Tips
A Day in the Life: How PAs Practice
Thank you for reading AAPA's News Central
You have 2 articles left this month. Create a free account to read more stories, or become a member for more access to exclusive benefits! Already have an account? Log in.