A Note from the President's Desk
AAPA President Beth Smolko Shares Insights on Her First Months 
September 15, 2020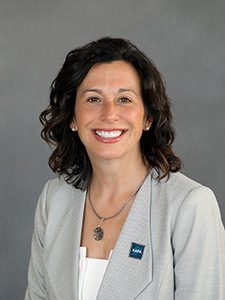 On behalf of AAPA's Board of Directors, I want to take a moment to share some of the important work we are doing on behalf of you – our valued members – and the more than 140,000 PAs who are delivering quality healthcare to patients every day. I am holding myself accountable to you, as the president you elected, and am committed to bringing not only more transparency to the decisions the board is making, but also highlighting the invaluable hours of volunteer work so many of you are contributing on behalf of your profession and the patients you serve.
So, my commitment to you is to communicate often. In this spirit, I want to share a few of the most important actions the Board has recently taken.
Expanding the Interests of our Constituent Organizations
On the recommendation of the Constituent Relations Work Group, the Board approved formally affiliating with a new Special Interest Group – PAs for Financial Growth (PAFG). This SIG – composed of individuals sharing a common goal or interest – will provide education on finance and debt management, with an emphasis on providing tools to make sound financial decisions and improve the overall financial well-being for PAs. Stay tuned as this newest addition to our constituent organization network gets off the ground and plans hosted informational webinars and brings informed discussions to platforms such as Huddle.
[Help further AAPA's advocacy work – join or renew your membership today]
Building our Network
A close working relationship with national physician and medical specialty organizations is essential to fulfilling our mission. Through AAPA's Medical Liaison Program, we are creating opportunities to forge and sustain important strategic engagement with key organizations representing valuable members of the modern healthcare team. AAPA's Board recently appointed the following Medical Liaisons:
American College of Surgeons (ACS): Kevin Hickman, PA-C, MHA, MJ (Health Law), CHC
American Society of Clinical Oncology: Heather Hylton, MS, PA-C, DFAAPA, FASCO
American Academy of Dermatology (AAD):  Joleen Volz, DMSc, PA-C, DFAAPA
American Geriatrics Society (AGS):  Christine Gardella, MMS, PA-C
American Psychiatric Association (APA):  Jay Somers, MS, PA-C, DFAAPA
Renal Physicians Association/ American Society of Nephrology (RPA/ASN): Nguyen Park, MS, PA-C, DFAAPA
Society of Hospital Medicine (SHM): Jennifer Barnett, MPAS, PA-C, DFAAPA
Last October, the American Psychiatric Association (APA) invited AAPA to participate in a task force of professional and consumer organizations to create joint principles promoting collaboration and better access to high-quality treatment for persons with serious mental illness. AAPA then-President David E. Mittman, PA, DFAAPA, represented AAPA on the task force, which met in late 2019 and early 2020. He worked closely with PAs Phyllis Peterson, MPAS, PA-C, and James Cannon, DHA, MBA, PA-C, MS, DFAAPA, both with many years of experience in psychiatric practice. At the time, Peterson was president of the Association of PAs in Psychiatry and AAPA's liaison to APA, and Cannon was a guiding leader on AAPA's Ad Hoc Committee on the Future of PAs in Psychiatric Practice. In late summer, the APA Interprofessional Task Force met to review a final draft document, for which they would seek the endorsement of participating organizations. APA's Key Principles for Interprofessional Collaboration Among Mental Health Providers in Treating Adults Diagnosed with Serious Mental Illnesses was endorsed by AAPA's Board on Wednesday, September 9.  The principles will be available on the Endorsed Guidelines page of the AAPA website soon.
Demonstrating their strong and unanimous support for the work represented in the paper, PAs Cannon and Peterson, and AAPA's newly appointed APA liaison, Jay Somers, provided the following perspectives:
James Cannon: "This can be used in a good way for us as a profession."
Phyllis Peterson: "I participated in the final review and revision of the document. I find it inclusive and positive and a document that can be utilized in advocating for PAs."
Jay Somers: "It is a wonderful document. Dave, James, and Phyllis deserve a lot of praise and credit for their work over the past year on these essential mental health issues … as well as clarifying and promoting the role of PAs who decide to practice in mental health. Bullet points 5, 6, and 7 fit nicely with AAPA strategic directions in general and OTP in specific. A document like this could go a long way to aiding the removal of significant legislative and regulatory restrictions placed on PAs, both inside and outside mental health practice."
Addressing Health Inequities and Creating a Culture of Diversity, Equity & Inclusion
The intersection of COVID-19 and social unrest have led AAPA to reflect and evaluate how we—as a healthcare profession—can better address diversity, equity, and inclusion within the healthcare system—and within the PA profession. This is a difficult undertaking and one which merits thoughtful, methodical, and sustained work and collaboration. To this end, at its July Meeting, AAPA's Board demonstrated its commitment to this enduring work by creating the Diversity, Equity & Inclusion Commission. Following that meeting, I asked Director-at-Large CDR Billy Collins, DHSc, MS, PA-C to lead an ad hoc committee to create meaningful and measurable charges for the Commission' first year. Their work was informed not only by the Listening Sessions AAPA hosted in June, but also by a Listening Session the ad hoc committee hosted with numerous Constituent Organization leaders in late July.
Joined in this work by fellow Board members Jenn Orozco, MMS, PA-C, DFAAPA, and Todd Pickard, MMSc, PA-C, DFAAPA, FASCO, CDR Collins presented proposed charges for the Board's approval at our September 9 meeting, and the Board unanimously approved them. I have since asked the presidents of the African Heritage PA Caucus, PAs for Latino Health, PAs in Asian Health, the LBGT PA Caucus, the Fellowship of Christian PAs, the Jewish Association of PAs, and PAs for Health Equity to appoint a representative to the serve on the Commission. I have also asked PAEA, NCCPA and ARC-PA to appoint a representative to join us in undertaking this cross-organizational work on behalf of the PA profession. The student voice will be represented by the Student Board's Director of Diversity and Outreach, Eryka Bradley. CDR Collins will continue to bring his passion and experience to the work he started by serving as the Board representative on the Commission.
Final Thought
I would like to leave you with this thought: These are challenging and difficult times for us all – as healthcare providers, PA educators, and PA students. Whether we are having to see patients via telemedicine or educate our students via tele-teaching, no one can question that our world has been turned upside down. We are going to be pushed to do more in different ways. But a dear PA friend and leader always reminds me – We are PAs and PAs do hard things!
Be well and stay healthy.
You May Also Like
Q&A with Beth Smolko, President and Chair of the AAPA Board of Directors
American Academy of PAs Announces 2020-21 Board of Directors
Thank you for reading AAPA's News Central
You have 2 articles left this month. Create a free account to read more stories, or become a member for more access to exclusive benefits! Already have an account? Log in.