PA Inspires Patient to Follow in her Footsteps
Encounter 15 Years Ago Sets PA's Path
January 8, 2020
By Kate Maloney
Amanda Asaro, PA-C, always knew medicine was her calling. A natural and committed athlete, Asaro participated in soccer and gymnastics throughout her childhood. The way the human body works fascinated her, so she gravitated toward a medical career related to sports and the mechanics of the human body. After shadowing a variety of healthcare professionals, Asaro found herself drawn particularly to the PA profession. "I wanted the ability to see patients, come up with a treatment plan, and consult with a team," she says. "I also knew that a family was in my future and I needed work/life balance."
Asaro Finds Clinical Passion
Asaro attended Duquesne University's Physician Assistant Studies Program. During her clinical year, she elected to take an orthopaedic surgery rotation, and she was hooked. She applied to an orthopaedic residency program with Illinois Bone and Joint Institute, where she was introduced to the world of upper extremity surgery and pediatric orthopaedic surgery. "I was lucky to work with Dr. Scott Kozin at Shriner's Hospital in Philadelphia. Pediatric hand surgery is such a unique area of medicine and there are very few providers who specialize in it. Dr. Kozin is an expert and he helped me learn the intricacies of pediatric upper extremities and how to communicate with your patients and their parents about the complex problems." She has been practicing in this field ever since.
[A Week in the Life of a PA in Orthopaedics]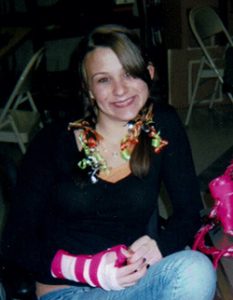 Young patient inspired by her PA
At the age of 12, Dana Urban was experiencing daily dislocations of multiple joints – her knees, her shoulders, her thumbs. The year before, she'd been diagnosed with Ehlers-Danlos Syndrome, which affects connective tissue and was the cause of her constant dislocations. In 2005, when Urban and her parents walked into Dr. Kozin's office at Shriner's Hospital in Philadelphia, she could not hold a pencil without her thumb dislocating.
Amanda Asaro was part of the team that treated Urban, and she was the first PA Urban and her parents had ever interacted with. "I remember that she would talk to me, in addition to my parents," Urban recalls. "Amanda always had a smile on her face and she always explained things in ways that I could understand." Asaro made such a positive and memorable impact on her, Urban decided she wanted to be a PA too.
[For Two Sets of Triplets, the PA Profession was an Easy Choice]
Future PA
In December 2019, Dana Urban completed a dual PA/MPH degree program at Emory University, and she's accepted a job in infectious disease in Atlanta. "My own experience as a patient really helped clarify for me that I wanted to be a healthcare provider. Amanda's approach – focusing on the patient, treating me as an individual, truly listening – made me want to be a PA."
Asaro and Urban only had a handful of interactions in 2005, but Urban has thought fondly of Asaro for over 15 years now. As Urban approached her PA school graduation date, she thought more and more of reaching out to Asaro. She wanted to thank Asaro for leading her to the PA profession. A family friend was able to put them in touch, and Asaro received an email from Urban in October 2019. "I was in shock and totally humbled," Asaro recalls. "I have always prided myself on really taking time to talk to patients and make sure they understand the complexities of their diagnosis. But I never realized that I would influence someone at such a young age to choose a career as a PA. Hearing from Dana made me so happy to be a PA, and it reminded me that even small interactions can inspire the next generation of PAs."
"I'm just so happy I got to thank her," Urban says. "Amanda really influenced my entire life. Because of her compassion, kindness, and care, I'm a PA today."
Amanda Asaro, MPAS, PA-C, is part of the orthopaedics team at Rady Children's Hospital in San Diego, California. Dana Urban, PA, MPH, is working in infectious disease in Atlanta, Georgia.
You May Also Like
Mentors Matter: PAs Pay It Forward
6 Steps to Become a PA
A Week in the Life of a PA in Orthopaedics
Kate Maloney is AAPA's senior manager of corporate communications. She can be reached at [email protected].
Thank you for reading AAPA's News Central
You have 2 articles left this month. Create a free account to read more stories, or become a member for more access to exclusive benefits! Already have an account? Log in.