For Two Sets of Triplets, the PA Profession was an Easy Choice
Profession Becomes a Family Affair
January 2, 2020
By Jennifer Walker
With "physician assistant" ranking as the third best career in the 2019 U.S. News & World Report list of the 100 Best Jobs, it's not surprising that AAPA has found two sets of triplets who have all chosen to pursue the profession. Here, Christina Strauss, Brianna Hearle, and Amanda Dobil, and Kirby, Casey, and Lindsey Graham talk about why they decided to become PAs and how they have supported each other in their PA programs and professions.
Faust sisters regularly call each other for advice
Although triplets Christina Strauss, Brianna Hearle, and Amanda Dobil (maiden name: Faust) graduated from the same PA program at Quinnipiac University in Hamden, Connecticut, in 2016, they now practice in different specialties and states. But they still lean on each other regularly when they have questions or want to talk about their work.
"I've gotten calls in the middle of the night from my sisters asking me some kind of urology question if they can't get the catheter in or they just want my opinion on things," says Christina, a PA in surgical urology at Lehigh Valley Hospital in Allentown, Pennsylvania. "We definitely still bounce ideas off of each other."
The sisters became interested in the PA field while working on their high school senior project, which had to be about a career they were interested in pursuing. Their neighbor, a PA in orthopaedic trauma, encouraged them to look into the profession, and he ended up being the focus of their project. They shadowed him for 40 hours throughout the summer and put together a presentation about the PA career. Through that experience, Brianna says, "We realized we would be able to see patients in the hospital or see patients in an office. [Our neighbor] had autonomy. We were like, 'This is a really cool job. We'd get to a do a little bit of everything.'"
From there, the sisters signed up for the Emerging Health Professionals (EHP) program in Center Valley, Pennsylvania, which targets high school students who are interested in the healthcare field and want to get an early start completing college courses and getting direct contact hours with patients. During their senior year, they attended their high school classes in the afternoons and participated in the EHP program in the mornings, taking college courses in anatomy, physiology, and chemistry. They also shadowed many healthcare professionals, including surgeons, PAs, nurses, and radiologists. At the end of the program, they still wanted to be PAs.
Perfect mix of autonomy and family time
"After shadowing PAs, I fell in love with the profession," Amanda says. "PAs are given so much autonomy yet get to work with amazing [physicians] along the way."
Adds Christina, "I knew I wanted to be a mom, so I knew going through the whole medical school pathway wasn't for me. I thought [the PA field] provided the perfect mix where you can work but still have family time."
For their PA program, Christina, Brianna, and Amanda liked Quinnipiac University because the school has an Entry Level Dual-Degree BS/Master's Physician Assistant Program that they could start when they were freshmen. The sisters, who all ran cross country and track in high school, were also being recruited for the university's team, which helped pay for some of their tuition. They started the combined degree program in the fall of 2010 and ran cross country and track for four years (with Christina continuing on for a fifth year) at Quinnipiac.
Because of their dad's career in the military, which led to their family moving several times when they were kids, Christina, Brianna, and Amanda had always been close. So naturally, they also spent a lot of time together at Quinnipiac and leaned on each other for support.
"We not only had each other in the classroom, but we also had each other on the cross country course and the track," Amanda says. "I remember going on long runs with my sisters and one of us was always in charge of reading our note cards so we could study for our next exam. I don't know if I could've gotten through PA school without my sisters by my side."
After graduating in 2016, Christina went back to Pennsylvania. Brianna stayed in Connecticut to work in general surgery at Greenwich Hospital. And Amanda, who moved to Colorado when her husband's job was transferred there, now works with Critical Care and Pulmonary Consultants with hospital affiliations at Medical Center of Aurora and North Suburban Medical Center. They still talk almost daily about their days and their cases.
"We cover basically everything that comes into the hospital here, so if I have a urology patient that I have a question about, I'll call Christina," Brianna says. "And the same thing with Amanda . . . She's really great when it comes to our patients who come in and have lung cancer or masses that we have to operate on. And if there are some medications that I'm not necessarily familiar with, I can always ask my sisters. I definitely reach out to both of them regularly when it comes to caring for patients."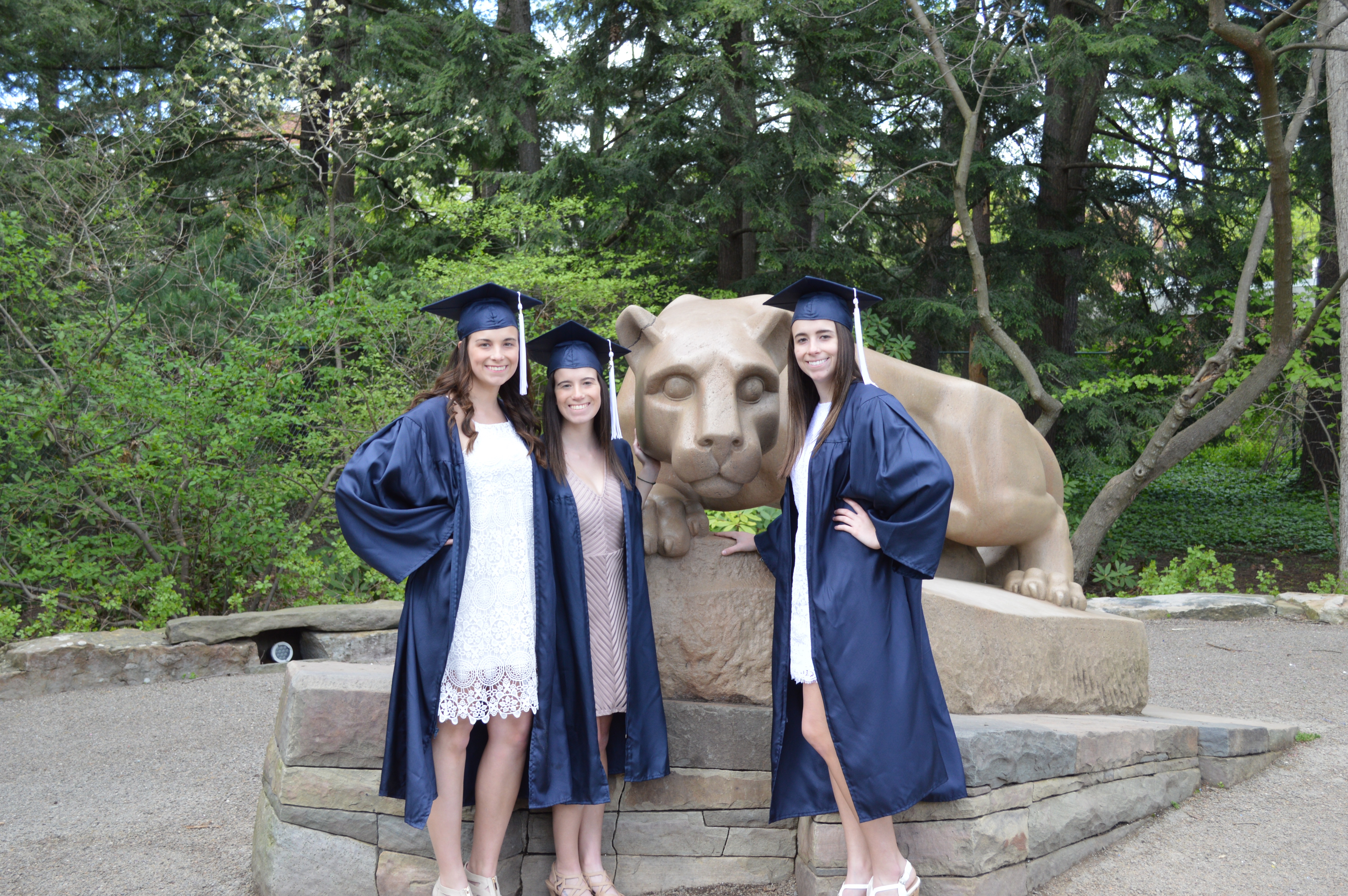 Graham sisters support each other in their PA program
In May of 2019, Kirby, Casey, and Lindsey Graham started the PA program at Lock Haven University's Clearfield campus in Lock Haven, Pennsylvania. Seventy people are enrolled in the program, but they are spread out across four campuses. At the Clearfield campus, the Grahams — who live in an apartment across the street from the school —  represent 25 percent of the 12-person PA program population.
The sisters became interested in the profession through different avenues. For Kirby and Lindsey, who were fascinated by anatomy in high school, a family friend who was studying to be a PA at the time encouraged them to look into the field. They both liked that being PAs would give them the opportunity to switch between specialties.
Casey, a cardiology patient who has a heart defect, has seen the same PA as her provider since she was 12 years old.  "She would take time to explain everything to me, and she would even draw pictures," Casey says. "I thought she was really awesome." Her positive experience is the main reason that Casey wanted to pursue a PA career.
After biology degrees, 2 years getting hands-on patient experience
For their undergraduate work, the Grahams attended Penn State University in University Park, Pennsylvania, where they all earned degrees in biology. Then they spent two years getting hands-on patient care experience. Kirby and Casey worked as medical scribes in family medicine and hematology/oncology, respectively. Lindsey received her phlebotomy certification and worked as an outpatient phlebotomist.
When it came time to apply to a PA program, the Grahams, who all wanted to stay close to their home in Pennsylvania, didn't necessarily think they would go to the same school. "We knew how competitive PA schools are. We just applied and saw what happened," Lindsey says. After initially being waitlisted, they were surprised to find they were all accepted into the Lock Haven program.
Still so early in their studies, the sisters haven't decided what specialties they want to work in. (Though Kirby is leaning toward family medicine or emergency medicine, and Casey is drawn to cardiology.) But already, they have found that they are a support system for each other. "I can demand that Kirby or Casey help me study, but if it is one of our friends in our class, I can't ask in the same demanding way," Lindsey says. "Being sisters, it's nice because we can talk to each other differently."
The Grahams — who are close with their entire family, which also includes two older siblings, a brother, and a sister — see this level of support continuing after they graduate. "If we have a rough day, we can talk to each other about it and we might kind of know what [each other is] going through, even if it's not exactly the same thing, because we probably will be dealing with the same problems," Kirby says.
It's likely they will also find camaraderie in sharing a profession that they are all passionate about. "When I heard about PAs, I knew it sounded like a great career," Lindsey says. "I've never considered anything else."
Read More
Inspired: Daughters and Brother Follow in PA Footsteps
Running Over Barriers: Ultrarunner PA Competes After Amputation
PA Entrepreneur Develops Popular Skincare Line
Jennifer Walker is a freelance writer in Baltimore, MD. Contact Jennifer at [email protected].
Thank you for reading AAPA's News Central
You have 2 articles left this month. Create a free account to read more stories, or become a member for more access to exclusive benefits! Already have an account? Log in.