Science, but Make it Fun: Check Out This PA's Educational Videos
Ninja Nerd Science Videos Viewed Worldwide
August 12, 2020
By Hillel Kuttler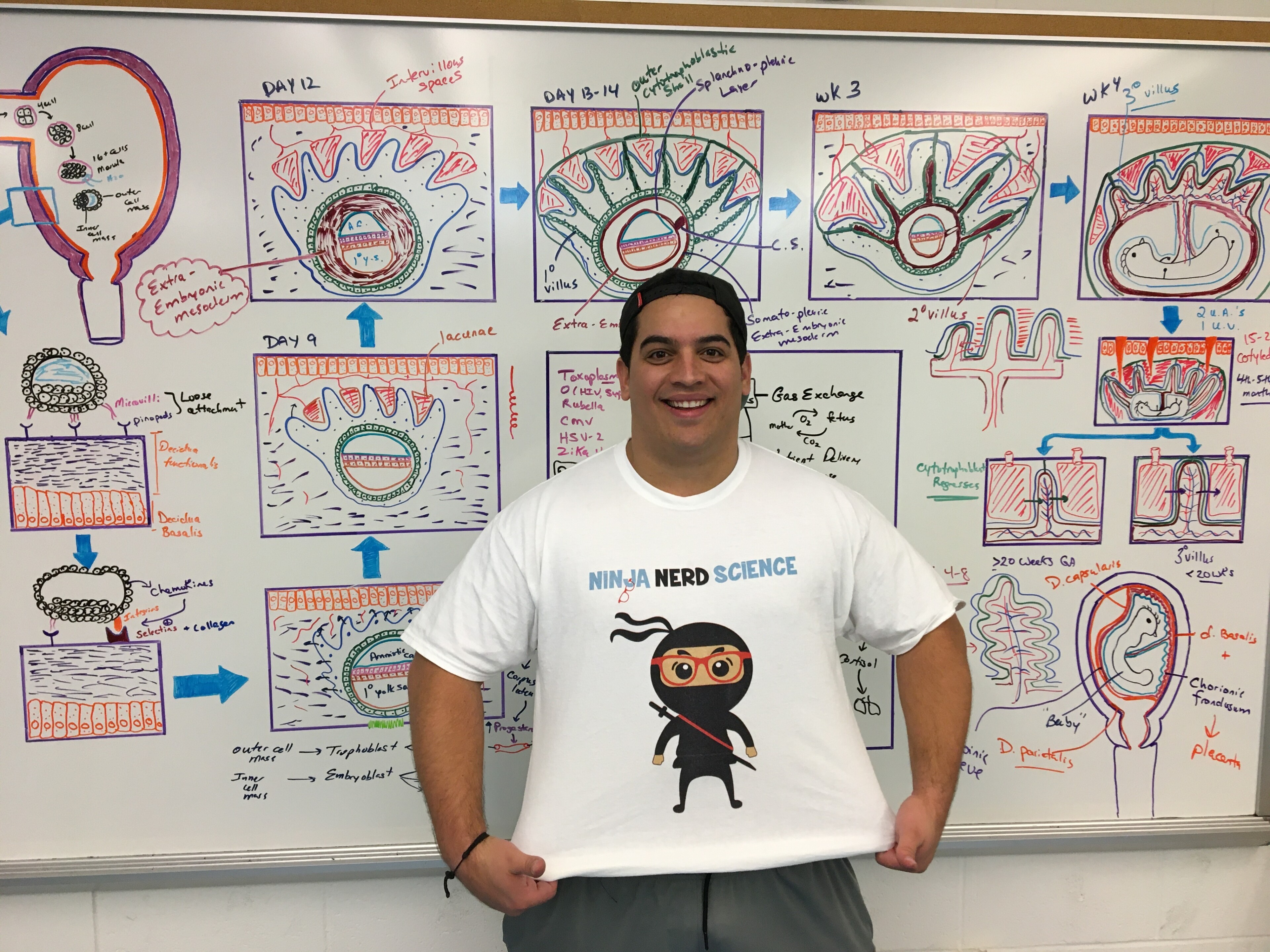 The whiteboard behind Zach Murphy is artistic, drawing the eye in with its colors, shapes, lines and . . . anatomy. A lateral view of an eye shows its extraocular muscles in pink. An anterior view offers another perspective of those muscles. The board's center depicts the brain, with cranial nerves drawn like wires in pink, red, yellow, black, brown, green, red, and three shades of blue. Each wire connects to a handwritten box describing that nerve's function: olfactory, vestibulocochlear, glossopharyngeal, and the like.
[What I Wish I'd Known Before Didactic Year]
The board took Kristin Popovice, a registered nurse, about two hours to complete. It's then put to use when Murphy, a recent graduate from the Philadelphia College of Osteopathic Medicine's PA Studies Program, enters the room. He assumes the role of teacher and uses a marker to add words and lines to the board while explaining the ins and outs of the cranial nerves. Rob Beach, a physical therapy student and Popovice's fiancé, is also there, unseen. He films Murphy's hour-long presentation and edits it; he and Popovice then post it on Facebook, Instagram, and YouTube. From there, PA students, medical students, nursing students and lovers of science around the world will view it.
300 Ninja Nerd Science video lectures
Their interdisciplinary production is called Ninja Nerd Science and is a labor of love for the Bethlehem, Pennsylvania, trio, who since 2017 have spent nights and weekends producing what are now nearly 300 video lectures on almost everything the body does. For all of them, Murphy first hits the books to prepare what he'll discuss, although he teaches unscripted.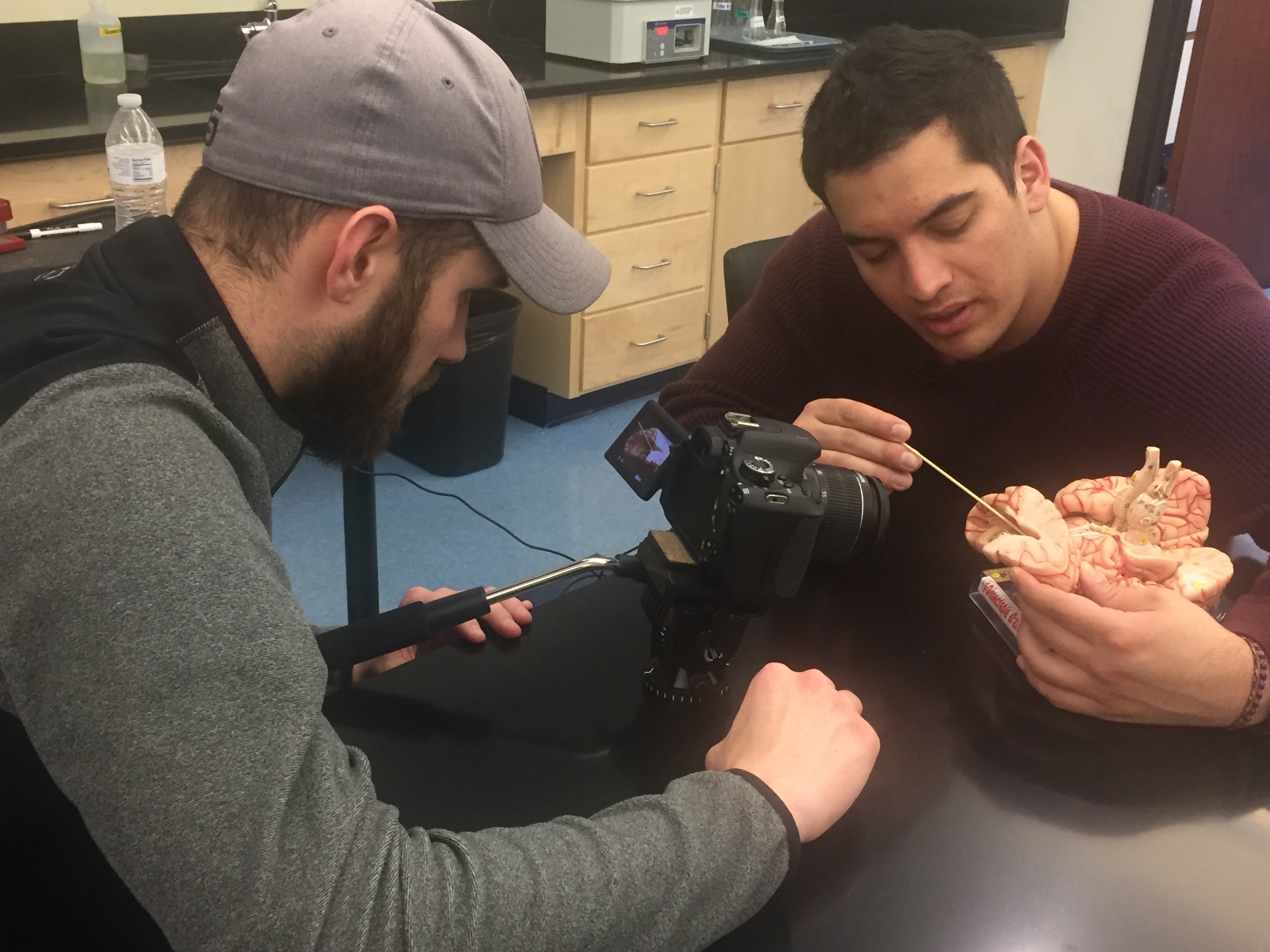 The videos evolved from their tutoring work at Northampton Community College, where they met as undergraduates and continue to film their lectures. The three consider Ninja Nerd Science both an effective resource for students for whom dry classroom lectures and reading scores of textbook pages need supplementing, and as a service to those who, like themselves, are pursuing health professions. The videos are meant as refresher classes to help convey medicine's often-complicated terminology and concepts in an engaging way.
Popovice once worked as a high school science teacher, and said she aims to "keep the viewer entertained and drawn in." The trio holds long discussions on artistic possibilities for the whiteboard, like how to interpret ECG rate and rhythm to identify abnormalities.
[PA Students: Start Your Own Ultrasound Interest Section]
Murphy is Ninja Nerd Science's public face, and his gregariousness, lightning fast speaking and backward-facing baseball cap are staples of each session. His expressed love of medicine and science leaps through the computer screen.
"He had a very earnest face and a lot of happiness," Bhavani Muregesan, a first-year medical student at SUNY's Upstate Medical University, in Syracuse, New York, said of her initial impression upon discovering Ninja Nerd Science. "When I saw the first video, I was hooked. He's so good at explaining everything. He understood what I want to get out of the subject."
Connecting at the right level
Murphy succeeds, she said, in connecting with viewers at their level and reassuring them in "real English," as opposed to some professors who "miss the mark because they talk at such a high level."
"When he looks into the camera, he'll say, 'This is a monster [challenge], it's complicated, but hang in there and we'll get through it,'" Muregesan said. "It's like someone holding your hand, like a big brother."
"I'm just happy it's helping a lot of people. … It makes me feel that I've done something really worthwhile," Murphy said.
There are 629,000 subscribers to the free service as of August 12 and the others who watch informally. That earns the trio modest payments from YouTube, "but nothing to go crazy about," Murphy said. Viewers even contributed toward a GoFundMe.com page to purchase a graphic-drawing tablet and an external hard drive for the videos.
'Not all heroes wear capes'
Following are three viewers' comments under a November 30 video covering cardiovascular and ECG basics:
I have an exam on Tuesday and was so worried because you didn't have a video on this . . . but you uploaded this just in time. Not all heroes wear capes.
I have made it through several cardio classes, and NEVER has this been explained so clearly. You have a gift, man! It's not that you tell us things we don't already know, but that you can string together these facts and explain the 'why' behind it all.
How did you know that we were waiting in worry to have you upload this video? Can you read hearts also? Bravo. Love from Pakistan.
[What They Didn't Tell Me in PA School: Five Months to Start Working]
The reactions typify those appearing under the group's other videos. One viewer posted a photo of himself masquerading as a ninja nerd on Halloween.
Laura Levy, the PCOM program's chairperson and director, said she can tell from the presentations she's watched that Murphy "just has that knack of being able to convey difficult information in a way that people will understand."
That quality will help Murphy "connect very well with patients" when he becomes a PA, she said. "He's engaging, relatable, pleasant, easygoing. People feel comfortable around him."
Teaching worldwide for free
Beach's professors have lauded the friends' success at teaching people worldwide for free.
Murphy expressed gratitude for tutors who helped him along the way and said he hopes that Ninja Nerd Science provides "relief for people" trying to understand the material. He plans to teach during his career, perhaps in a PA or medical program.
"Maybe I can shape the minds of future PAs and doctors," he said.
As to the name of Ninja Nerd Science – that was the brainchild of Dominique Demillo, an MRI technician who is Murphy's fiancé. One of the group's most popular videos, viewed by more than 144,000 people, was posted in December 2018. In it, Beach proposed marriage to Popovice. She said yes. Murphy handled the filming, and the camera ran as he celebrated with the newly engaged couple.
Count that as another Ninja Nerd Science success story.
Hillel Kuttler is a freelance writer and editor. Contact him at [email protected].
Editor's note: This article originally appeared in December 2019.
More Resources
PA Student Resources
AAPA Student Academy
Thank you for reading AAPA's News Central
You have 2 articles left this month. Create a free account to read more stories, or become a member for more access to exclusive benefits! Already have an account? Log in.