PA Students: Start Your Own Ultrasound Interest Section
Learn Concepts and Technical Skills
November 21, 2019
By Sammy-Jo Wright, PA-S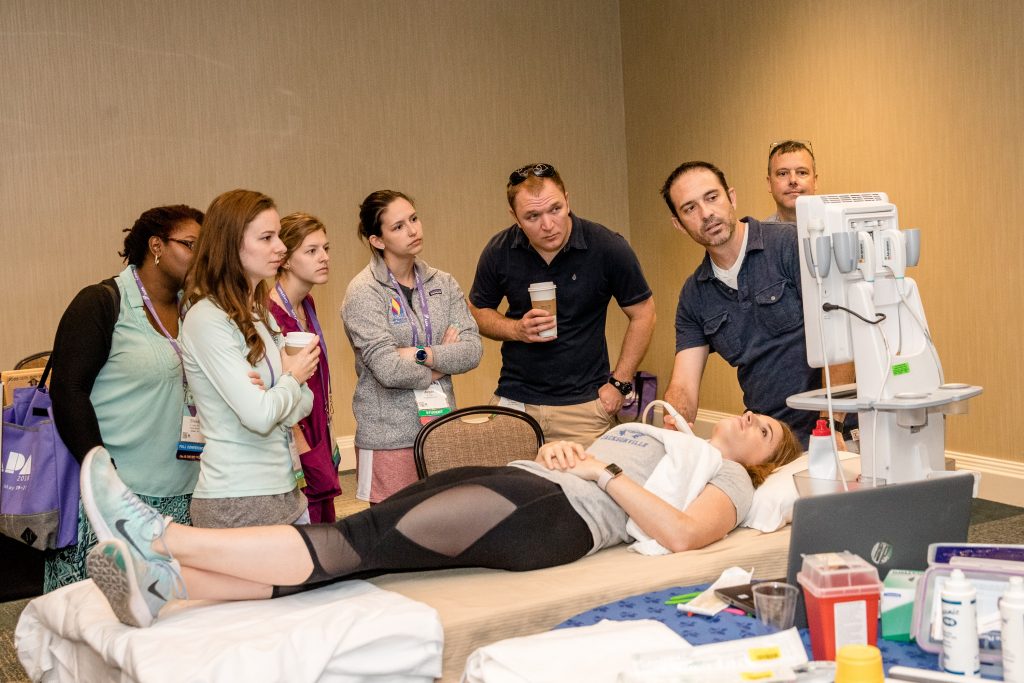 I am a third-year PA student at Yale University, and I've had had an interest in ultrasound since before I started PA school. Ultrasound is a fantastic tool for noninvasive imaging and can help with all sorts of procedures. As a PA student, knowing the fundamentals of ultrasound can make you look like a rock star on rotations, reinforce your understanding of anatomy, and help you become a participating member of your clinical team whether you're performing an ultrasound exam during a trauma or performing a paracentesis on an inpatient. While some PA programs are starting to implement more formal ultrasound training, it is by no means the norm. Given my own interest, and ultrasound's increasing use in medical care, I wanted to start a Student Ultrasound Interest Section (SUIS) at my program. We kicked it off last year with great success.  If you're interested in starting your own SUIS, here are five tips to help you start.
[Point-of-Care Ultrasound Certification – A personal or professional choice?]
Find a faculty member to help support you. Your faculty member may not be an ultrasound expert, but they will be able to help you manage the program at your PA school.
Find a mentor. You need someone who uses ultrasound frequently to help teach your SUIS the finer aspects of point-of-care ultrasound. You may know a preceptor in the Emergency Department or another discipline who uses the skill and is excited to share their knowledge. If you cannot find someone within your academic community to help teach ultrasound, get in touch with the Society of Point of Care Ultrasound. SPOCUS is one of AAPA's constituent organizations, dedicated to ensuring PA students attain the best ultrasound-enhanced medical education possible. Reach them at

[email protected]

.
Find ultrasounds. This can really be the hardest step! If your program is associated with a medical school, you may have access via their simulation center or practice exam rooms. If not, SPOCUS may be able to help. If your program doesn't currently have an ultrasound machine, consider petitioning them to invest in one. There are plenty of relatively affordable options and they are a great investment for any program.
Find a space and models. Any place you can set up a table or a gurney for prospective models will work. As for models: start with your classmates! You will learn a lot about ultrasound technique by having scans done on yourself (and you get to see your insides!).
Choose a time and get scanning! At our program, the end of the rotation cycle is a good time to make sure students are available, but a different time may work better for your program.
[Point-of-Care Ultrasound Diagnostic Tool Use on the Rise.]
Starting your own SUIS may sound daunting, but remember your faculty and preceptors are enthusiastic about education and love seeing that enthusiasm mirrored in their students. My favorite part about SUIS is hearing that these skills helped my classmates during their rotations. As the technology becomes cheaper and more accessible, ultrasound use is growing across all medical specialties. Set up a SUIS today and make sure you and your classmates are prepared to use the "stethoscope of the future."
Student Academy Representatives (SARs) from more than 100 PA programs voted to pass the following resolution at the 2019 Assembly of Representatives (AOR) Meeting in Denver, Colorado: The Student Academy resolves to increase PA student awareness of the concepts and technical skills of point-of-care ultrasound through currently available resources. This resolution was assigned to the Communications & Outreach Committee, whose PA student members suggested an article on how PA students can set up a Student Ultrasound Interest Section (SUIS) at their own PA program.
Sammy-Jo Wright is a PA student at the Yale School of Medicine. Contact her at [email protected].
More Point-of-Care Ultrasound Resources
Society of Point-of-Care Ultrasound (SPOCUS)
Point-of-Care Ultrasound Certification – A personal or professional choice?
Point-of-Care Ultrasound Diagnostic Tool Use on the Rise
Thank you for reading AAPA's News Central
You have 2 articles left this month. Create a free account to read more stories, or become a member for more access to exclusive benefits! Already have an account? Log in.