A Day in the Life of a PA in a Medical ICU
Transitioning From Internal Medicine to Pulmonary Critical Care
June 19, 2019
By Erin Stutz, PA-C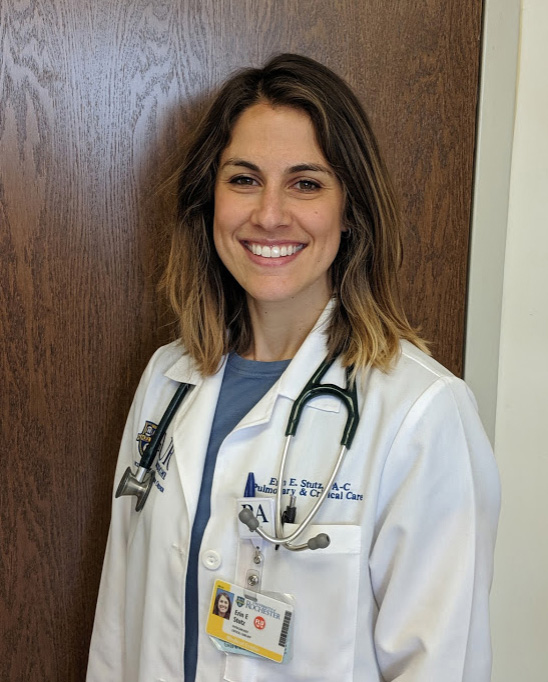 My interest in medicine was piqued after an experience I had shadowing a cardiology PA at a small community hospital. I remember walking into a patient's room for the first time, being handed a stethoscope in a feeble attempt to auscultate the heart, and being intrigued that the PA could detect a murmur! Shortly thereafter, I started PA school at the Rochester Institute of Technology in Rochester, New York. After graduating, I pursued a post-graduate PA fellowship in Hospital Internal Medicine at the Mayo Clinic in Arizona, where I practiced hospital internal medicine for seven years. When my husband and I relocated to the East Coast three years ago, I decided to make a career change and accepted an offer with at the University of Rochester Medical Center (URMC), where I currently work in pulmonary critical care in the medical intensive care unit (ICU). One of the aspects of being a PA that I have always appreciated is the opportunity to constantly expand my knowledge base and skills. The ICU was the best next step for me as I was eager to grow as a clinician and educator. Here what it's like for me working in pulmonary critical care at URMC.
[Register Now for Adult Hospital Medicine Boot Camp in Phoenix, Arizona]
Medical Intensive Care Unit
In the medical ICU, we work 13-hour shifts, three days a week. We used to work four, ten-hour days a week, but we transitioned several months ago. The change has been really positive – we have more time to complete tasks, attend our twice daily ICU sign out, and it allows for improved patient continuity as covering providers switch less often. ICU sign out is at 6:30 a.m., so it's fortunate that I'm a morning person! I rise early to get my day in order and spend a few minutes reading and enjoying a cup of coffee before I leave for work.
[What It's Really Like to Be a PA in Hospital Medicine]
The University of Rochester Medical Center is an 846-bed hospital with a Level One regional trauma center, comprised of five adult intensive care units. I work with the medical ICU, where we have a PA or nurse practitioner (NP) staffed 24 hours a day, seven days a week. Our patients range in complexity from straightforward diabetic ketoacidosis to bone marrow transplant patients with neutropenic fever in cardiogenic and septic shock. Our Medical ICU is comprised of three teams, with an attending, fellow, PA or NP, senior resident, and intern on two of the teams and an attending and two NPs and/or PAs on the third team. The third team is our ventilator-wean team, where the majority of patients have tracheostomies and are attempting to wean from the ventilator. Our teams rotate call days, so a day "on call" for us is typically a fast-paced one. The PA or NP on the call team is responsible for pre-rounding on three or four ICU patients, presenting the patients during ICU rounds, doing admission and consults as well as covering the rapid responses in the hospital.
Rapid Responses
Rapid responses are an interesting part of my job. The rapid response team at my institution consists of an ICU registered nurse, respiratory therapist, Medical ICU PA or NP, and the covering providers for the patient. We respond to rapids all over the hospital, which, depending on the location of the patient, can be quite a walk given the size of our large, academic center. I personally enjoy the problem-solving aspect of rapid responses. Sometimes, the issues are simple. For example, we'll have a patient who has flash pulmonary edema and needs IV Lasix and BiPAP.  At other times, the patients have extensive medical problems with multiple organ systems affected. We'll bring on any additional teams we need to consult with, and then we collaborate on the decisions. I really enjoy strategizing options, talking with the patient and their family, and then sharing the information with my team. It's one of the parts of my job I find most satisfying. On a busy morning, I will end up seeing six to eight patients between ICU pre-rounds, rapids, and new consults and admissions. I discuss each patient I see with the fellow and ICU attending. As a PA, I appreciate our profession's team-based approach. Building a collaborative relationship based on communication, competency, and education is a foundational concept in medicine that is not over-rated.
Face-to-Face Check-Ins
Around 5:00 p.m., we will start evening rounds on our patients. We are wrapping things up to ensure an easy transition for the night shift. We follow up on results of labs, imaging, and family meetings. We also make it a point to check in with the nurses to clarify and place necessary orders. This is one of the checks and balances of the system that I have found to be incredibly important in a fast-paced hospital setting where staff turnover is so frequent. Patient care always comes first and taking the time for a face-to-face check-in with the nurses is critical to good outcomes. I am fortunate to work with a wonderful Advanced Practice Provider (APP) group. We've really grown in size to meet the demands of our busy ICU. My colleagues are organized, flexible, and hard working. I've been lucky to learn from them. The ICU can be a roller coaster, and my team is collegial and friendly, and we can always find something to laugh about.
Prioritize People Over Tasks
In the hospital setting, you never know when you will have time to eat, answer emails, attend educational lectures, etc. There are days where finding the time to complete these tasks is especially difficult. It is oftentimes hard for me to complete these duties when I come home to a busy toddler and a husband who has a busy schedule as well! When I first started working as PA, I prioritized tasks above people. After a mentor kindly pointed out some of the pitfalls in continuing this way, I can now say I try to always prioritize people over tasks. The task list is a never ending one, but getting up early in the morning to complete the necessary items seems to work for me.
Expand Your PA Knowledge
I'm always trying to learn more, and I highly recommend the AAPA/Society of Hospital Medicine Adult Hospital Medicine Boot Camp. This year, it's in Phoenix, Arizona from Sept. 12-16, and the topics are relevant and the content exceptional. The lectures are not only on foundational medical topics, but they are coupled with evidence-based medicine updates and clinical pearls that pertain to practice pitfalls. The speakers are experienced, skilled, and engaging, and they want to make it an outstanding experience for attendees. There are traditional lectures, but also breakout sessions, where attendees can learn in an interactive classroom setting and have the opportunity to ask questions and contribute. I always look forward to attending this conference for the clinical knowledge I gain, and the many networking opportunities that arise as well.
Additional Resources
Adult Hospital Medicine Boot Camp
What It's Really Like to Be a PA in Hospital Medicine
A Day in the Life of a Critical Care Fellow at URMC
A Week in the Life of a PA in Orthopaedics
Erin Stutz, PA-C, works in the pulmonary critical care department at the University of Rochester Medical Center in Rochester, New York. She can be reached at [email protected].
Thank you for reading AAPA's News Central
You have 2 articles left this month. Create a free account to read more stories, or become a member for more access to exclusive benefits! Already have an account? Log in.