PA Finds His Rhythm as the 'Dancing PA'
Tony Adkins to Kick of AAPA 2019 General Session
March 20, 2019
By Dave Andrews
Those who say laughter is the best medicine would likely enjoy dancing alongside Maurice "Tony" Adkins, MPH, PA-C, MCHS. Known by many as the "Dancing PA," Adkins frequently incorporates some lighthearted dancing during his patient visits, boosting his patients' morale and alleviating at least a small portion of their stress.
Adkins specializes in pediatric neurosurgery at the Children's Hospital of Orange County (CHOC). While his medical expertise goes far beyond his dancing dexterity, it's the dancing for which Adkins has gained widespread attention. His unique approach to patient care has successfully lifted the spirits of countless CHOC patients, many of whom are dealing with life-threatening health conditions.
"Sometimes they might need a little bit of coaxing from their parents to join in, but once they get going, we always have a blast," Adkins said. "[The parents] know it's a little out of the ordinary, but inevitably they see their child laughing and having fun — things they might not have done for several days. So it's always a welcome sight to see that childlike glow return, even if it's just for a moment."
Those who attend AAPA 2019 will have a special opportunity to see Adkins in action during the General Session.
Working with kids the ultimate goal
Adkins found his true calling in pediatrics, but his path to get there was not as obvious as it might seem. Growing up in South Central Los Angeles, he saw many of his friends and even his own brothers joining gangs and getting into trouble with the law.
He knew he wanted to be different and make a positive impact, so after graduating from high school, he enlisted in the Army where he served for nine years. He says the Army instilled in him a determination to serve others and a drive to continually push himself. Becoming a healthcare provider eventually became the clear choice.
After graduating from PA school, Adkins accepted a position as an orthopaedic spine PA focused primarily on adult patients. Though he loved the challenge, working with children was always his ultimate goal. So as soon as an opening became available at CHOC, he jumped at the opportunity.
"From the moment he arrived, we knew he had a very unique presence," said RN Trisha Stockton, a charge nurse in CHOC's neuroscience unit. "He's incredibly approachable and always so outgoing that the kids naturally gravitate toward him. Whenever he enters the room, you can literally see an immediate change in the patients. I think of him as a modern-day Patch Adams."
Working at a children's hospital is a perfect fit for Adkins because he relies on both his love of kids and previous experience caring for adult patients. In pediatrics, he says, the provider is not only caring for the needs of the patient, but also the needs of their parents and any other immediate family members.
"It can be very challenging because the dynamic of the entire family comes into play," Adkins said. "Typically, [family members] are right there at the patient's side. They are one unit, and in a sense, you can't treat the patient without 'treating' the family, too. They have to be kept in the loop just much, if not, more so than the patients themselves."
Dance is all about timing
Adkins knows there is a time and place for dancing and there are many who might not always welcome the gesture. But for the large majority of his patients — and even a good number of other providers' patients — his approach comes as a breath of fresh air.
"It's not to say that he doesn't take his practice seriously; he takes it very seriously," Stockton said. "But he does it in such a way that still allows the kids to be kids, which sometimes gets lost in a hospital setting."
His list of favorite dancing partners is long, but among those at the very top is Crosby, a five-year-old boy diagnosed with Morquio syndrome. Crosby's mom had seen several of Adkins' YouTube videos and reached out to him to ask if he would be willing to meet her son, even though Crosby receives treatment from another provider.
Adkins agreed without a second thought. He and Crosby formed an immediate bond while dancing to "Walk the Dinosaur" — because Crosby loves dinosaurs and it's one of Adkins' go-to dance songs — and the two continue to meet up each time Crosby comes in for his weekly infusion treatment.
"I've always tried to be the kind of provider who makes kids happy, no matter the circumstances," Adkins said. "That usually involves figuring out how to break down barriers and communicate at their level. For me, [dancing] is just one of the more effective ways I've been able to accomplish that."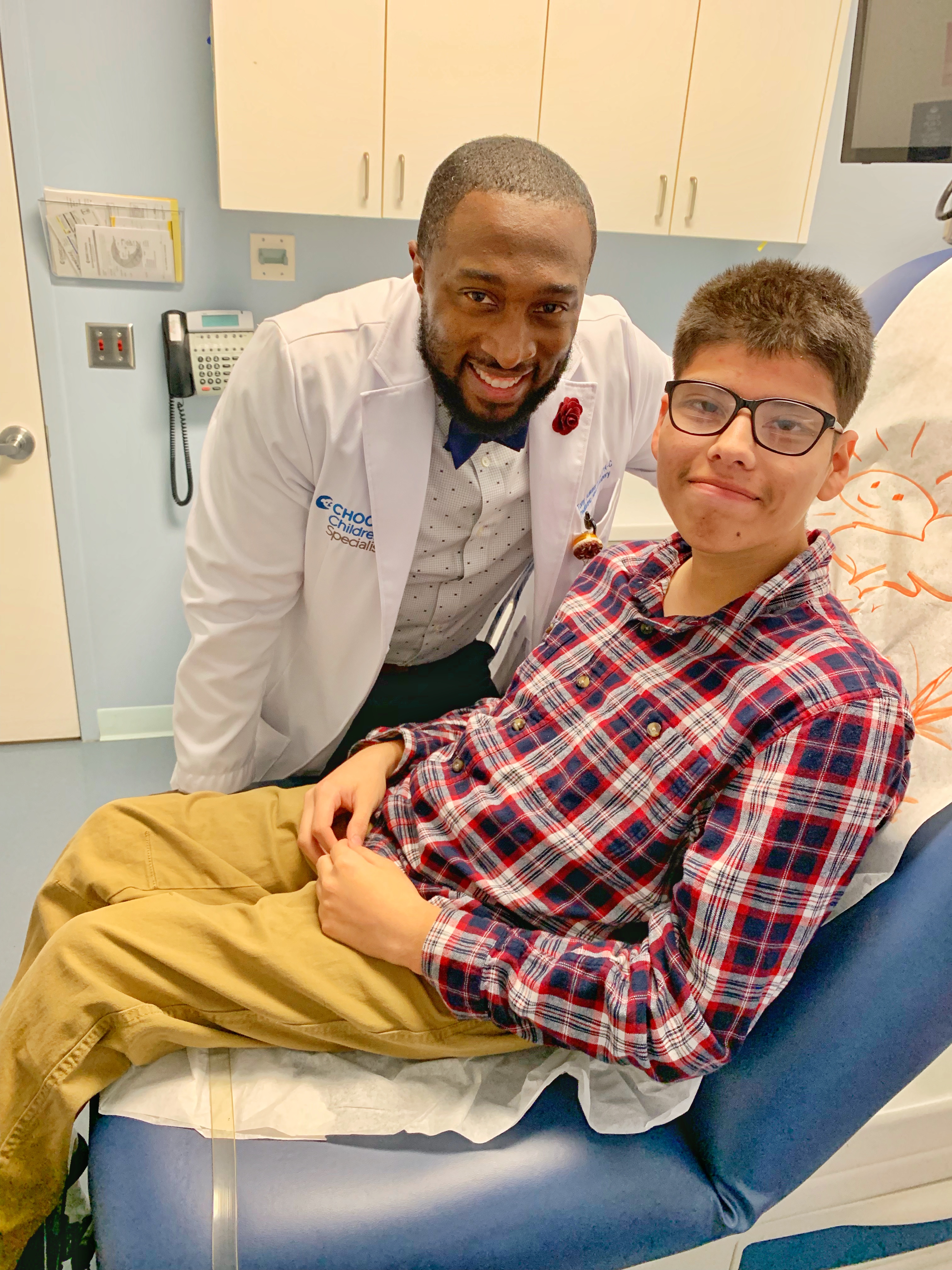 Mentoring the next generation
Adkins' versatility and infectious ability to lighten up a room is not only felt by the patients, but also by his fellow providers and the countless residents and students he's mentored.
"I've never seen anyone mentor as much as Tony," Stockton said. "He's always with students or residents, and often times there are groups of them at his side. Even still, I wish more people could have the opportunity to work alongside him and witness what a unique talent he is and the impact he has on those around him."
PA Jennifer Chrislip, who also works in pediatric neurosurgery at CHOC, says it has been a great opportunity to work alongside Adkins in her current role, as well as when she did her elective rotation at CHOC in the summer of 2018.
Association of Neurological PAs
"Tony wants to do everything he can to help you succeed," Chrislip said. "Before seeing a patient with Tony, he would always take me aside to review the patient's background, what things to look for and questions to ask. New providers still have a lot to learn, so it's nice to have someone like Tony in your corner."
Stockton and Chrislip both agree that while much of the "Dancing Doc's" online popularity stems from his somewhat unconventional approach to patient care, his dedication to the PA profession is equally remarkable.
"PAs typically have a similar drive to help the next generation of PAs because we want the profession to keep growing. But Tony goes that extra mile," Chrislip said. "I've had so many great experiences working with and learning from other PAs, but Tony truly stands out."
Read More
PAs in Nephrology Get Creative with Kidney Health
Day in the Life of a Cardiology PA
PAs Delivery Health Care to U.S. Asylum-Seeking Immigrant Families
Dave Andrews is a freelance writer and public relations professional based in Northern Virginia. Contact him at [email protected].
Thank you for reading AAPA's News Central
You have 2 articles left this month. Create a free account to read more stories, or become a member for more access to exclusive benefits! Already have an account? Log in.