Webinars
AAPA offers webinars on a variety of topics designed especially for PAs.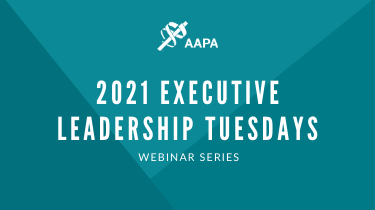 2021 Executive Leadership Tuesdays
CME Eligible
Available Webinars: 5
Check out AAPA's interactive healthcare leadership webinar series for current or aspiring clinical or administrative leaders. Register now for access to all 5 webinar recordings in the Executive Leadership Tuesdays series.
Diversity, Equity, and Inclusion CME Webinar Series
CME Eligible
Available Webinars: 4
Promoting equity and justice in healthcare exemplifies the values of the PA profession and is the responsibility of each and every PA with the support and leadership of AAPA.
PA Like a Pro Webinar Series
Short, impactful digital learning opportunities geared towards PA students and early career PAs. Don't miss important topics like financial planning and budgeting, job search strategies, and surviving rotations.
Pre-PA Webinars
PA experts walk you through how to ace your PA school interviews, perfect your application, rock your personal statement, and make yourself a competitive applicant! Find out about our next live webinar on April 1!
When the Pandemic Ends and the Endemic Continues: The Evolving Role of Monoclonal Antibody Therapies in the Fight Against COVID-19
CME Eligible
Available Webinars: 1
Learn about monoclonal antibody treatments and their effectiveness in helping certain patients avoid hospitalization for COVID-19. Led by Michael Anderson, MD, MBA, Senior Advisor at the HHS Office of the Assistant Secretary for Preparedness and Response in Washington, D.C., the 1-hour webinar will address the medical conditions that place patients at high risk for progression to severe COVID-19, as well as barriers and myths for accessing this treatment.
Partnering With Community Health Workers to Address COVID-19 Vaccination Barriers in Latino Communities
CME Eligible
Available Webinars: 1
Presented in partnership with the National Alliance for Hispanic Health (NAHH) and moderated by PAs for Latino Health (PALH) President Rafael Pomales Jr., MHS, PA-C, DFAAPA, and featuring NAHH Chair Lourdes Baezconde-Garbanati, PhD, Association of PAs in OBGYN President Melissa Rodriguez, DMSc, PA-C, and PALH co-founder Robert S. Smith, DHSc, MS, PA-C, DFAAPA. This webinar includes discussions on health disparities and equity issues facing Latino populations, the impact of COVID-19 and vaccines, as well as the role of community health workers in overcoming barriers to vaccination. It also covers how to locate community health workers who have been trained as COVID-19 Vaccine Navigators.