Filter by Topic
Filter by Stage
Filter by Content Type
Career Resources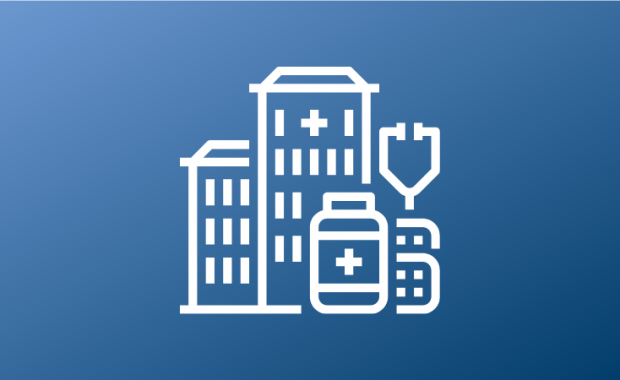 Explore a new career direction or specialty with this collection of AAPA and partner resources, salary data, and CME on various practice areas, including Administration, Dermatology, Education, Emergency Medicine, Family Medicine, Hospital Medicine, Internal Medicine, Orthopaedic Surgery, Telemedicine, and Urgent Care.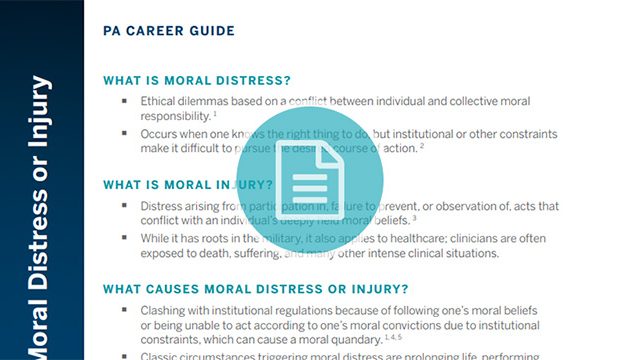 Educate yourself on these conditions and what causes them. Explore scenarios where moral distress might occur, review possible consequences, and then learn solutions that healthcare systems and professionals can implement.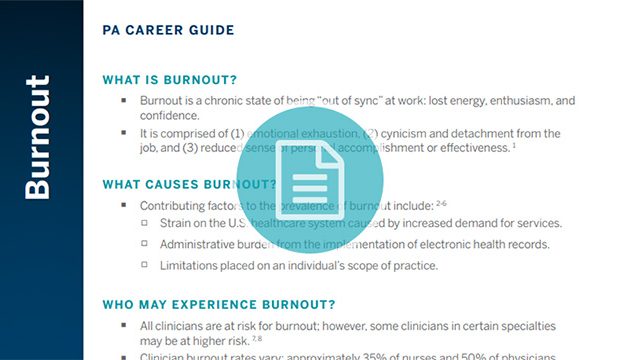 Learn the definition of burnout and explore its causes. This fact sheet also outlines ways to reduce burnout at the system, team, and individual provider levels.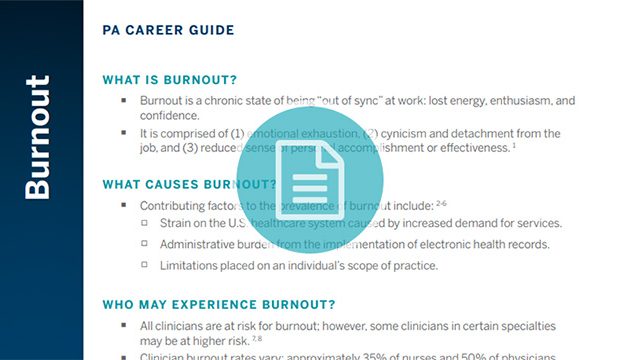 The goal of the Blueprint for Addressing PA Well-Being and Burnout is to provide a brief overview of what is currently known about PA burnout and well-being, and more importantly, provide an enduring framework for increasing PA engagement at work and improving the well-being of the profession.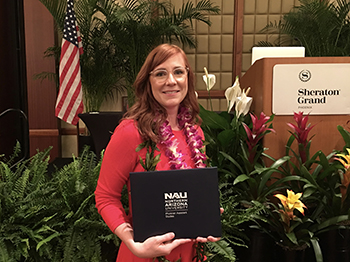 Are you a new PA who is ready to grow your role and increase responsibilities at work? Two members of the Early Career PA Commission, Allyson Hamacher, PA-C, and Jack Ward, PA-C, share tips for other early career PAs.
These 1-hour online courses focus on topics such as billing and reimbursement, compliance, leadership styles, metrics, and advocacy.
Is your goal to earn an advanced healthcare degree or certificate? This program offers a soft entrance into pursuing an academic degree/certificate by completing pre-requisite coursework specific to PA and NP practice.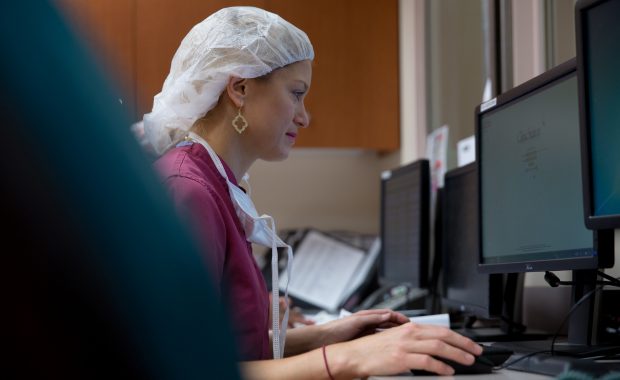 A small Texas practice's electronic health records were hacked and held for ransom. For days, while pen and paper kept the practice going, a PA wondered whether she'd face a financial hit from the cyber breach.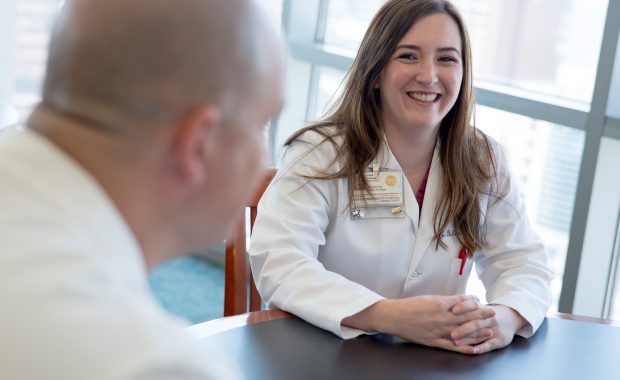 Changing jobs is one of the most impactful ways of creating positive change in your PA career. Is it time for you to move on from a position that is no longer inspiring, sustainable, or financially rewarding?