Emergency Medicine PAs Say Preparation and Experience Lead to Success
PAs Share EM Tips for New Grads, Address Residencies, Benefits and Downsides
December 7, 2021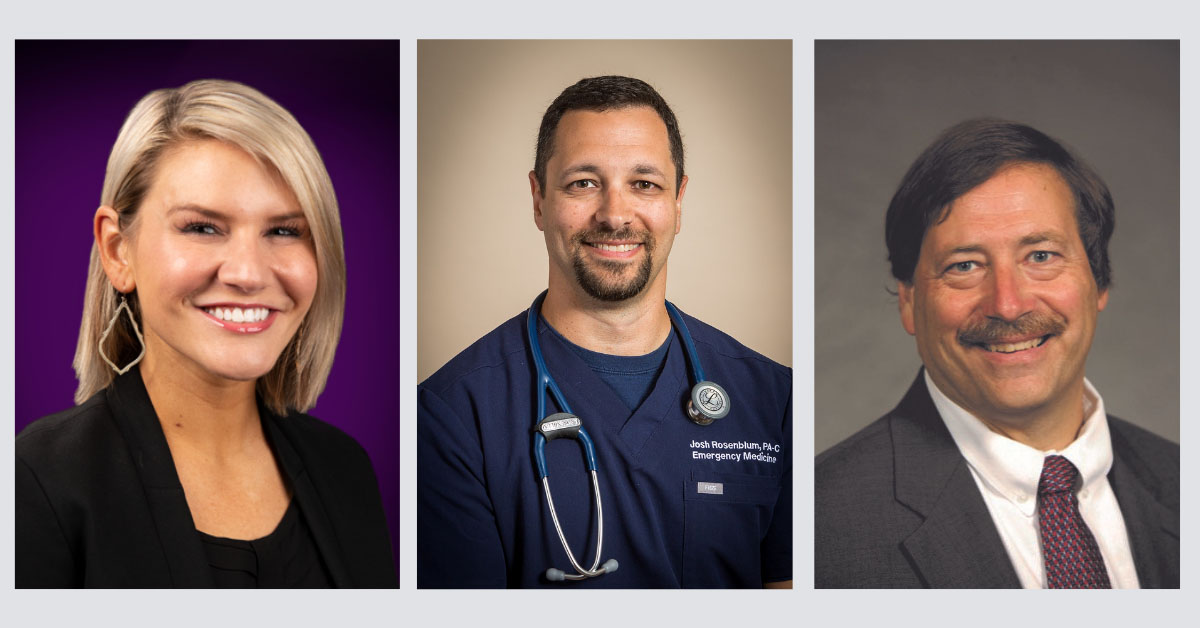 According to the 2021 AAPA Salary Report, emergency medicine (EM) is the third-most popular PA (physician associate/physician assistant) specialty. In the October online Huddle Ask Me session, AAPA brought together three experienced PAs to answer questions about starting out in, transitioning to, and thriving in emergency medicine. The Ask Me hosts included:
Cary J. Stratford, PA-C, DFAAPA. Stratford is senior partner of a PA-owned and -operated practice group, Emergency Services of New England Inc. Stratford attended one of the nation's first postgraduate training programs in EM and has spent a 38-year career in EM staffing in Critical Access Hospitals in Vermont and New Hampshire. He currently serves on the Society of Emergency Medicine Physician Assistants (SEMPA) Advisory Board, was president, CME chairperson, and was awarded SEMPA's diplomat status.
Tenell Zahodnik, MPAS, PA-C, CAQ-EM. Zahodnik has been an EM PA for five years. She works at Hendrick Medical Center in Abilene, Texas, a level III trauma center that sees approximately 58,000 patients annually at their main location, where she is the chief education advanced practice provider (APP). She also works as an adjunct faculty member teaching EM at the Hardin-Simmons PA Program. Zahodnik currently serves as director-at-large on the SEMPA Board of Directors and as a member of the SEMPA Education Committee.
Joshua Rosenblum, MPAS, PA-C, CAQ-EM. Rosenblum has been an EM PA since 2012 and works in critical access hospitals in southern Vermont. In addition to emergency room (ER) duties, Rosenblum serves on the Medical Executive Committee of Grace Cottage Hospital. He also serves as a paramedic/police officer for the Winhall Police and Rescue Department and has been a professional ski patroller at Stratton Mountain since 2002. Rosenblum currently serves as director-at-large on the SEMPA Board of Directors and on the SEMPA Rural Medicine and EMS Committees.
Their conversation during the Huddle Ask Me Session has been edited for brevity and clarity.
Tips for a new grad PA starting out in EM
Hosts suggested that post-graduate EM residency programs can offer efficient and comprehensive preparation for an EM career but acknowledge that residency spots are insufficient nationally. This may not be an option for most PAs. Instead, seek employment with a group that offers formal onboarding, which many larger employers and some smaller emergency department (ED) groups are increasingly doing. Check out the SEMPA resources on this topic.
Along with doing elective rotations in ED, ask the organization to teach every procedure PAs are allowed to perform. Try to find out if the location is willing to teach new grads and express an interest in learning in the interview process.
New grads can also seek a mentor, ideally someone experienced to consult and perhaps someone from within the same employment location.
The EM:RAP Podcast is a useful resource along with the book "Avoiding Common Errors in the Emergency Department" and the EMRA Antibiotic Guide download.
Advice for clinicians aspiring to EM with only clinical rotation experience
If you only have experience in EM through your clinical rotations, hosts suggest that the beauty of the PA profession is its flexibility. Some systems have a hard and fast rule requiring EM experience, but others are more lenient. After focusing on a specific location for practice, find out about the organizations' standards and prerequisites. Consider moonlighting in an urgent care (UC) position with good support and supervision. Look for ways to supplement your CV, like becoming a SEMPA member. Without formal residency experience, acquiring CME germane to EM is also helpful such as those courses offered by SEMPA.
Importance of doing an EM residency
Doing a residency is a great way to get an added level of training and expertise to help differentiate yourself from other new grads, hosts say. And a residency is probably the best foundation you could have but it is not a necessity. Your decision around residency probably depends on whether it's a good option for where you are in your life and where you're planning to go. If you can't do a residency, prior experience can be a valuable tool not only in clinical success but in job procurement. Paramedics and advanced EMTs have a head start because they have trained themselves on autonomous medical decision-making. Focus on a group that has a strong on-boarding program and or a strong orientation program.
Grow your network, find a mentor, and more – join or renew your membership today.
Resources to start a PA-owned EM group
It is a huge head start if your present colleagues see the value of a PA-owned EM group and wish to explore it further, according to one host. If you are current hospital employees looking to develop an independent group that then contracts with the hospital for services, the greatest challenge will be that costs for benefits and insurances will likely exceed the cost that a CAH would experience in a direct employment model. Th group can remove a giant "headache" on staffing, scheduling, recruitment and retention but your collective group may also have higher expenses to pass along. Ownership creates an expanded level of dedication and strengthens work product. State laws vary on the specifics of PA-owned corporations and incorporating so an attorney experienced in healthcare corporate structure can help early on with planning.
Downsides of EM
One of the downsides of EM, says one host, is swapping your schedule from days to nights. It is often hard physically to work a string of nights and then flip back to days. Knowing that a portion of your holidays will always be spent working is also difficult. EM can also present traumatic situations that can take an emotional toll. One of the few positives that came out of COVID-19 was people starting to talk about emotional and mental health and creating more resources for providers.
Read the entire October 2021 Huddle Ask Me session.
You May Also Like
A Day in the Life of a PA in the Bureau of Prisons
Experts Address 'Red Flags When Job Hunting' and Other Questions
How to Tailor Your Job Application for a Specialty Transition
Thank you for reading AAPA's News Central
You have 2 articles left this month. Create a free account to read more stories, or become a member for more access to exclusive benefits! Already have an account? Log in.