Meet Two PAs Who Created a Free Mobile Clinic for Uninsured Patients
The Vida Mobile Clinic Serves Patients in the San Fernando Valley
October 13, 2021
By Sarah Blugis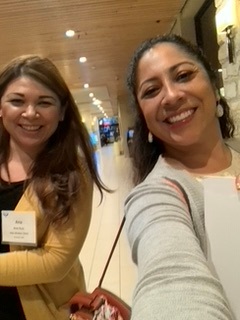 Born and raised in Los Angeles, California, by her parents, immigrants from El Salvador, Karla Rugamas, PA-C, MCHS, always knew she wanted to serve her community.
"Growing up, we didn't have health insurance and relied on free community clinics," Rugamas says. "As a child, I witnessed the struggles my family and parents faced with their limited medical care. At the age of 14, I started volunteering at different hospitals and it was there that I learned what PAs can do. I decided I wanted to go back to my community as a PA and provide quality comprehensive medical care."
So when a friend from PA school Ana Ruiz-Peña, PA-C, MHA, approached Rugamas about starting a nonprofit to provide medical care to uninsured patients, she couldn't say no.
Ruiz-Peña's inspiration to enter the healthcare field came from her late father's struggle with lung cancer, after she served as his interpreter during his medical visits as a child. When a family friend became a PA, Ruiz-Peña knew that was the right career for her, too.
Creating a clinic for those in need
"When we were in PA school, Karla and I talked about how we wanted to help uninsured patients," Ruiz-Peña says. "We would constantly hear about patients that fell into hard times due to job loss, or just did not qualify for health coverage. We felt that it was a calling to do something and help."
[Stay connected to your PA community – join or renew your membership today]
From there, the Vida Mobile Clinic was born. The clinic provides free primary care to uninsured individuals in the San Fernando Valley and also serves as a place to mentor future healthcare providers. But for Rugamas and Ruiz-Peña, the Vida Mobile Clinic is much more – it's a place for patients to feel safe and express their needs, and a place where the Vida Team can empower patients to live a healthier life. This, they say, is the key to working with underserved communities.
Empowering patients to live healthier lives
"It can be challenging due to many limited resources but when, as a community, we work together, we can provide good quality healthcare. It is very important when working with underserved/minority patients to understand each patient's background, beliefs, traditions, family unit, and struggles," Rugamas says. "I think that is why I enjoy practicing family medicine. I enjoy developing strong meaningful relationships with my patients. When patients trust you, they are willing to work harder toward a healthier life."
Since May of 2020, the Vida Mobile Clinic has provided over 100 primary care visits to uninsured individuals in the Los Angeles area. The clinic is fully volunteer-run and operates on private donations – which, Rugamas and Ruiz-Peña say, can be one of the greatest challenges.
Clinic relies on private donations
"Currently, we rely on private donations. Karla and I pay out of pocket for a majority of our overhead expenses," Ruiz-Peña says. "Also, we run Vida on the side of our full-time jobs, so we are always looking for ways to expand our services with other providers and volunteers."
But the rewarding aspects of this work far outweigh the challenges. "We know we are providing access to quality comprehensive healthcare to uninsured patients. And we have created a place where pre-health students are able to volunteer and develop their medical skills. We, the Vida Team, enjoy mentoring our dedicated students. Without them it would be hard to continue our mission as Vida is volunteered run," Rugamas says.
"Seeing the kindness in humanity, the improvement in a patient's health, and seeing our mentees become healthcare providers are the most rewarding things about running Vida Mobile Clinic," Ruiz-Peña says.
You May Also Like
Partnering With Community Health Workers to Address COVID-19 Vaccination Barriers in Latino Communities Webinar
PAs Share Experiences of COVID-19 Impacts on Patients With SUD
5 Ways to Incorporate Social Determinants of Health to Improve Patient Care
Vida Mobile Clinic
Thank you for reading AAPA's News Central
You have 2 articles left this month. Create a free account to read more stories, or become a member for more access to exclusive benefits! Already have an account? Log in.