The Next Five Years: AAPA and the PA Profession
Developing and Implementing AAPA's 2021-2025 Strategic Plan
March 5, 2021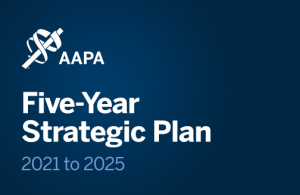 PAs and PA students care deeply about the profession. And if you're an AAPA member, you have invested in the professional organization that will help drive forward both the PA profession and your collective ability to care for patients. Thank you for your commitment.
PA volunteers and AAPA staff have spent many months planning the organization's next five years. In our efforts to develop a well-researched roadmap, we consulted many stakeholders: PAs across the country, who provided feedback and data through our member satisfaction and PA Practice surveys, members of the Board, the Student Academy Board, and the PA Foundation Board; and constituent organization leaders. The result of this work is AAPA's 2021-2025 Strategic Plan, focused on three foundational pillars: Partnering With Purpose, Advancing the Core, and Building a Movement.
Partnering with Purpose
AAPA will look to build relationships that empower tomorrow's successes by Partnering With Purpose. This represents a proactive reimagining of our partnerships and relationships so we can gain more value for AAPA and its members. The work in this pillar will ultimately benefit members and the profession by helping to dismantle barriers to practice; articulate PA contributions; and build AAPA's financial capacity to continue investing in member benefits and capabilities that move the profession forward.
[Stay connected to your PA community – join or renew your membership today]
Advancing the Core
We will evolve capabilities to meet new demands and preferences so that we can Advance the Core. We've relied on a core set of capabilities to support our mission and have made significant investments in evolving and strengthening these capabilities. Our approach will be grounded in data and insights, but also with an appetite for experimentation and preference for action. This will require us to continue to invest in our technology, culture, and, most importantly, our people who do the work to drive our success.
Building a Movement
In order to Build a Movement, we will develop increasingly sophisticated ways to unify, organize, and empower PAs. The profession is on the cusp of a revitalization. Today, PAs can blaze new paths in areas such as telemedicine and administration, as well as take on increasing levels of leadership and responsibility that place them in positions to create greater value for the profession and for patients. With visionary leadership, a diverse and cohesive community, and the participation of PAs across the country, we will Build a Movement that will enable us to find ways to support PAs to deliver resources in an increasingly noisy environment.
The PA Profession in 2025
At AAPA, we are excited about the 2021-2025 Strategic Plan, but we won't be able to move the profession forward without your help. We need PAs to embrace the future, take advantage of opportunities, and help us Partner With Purpose, Advance the Core, and Build a Movement. We look forward to working with AAPA members, our Board of Directors and the Student Academy, and all PAs around the country to see the 2025 vision come to life.
 2021-2025 Strategic Plan Resources
We've provided two resources to help you learn more:
Please email [email protected] with questions, comments, or feedback.
You May Also Like
PA Named Best Overall Job in 2021 by U.S. News & World Report
AAPA President: PAs Have an Opportunity to Lead and Build Trust in COVID-19 Vaccines
AAPA Joins Coalition to Advocate for Equitable COVID-19 Vaccine Distribution
 
Thank you for reading AAPA's News Central
You have 2 articles left this month. Create a free account to read more stories, or become a member for more access to exclusive benefits! Already have an account? Log in.