AAPA President: PAs Have an Opportunity to Lead and Build Trust in COVID-19 Vaccines
Beth Smolko Shares Personal COVID-19 Story, How PAs Can Lead on Trust in Vaccines
December 28, 2020
By Beth Smolko, DMSc, MMS, PA-C, DFAAPA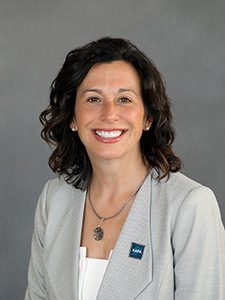 Over these past nine months, I have been so incredibly proud of the PA profession. Throughout this pandemic, PAs have again and again stepped up for their patients and their colleagues. You have all made sacrifices and shown how dedicated and qualified PAs are – and I cannot thank you enough.
COVID-19 has also affected many PAs in their personal lives. About 6% of PAs have been infected with the coronavirus – and many PAs likely have friends, family, and colleagues who have gotten sick, as well.
It's personal for me, too. I am a COVID-19 long-hauler.
In the spring, I developed a fever and began hallucinating as it climbed over 104. My partner took me to an urgent care clinic. I was started on medication and went home, but my breathing became labored which resulted in a telemedicine visit to determine if I should go to the emergency room. A physician examined my breathing and determined that my respiratory distress necessitated going to the hospital. I was diagnosed with COVID-19, but they determined that with breathing treatments, steroids, antibiotics, and careful monitoring, I could return home.
Over the next few weeks, I had high fevers and breathing was a daily challenge, but my primary care provider monitored my symptoms several times a week via telemedicine. They provided me with medical equipment, treatments, and even medication deliveries to my home. This went on for months — until November 13. It was the first day I woke up and knew I didn't have to take my temperature to figure out how many ibuprofen and Tylenol I would need to keep my fever at bay. It wasn't just the incremental improvements I have come to know over the past year, but a feeling of wellness that I recognized the moment I woke. Something shifted in my body, and it gave me hope.
Recent news about the development of COVID-19 vaccines means there is even more light at the end of the tunnel – more hope. In a statement on Dec. 14, AAPA applauded the Food and Drug Administration (FDA) and the Centers for Disease Control and Prevention (CDC) for their timely, yet thorough and rigorous, scientific review and approval for emergency use of the first COVID-19 vaccine.
[Help further AAPA's advocacy work – join or renew your membership today]
I have been heartened to see PAs among those celebrating on social media with pictures of themselves getting vaccinated and taking the time to educate their followers on why they did so. I've also read countless articles with quotes and interviews with PAs about the vaccine. All of this is a good reminder that our contributions to healthcare go beyond the clinic: They reach into our everyday lives, including our social media feeds.
As PAs, we have an opportunity to be leaders on this issue. We can use our positions as qualified, trusted healthcare providers to help instill public confidence in vaccines, especially among the most vulnerable communities and those who have been hit hardest by COVID-19. While the vaccine is still months away for most Americans, PAs can help to lay the groundwork so that patients feel comfortable with the COVID-19 vaccines when they become available to them. We can help spread factual information on social media and combat misinformation when we see it. AAPA has already started sharing tools and information from trusted sources to help you do so on our social channels.
The PA profession has many strengths that make it perfect for the challenge. Because PAs practice in every setting and specialty, and in all 50 states, we can reach patients in all segments of the healthcare system. Plus, patients trust their PAs. We can make a difference.
And our ability to make a difference is enhanced by the fact that PAs have a seat the table where important vaccine-related decisions are being made.
AAPA is represented on the CDC's Advisory Committee on Immunization Practices. We are participating in weekly briefings led by the U.S. Department of Health and Human Services in relation to Operation Warp Speed, receive numerous communications on a routine basis from relevant federal agencies, and have frequent conversations with the Centers for Medicare and Medicaid Services (CMS) in relation to federal health programs and the pandemic. AAPA is also a member of the COVID-19 Vaccine Education and Equity Project, one of 60+ organizations committed to educating and engaging the public around the importance of getting the COVID-19 vaccine. AAPA has also maintained discussions with the White House throughout the pandemic and we are participating in discussions with staff for President-Elect Joe Biden.
At AAPA, COVID-19 has been identified as a national health priority, alongside other important initiatives like nutrition, obesity, diabetes, and substance use disorder. We are working to identify how all of these issues intersect with COVID-19 and the longer-term effects it will undoubtedly have on the health of our nation. Over the coming months, we will be providing PAs with access to more COVID-19 tools and information, including CME, around key areas such as prevention, acute and chronic management, and health equity.
As we care for our patients, we must also care for ourselves. We know from November data that 3.5% of PAs are currently furloughed, which is down from 22% earlier in the year. If you are headed into the new year unemployed or underemployed, please make sure to utilize the AAPA career resources aggregated on our website. For everyone feeling the weight of 2020, please be aware of these aggregated burnout tools to help with your personal well-being.
Let me take this opportunity to wish you all happy holidays and a very Happy New Year. Stay strong, keep pushing, and stay safe.
Thank you for reading AAPA's News Central
You have 2 articles left this month. Create a free account to read more stories, or become a member for more access to exclusive benefits! Already have an account? Log in.