A Day in the Life of a PA in Ophthalmology
PA Finds Field Inviting and Free of Distraction
July 23, 2022
By Joel Ciolek, MSPA, PA-C
 Joel Ciolek, MSPA, PA-C, obtained his master of science in PA Studies at Heritage University and is a board-certified PA practicing in the field of ophthalmology. He is one of 80 PAs practicing in this specialty1.
Prior to PA school, I had two years of experience in clinical and surgical ophthalmology, which is how I obtained my required patient care hours in order to apply to PA school. I also presented research on cataract surgery at the American Society of Cataract and Refractive Surgery (ASCRS). During PA school, I created two elective rotations in ophthalmology, one of which was at Duke Eye Center. All of this made my transition into starting ophthalmology as a new PA much more efficient, with an additional two months of on-the-job training to be proficient.
Ophthalmology patients were my first patients
I attribute my interest in ophthalmology to my patients and mentors. Ophthalmology patients were my first patients. Ophthalmologists were my first mentors. Through both relationships, I was able to actualize my childhood moral imagination of medicine into something real. In other words, pursuing medicine was no longer just a scholastic pursuit; I was seeing medicine in action through the eyes of patients and ophthalmologists, and this captivated not just my mind, but also my heart. It is an honor to be able to look into someone's eyes for a living and preserve and restore someone's vision. Our eyes are also an emotive organ; we communicate with our eyes and so I find this field to be very inviting and free of distraction. Some specific interests of mine include ocular oncology (cancer that either originates in or spreads [metastasizes] to the eye) and inherited eye conditions, such as retinitis pigmentosa.
[Stay connected to your PA community. Join or renew your membership today]
The areas of ophthalmology I currently practice in include comprehensive, medical retina, and vitreoretinal surgery. Here is what my typical day looks like, both in the clinic as well as the operating room.
A typical day
I provide several services in the clinic where I have my own schedule of patients, seeing them from the beginning to the end of their visit. Patients see me for their preoperative history and physical clearance. A PA is most definitely trained to auscultate heart and lungs, order and interpret bloodwork and electrocardiograms (ECGs), and manage a patient's medications if any need to be held or bridged prior to their surgery. An added bonus is that it is more efficient for the surgery coordinators and patients to schedule this visit in-house with me rather than trying to coordinate it with the patient's PCP; patients often have difficulty getting an appointment prior to their surgery date. In addition to these surgical clearance exams, my schedule is full of diabetic eye exam screenings, dry eye, post-ops, follow-ups, and many acute same day add-ons for eye pain, corneal abrasions, foreign bodies, sudden vision changes/loss, hordeolums, chalazions, and floaters/flashes. I perform full anterior and posterior slit lamp exams as well as indirect ophthalmoscopy. I also order and interpret in-house imaging, such optical coherence tomography (OCT), fundus photos, and fluorescein angiography (FA).
Intravitreal injections for macular degeneration
The most common procedure I perform independently in clinic is intravitreal injections, including the subconjunctival block for anesthesia. These injections are used to treat exudative macular degeneration, proliferative diabetic retinopathy, vein occlusions with macular edema, and several other diagnoses. I am also responsible for injecting the fluorescein dye for FAs and starting the IV for our photodynamic therapy infusions.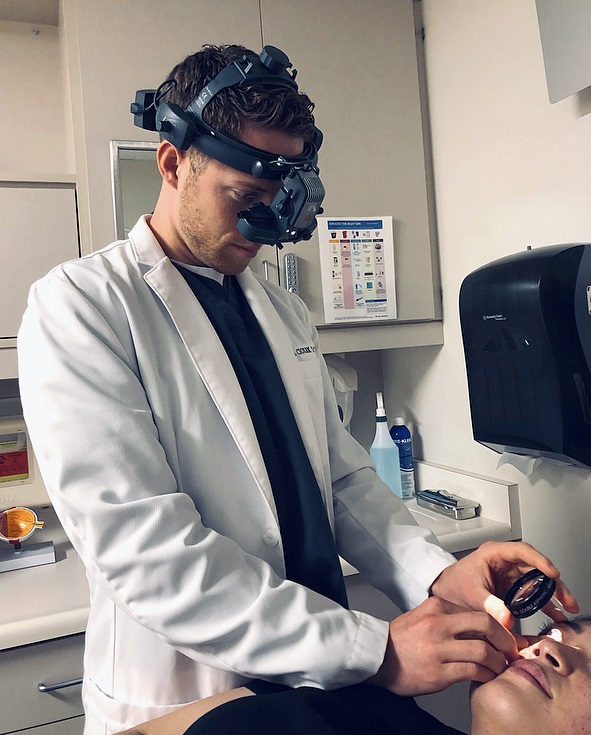 Most states allow the scope of practice for a PA to be determined by their supervising physician. However, I do not perform anything optical in nature for glasses or contact lenses as this is state law dependent for PAs. Although I know how to perform refraction, in my state, I am not allowed to prescribe glasses or contacts, even if my supervising physician wants me to. I do know of some PAs who are providing these services as their state laws do not have a limitation in this capacity for PAs. Moral of the story: Check your state laws to see if there are any specific limitations regarding anything optical in nature.
First-assist for vitreoretinal surgery
Surgically, I am a first-assist for the vitreoretinal surgery department and will hopefully be incorporating oculoplastic surgery assisting, too. I am responsible for rounding and charting on patients before they're taken back to the operating room and same-day discharging. In the operating room, I first-assist on all of the vitreoretinal surgery types of cases, with my favorite being scleral buckles. I truly enjoy having a blend of clinic and surgery during the week and being an integrative part of the preoperative, intraoperative, and postoperative phases of surgery, making a seamless surgery journey for patients.
I firmly believe that when you love something, you do not keep it to yourself—you share it with others. I am a PA coach for The Posh PA where I help pre-PAs, current PAs, and new PAs meet their goals, whether that means applying to PA school or contract negotiations. I also teach ophthalmology to didactic and clinical year students providing lectures and clinical rotations. Additionally, due to the lack of shadowing opportunities for students during this pandemic, I have provided virtual shadowing opportunities for students. This has been a unique and exciting experience as instead of only having one student with me, I can have several at one time. For example, I had one virtual shadowing session that reached over 6,000 students. Lastly, two future goals of mine are to create a professional organization for PAs in ophthalmology as well as an ophthalmology PA fellowship.
Joel Ciolek, MSPA, PA-C, works in Surgical and Clinical Ophthalmology in California. Contact him by visiting his website: www.joelciolek.com.
This article was originally published on December 8, 2020.
References
National Commission on Physician Assistants, Inc. 2019 Statistical profile of certified physician assistants: an annual report of the NCCPA. Available at https://www.nccpa.net/research. Accessed November 21, 2020.
You May Also Like
Insider Tips on Popular PA Specialties
Four Experts Offer Career Advice During Pandemic
A Day in the Life: How PAs Practice
Thank you for reading AAPA's News Central
You have 2 articles left this month. Create a free account to read more stories, or become a member for more access to exclusive benefits! Already have an account? Log in.