PAs Embrace Telemedicine After COVID-19 Jumpstart
Barriers Exist in State Laws and Reciprocal Licensing
December 28, 2020
By Eileen Denne, CAE, APR, and AAPA Research Department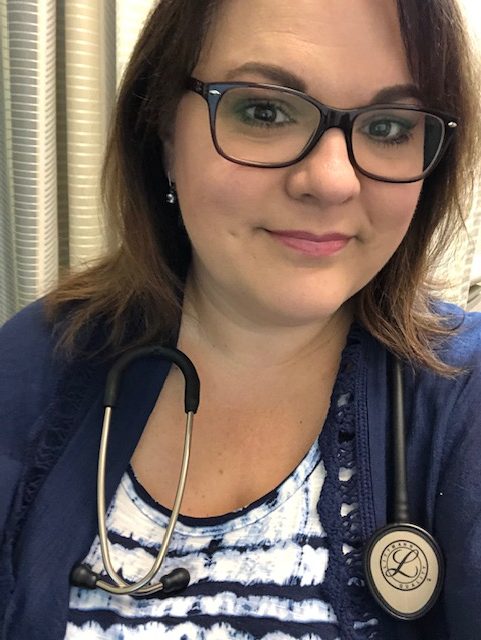 Although most PAs did not use telemedicine in their practices before COVID-19, AAPA's Research Department reports in a recent data brief that PAs are now embracing telemedicine to provide remote, high-quality care to their patients.
"Telemedicine is here to stay," says Amanda Shelley, PA-C, president of PAs in Virtual Medicine and Telemedicine (PAVMT). "PAs can either can either be leaders and make it great, or we can ignore it until it's being shoved upon us. It will be part of almost every specialty whether you are prepared or not. It's really important for PAs to become knowledgeable in it."
Shelley has delivered primary care virtually for more than five years at One Medical, which has a combined model of in-office and virtual care. "The most important thing to remember is that telemedicine is medicine. The standard of care doesn't change just because you're seeing patients virtually."
Increased use of telemedicine
The AAPA Telemedicine Data Brief reports that in June 2020, almost two in three PAs said they used telemedicine in their practice, an increase from the approximately one in 10 as of February 2020. Of those who reported in June that they were using telemedicine, more than 75% did not use it prior to the pandemic. Most PAs said they began using telemedicine in their practice to maintain social distancing for nonemergent visits (85.2%).  About 7.2% of PAs are power users of telemedicine and reported using it more than half of their time. While more than one third of PAs (36.2%) still do not use telemedicine in their practice, most of those nonusers (69.5%) said they are interested in telemedicine to some degree.
"Since March, most practices that I know of have incorporated at least some telemedicine," says Shelley. "It's much more familiar to people now; patients are more aware of it. Across the board patients seem to love being able to access care over via virtual means."
Melinda Moore Gottshalk, MPAS, PA-C, DFAAPA, advanced practice provider (APP) manager of Hospitalist and Specialty Medicine in Neurology at Baylor Scott & White (BS&W) Health in Texas, and PAVMT legislative/advocacy committee co-chair, has trained more than 400 BS&W providers on how to use telemedicine since March.
"I have been treating migraines via telemedicine for about two years. Before COVID-19, the patients we treated via telemedicine were stable patients who needed medication refills. When we went into lock-down, instead of just check-ups, we needed to see patients with old and new problems via telemedicine, to at least screen them with the goal of keeping them out of the ER. Many times, we were able to resolve the problem via telemedicine," Gottshalk says.
[Support AAPA's original research on the PA profession – join or renew today]
Meeting patients where they are
Both clinicians and patients see benefits to telemedicine.1 Clinicians report that calls were efficiently shorter. For patients, access to providers is a benefit: healthcare providers responded quickly to messages, and it did not require a trip to the office. Among other advantages were quicker medication refills, symptom checks without a trip to an urgent care facility or hospital, and the feeling that healthcare is literally 'at your fingertips'.1 While going into a physician's office may not be a comfortable option, telemedicine can be an efficient, high-quality alternative.
A major advantage of telemedicine, Shelley contends, is being able to meet patients where they are. "Patients are busy just like the rest of us," she says. "Asking them to take time off work, sit in a lobby, wait for their turn, wait for you to come into the office, and then return to work is really a big ask. People are more likely to put off routine care because of this. Also, quite often if a patient is accessing care from home the appointment is a more intimate conversation. They feel more relaxed so there's a better chance to have a dialogue."
Serving rural communities and inner cities
In addition to offering advantages to patients for regular visits, telemedicine may also be the only reasonable healthcare option for those in medically underserved rural communities. A 2018 article highlighting the Telehealth EcoSystem, a model for a system of technologies delivering health services, concluded that a network-based approach to health services is the most cost-effective and efficient solution for a rural community in Alabama.2 While more research is needed to support the widespread effectiveness of telehealth, it is recognized as a possible step closer to bridging healthcare gaps.
According to Shelley, Medicare began accepting telemedicine so patients in rural areas could go to a clinic, sit in front of a computer and see a PA or another provider in another area at another site. Since CMS passed expanded Medicare telehealth coverage in March, patients no longer actually have to go to a clinic. They can access care from home.
"Telemedicine is a huge component of rural health and always will be. As telemedicine grows, we're seeing that it can also be extremely useful for disadvantaged populations in inner cities. For example, a primary care telemedicine clinician can see kids in schools during the day. We're also seeing it at outlying hospitals that have lots of specialists in house but can access them via virtual means. It's a big part of getting care to rural communities, but that's not the only focus anymore," says Shelley.
While use to telemedicine grows, it may create or exacerbate health disparities.4 A recent study of a health system in New York City during COVID-19 showed that age and ethnicity impact whether patients are scheduling virtual visits to providers. In the study, patients aged 65 and older had the lowest odds of using telehealth versus other modalities. By race and ethnicity, Black and Hispanic patients have lower odds of using telehealth versus either the ER or an office visit than either Whites or Asians.4
Trends and Barriers to Use
Not only are there barriers for some patients, frequency of use of telemedicine by PAs differs by setting and specialty. AAPA's research found that PAs in primary care have higher odds of using telemedicine more frequently, and PAs in hospitals, urgent care centers, and other settings have lower odds of using telemedicine more frequently. The research found that the odds of using telemedicine in practice higher among PAs with more familiarity.
PAs also report barriers to incorporating telemedicine into their practice. The most common barriers reported were patient connectivity issues (50.6%), reimbursement for services (48.6%), patient comfort/familiarity (47.7%), access to equipment (35.0%), and education/training (31.7%).
PAVMT has found that state laws and reciprocal licensing are two major barriers to PA practice. "The number one barrier we run into whether setting up your own practice or going to a larger company is the supervision requirements," Shelley says. "As those loosen up or are removed in states it is getting easier. PAVMT has initiated conversations with large employers to let them know that's happening. There is a large hangover from previous years where companies think it's just too burdensome to hire a PA."
[Stay up to date on legislative information that impacts you – join or renew today]
The other thing PAs need is reciprocal licensing. "Right now, there are many different requirements, and it can be challenging to get licensed in multiple states," Shelley says. "Everybody wants different paperwork and there are time and financial considerations. I have licenses in place or in process in seven states and I've spent countless hours getting all of the requirements assembled. If you plan to prescribe anything controlled you also need a different DEA number for each state, even though it's a federal number. But it's certainly worth the time for both clinicians and patients because it is a great way to give care."
PAs can create business model using telemedicine
PAVMT President-elect- Sarah Purdy, PA-C, wants to help create a telemedicine model that will allow PAs to be integrated into a telemedicine platform that can overcome state regulations while fulfilling the physician collaboration. "With legislative challenges most employers face, I see a future for more PA owners to set their own seat at the table by creating a business model that works for them."
Purdy works for Today Telemedicine and is seeing patients in Florida. The company offers a team-based care model that is "physician-led, PA driven, and patient preferred." At the same time, she also provides services for Bicycle Health doing full-time addiction medicine managing opioid use disorder with suboxone; Carbon Health doing part-time urgent care, COVID screening and testing as a virtual provider; and Telepsych Health doing part time adult psychiatry and psychotherapy.
She has been hired by telemedicine companies to educate and explain the state-by-state legislative nuances and to encourage inclusion of PAs on their teams to practice in telemedicine. "This is still a challenge as each state is changing and complex," Purdy says. "For most companies it is still a work in progress to include PAs nationally."
"Telemedicine will continue to be a major player in our medical system. PAs need to find what works for them, whether creating their own telemedicine business, creating a telemedicine hybrid of their current job, or working with a potential employer on how to hire them. With unique state-by-state guidelines, there may be bumps in the road, but it is worth the journey if the PA is willing create their own path. They should keep asking questions, find out about the inner workings of telemedicine and find a way to make it work. Don't be discouraged with roadblocks. Support PA organizations like PAVMT, the AAPA and your state chapter that lobby to make changes in our PA legislation."
Gottshalk adds, "We need to advocate for the expansion of telemedicine so our patients can continue to be seen comfortably, conveniently, and safely."
For more information about telemedicine, go to PAs for Virtual Medicine and Telemedicine.
Eileen Denne is director, Corporate Communications, at AAPA. Contact her at [email protected]. Contact AAPA's Research Department at [email protected].
Editor's note: This article originally appeared in October 2020.
You May Also Like
CMS Expands Medicare Telemedicine Coverage
Virtual Health PAs Share Insight to Rapidly Growing Healthcare Space
This PA Telemedicine Director Thinks You Should Explore a Career in Virtual Medicine
The Top 7 Things Every PA Should Know About Virtual Medicine and Telemedicine
References
1 Bonsignore L, Bloom N, Steinhauser K, et al. (2018) "Evaluating the Feasibility and Acceptability of a Telehealth Program in a Rural Palliative Care Population: TapCloud for Palliative Care." J Pain Symptom Manage. 56(1):7-14. doi:10.1016/j.jpainsymman.
2 Leath BA, Dunn LW, Alsobrook A, Darden ML. Enhancing Rural Population Health Care Access and Outcomes Through the Telehealth EcoSystem™ Model. Online J Public Health Inform. 2018 Sep 21;10(2):e218. doi: 10.5210/ojphi.v10i2.9311. PMID: 30349636; PMCID: PMC6194096.
3 Kane CK, Gillis K. The Use of Telemedicine by Physicians: Still the Exception Rather Than the Rule. Health Aff (Millwood). 2018 Dec;37(12):1923-1930. doi: 10.1377/hlthaff.2018.05077. PMID: 30633670.
4 Weber E, Miller SJ, Astha V, Janevic T, Benn E. Characteristics of Telehealth Users in NYC for COVID-related Care during the Coronavirus Pandemic. J Am Med Inform Assoc. 2020 Aug 31:ocaa216. doi: 10.1093/jamia/ocaa216. Epub ahead of print. PMID: 32866249; PMCID: PMC7499577.
Thank you for reading AAPA's News Central
You have 2 articles left this month. Create a free account to read more stories, or become a member for more access to exclusive benefits! Already have an account? Log in.