PA Foundation Announces Scholarship for Black PA Students
Joyce Nichols Memorial Scholarship Honors First Woman and Black Woman to Practice as a PA
July 20, 2020
The PA Foundation today announced the launch of a new scholarship to be awarded to Black PA students. A minimum of four $1,000 scholarships will be awarded this year and the next five years based upon the funding that is committed to date. The Joyce Nichols Memorial Scholarship is named after a groundbreaker in the PA profession.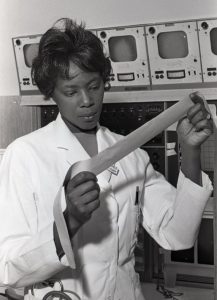 PA Joyce Nichols, who passed away in 2012, was the first woman and the first Black woman to practice as a PA. Nichols graduated from the Duke University Medical Center PA program in 1970 and practiced medicine for nearly 25 years at the Lincoln Community Health Center in Durham, North Carolina. She was the first person of color to serve on AAPA's Board of Directors and served as a role model within the profession. More about her life and legacy is available from the Physician Assistant History Society.
"Joyce Nichols was a truly extraordinary PA and a leader in our profession," said Jacqueline Spiegel, MS, PA-C, DFAAPA, CHSE, president of the PA Foundation, the philanthropic arm of AAPA. "We thank her family for giving us the opportunity to honor her memory, which continues to inspire PA students."
Brian Palm, PA-C, an emergency medicine PA from Woodstock, Georgia, seeded the scholarship fund with a lead gift, pledged over the next five years. The AAPA Board of Directors, at its June 2020 Board meeting, also committed to a donation to support the initiative.
"The PA Foundation Board of Trustees wishes to extend its gratitude to both PA Palm and the AAPA Board of Directors for being a vital part of this effort as our profession continues to work together to build a better future in healthcare – for both PAs and the patients we serve," Spiegel said.
Palm said he hopes the scholarship will foster diversity in the PA profession.
"Diversity is an issue that encompasses our lives as PAs and the lives of our patients," Palm said. "It's important that the cultural and racial makeup of our profession represents the patients we are so passionate to educate and heal. My hope is that the Joyce Nichols Memorial Scholarship will support future Black PAs and strengthen our profession and our ability to deliver care to diverse populations."
The PA Foundation is actively working to grow the fund and is currently seeking additional donations. To make a donation, please visit PA-Foundation.org/Joyce-Nichols-Scholarship.
The PA Foundation scholarship for Black students is in addition to an existing scholarship offered through the African Heritage PA Caucus, the Prentiss L. Harrison Memorial/African Heritage PA Caucus Scholarship which honors the legacy of the first Black PA and one of the founding members of the caucus.
PA students who meet the general eligibility criteria may apply for the Joyce Nichols Memorial Scholarship by August 14. Applicants must be student members of AAPA, attend an ARC-PA-accredited PA program, be in good academic standing, and have successfully completed at least one term of PA studies.
You May Also Like
Additional PA Foundation Scholarships
Join AAPA as a Student Member
Physician Assistant History Society
Thank you for reading AAPA's News Central
You have 2 articles left this month. Create a free account to read more stories, or become a member for more access to exclusive benefits! Already have an account? Log in.