PA-Led IMPACT Grant Project Improves Outcomes for ICU Patients
Staff Education and Patient and Family Journaling Increase Positive Outcomes
March 4, 2020
The PA Foundation's mission is to empower PAs to improve health through philanthropy and service. Since 2015, the Foundation has awarded IMPACT Grants to support community-based projects designed to improve health outcomes. PAs are problem solvers who are constantly seeking new ways to help patients, and IMPACT Grants give PAs and PA students opportunities to test innovative ideas that incorporate PA-led models of care into the healthcare delivery process. In 2018, Yale New Haven Hospital received a $10,000 IMPACT Grant to spearhead a new PA-led Medical Intensive Care Unit (MICU) Outreach Project.
[Apply Now for a PA Foundation IMPACT Grant]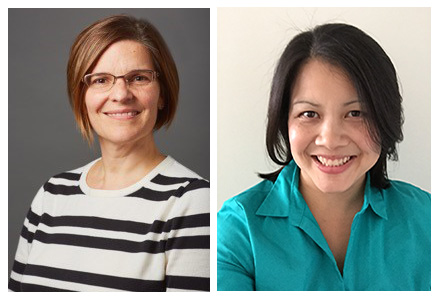 Traditionally, ICU outcomes have focused on patients surviving a critical illness. But with the advancement of technology and healthcare's increasing focus on quality of life, a team from Yale New Haven Hospital recognized a need to focus on more than just survival. They developed a project designed to bring awareness to Post-Intensive Care Syndrome (PICS), the cognitive, emotional, and physical impairments that patients – and their families – can experience after an ICU stay which negatively impact quality of life. Karen Marlett, PA-C, and Elaine Bonoan, PA-C, led this project and aimed to educate staff and patients and to share patient stories.
Educating staff
Marlett and Bonoan first conducted a survey to determine staff knowledge of PICS. They were surprised that the majority of staff had not heard of PICS as a formal entity, regardless of profession (nurses, APPs, respiratory therapists, physicians, etc.) or years of practice. Marlett and Bonoan admit that they "did not appreciate the lack of knowledge surrounding PICS within the MICU staff community." To increase awareness, they used project funding to host an information table in the main area of the hospital to provide information on PICS to visitors and staff.
[Submit your grant application by March 16, 2020]
Identifying potential PICS and providing journals
Along with other colleagues, Marlett and Bonoan used a computer-generated inclusion criteria list to identify patients at risk for PICS. They then provided patients and their families with journals and encouraged them to write down what they heard, capture dialogue with the healthcare team, and keep track of their care plan. If they chose, patients and families could also use the journal to write about their experience and feelings. The project team recognized that hospitalization can take an emotional toll on patients and their families, and incorporated journaling as an outlet for emotional expression.
Project outcomes
Marlett and Bonoan were both pleased with the results of their project. Increasing staff understanding of PICS was helpful to staff members themselves as well as to patients and their families. Having an awareness of PICS allowed staff members to appreciate additional perspectives, speak more openly, and build rapport.
Patients and families were surveyed on the usefulness of the journals and every respondent provided positive feedback. The most common survey response from journal recipients was that the journals were useful for communicating to the team and keeping track of care plans. The PA project leaders noted that "families almost appeared relieved that we were bringing awareness to challenges of hospitalization and speaking openly about the feelings of anxiety and depression."
Marlett and Bonoan are most excited that their project sparked a discussion about creating an outpatient clinic to follow up on high-risk patients and decrease overall readmission rates. The project also spawned a conversation about building a MICU Patient Advocacy Group, which would bring patients and survivors together to share their stories. The journals were such a success they have pursued additional funding to expand the journal project to a second location. Recently, Marlett and Bonoan learned they would be receiving an internal hospital grant to continue funding the work they initiated with the PA Foundation's IMPACT Grant.
Marlett and Bonoan acknowledge the critical role of the PA Foundation's IMPACT Grant program in enabling them to set their project in motion: "We are grateful for the support from the IMPACT Grant which has propelled ideas into action that support the quality of life of our ICU survivors, beyond just the ICU."
You May Also Like
Apply today for the 2020 Application Cycle
IMPACT Grant Recipients
PA Foundation
Thank you for reading AAPA's News Central
You have 2 articles left this month. Create a free account to read more stories, or become a member for more access to exclusive benefits! Already have an account? Log in.