For These Three PAs, Volunteering Leads to Meaningful Impacts
PAs Give Back to Help Homeless, Assist in Disaster Recovery
September 6, 2020
By Dave Andrews
Serving communities is what healthcare providers do. And for many PAs, the services they provide free of charge are those that offer the biggest payback. Whether it's helping homeless populations, assisting in disaster recovery efforts, or caring for the uninsured, PAs are increasingly stepping up to volunteer their time and talents to help those who are less fortunate.
For Cindy Bunde, PA-C, community service was something around which she developed her entire career. In addition to working as a clinical assistant professor at Idaho State University, Bunde is a part-time staff provider at the Pocatello (Idaho) Free Clinic.
Bunde became an advocate for serving the underprivileged even before she began her PA career more than 20 years ago. As a student, Bunde would volunteer a few hours each week at a local free clinic where she would check patient vitals and help out wherever she could. Over the years, the more she got involved with low-income patients, the more fulfilling it became.
"In my experience, serving this population can be more challenging than working in a more typical outpatient setting—but in a very good way," Bunde said. "What we do requires you to 'wear a lot of hats' such as dispensing medications, helping patients look for jobs, serving as a mental health counselor, or a diabetes educator. There's rarely a dull day at the clinic."
[Street Medicine PAs Deliver Healthcare to the Homeless]
She feels the general adaptability and can-do nature of PAs makes them the ideal candidates for the job, which is why she uses the free clinic as a training site for her PA students.
"I strongly encourage everyone in our field to consider getting involved," Bunde said. "Even just devoting a few hours here and there can make an impact because despite all of the charitable causes out there and various government programs, there continues to be a very high need in areas across the country and around the world."
Opportunities Abroad
Demand for healthcare services is especially high in developing countries, as providers like Edward (Eric) Holden, PA, DHSc, DFAAPA, know all too well. Holden enjoys his "day job" practicing emergency medicine at Skyline Hospital in White Salmon, Washington, but feels he makes an even greater impact through his volunteer efforts, especially his international work.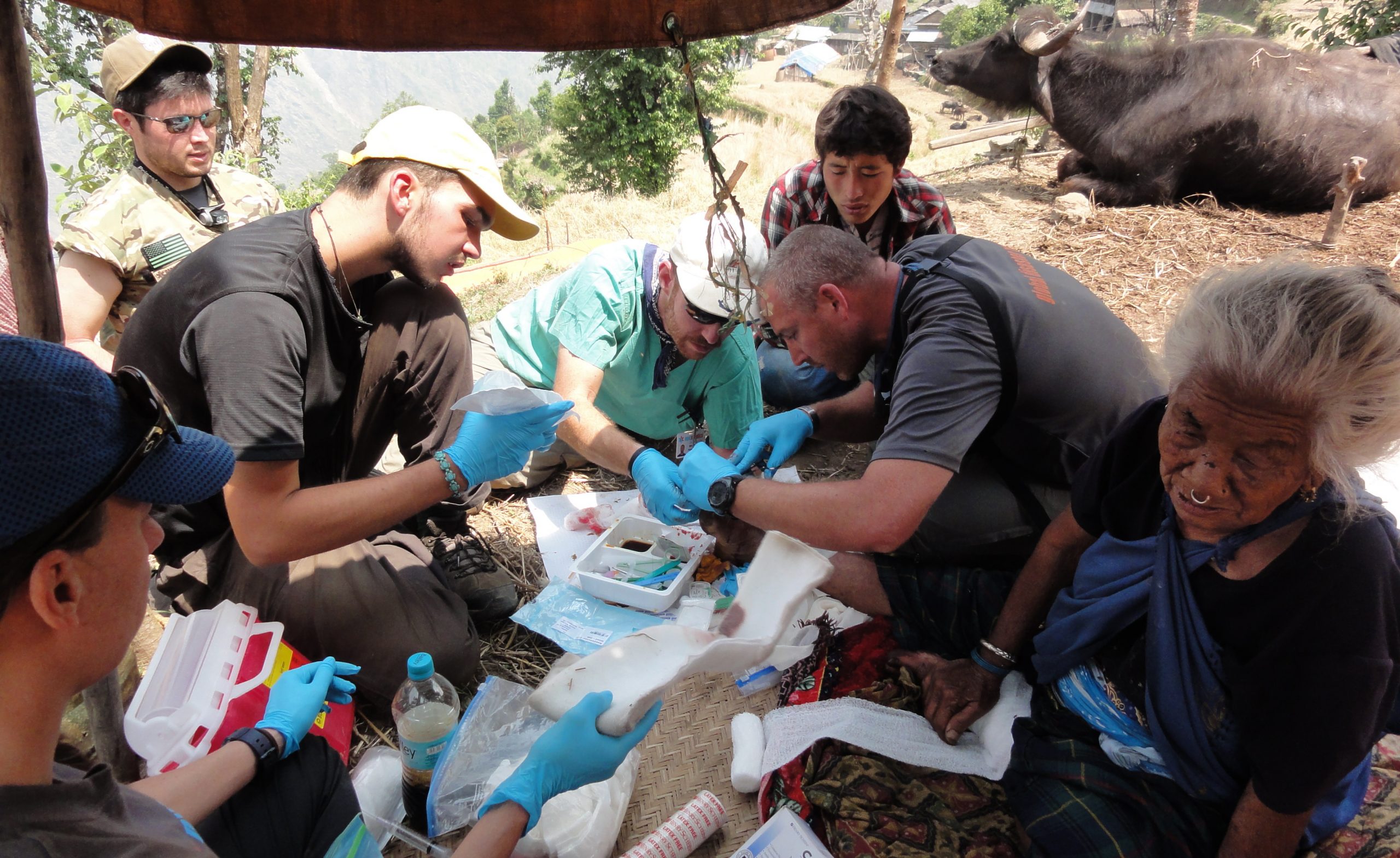 Since 2010, Holden has volunteered for NYC Medics, a group that helps coordinate medical response efforts in areas around the world affected by war and natural disasters. Holden has served as a volunteer provider immediately following earthquakes in various parts of the Caribbean and Asia. He also helped staff a battalion aid station in Iraq in 2017.
His most extensive travels have been to Haiti as a volunteer with Seattle-based Global Health Teams. The group consistently organizes multiple 10-day clinics providing free services in areas that have little-to-no access to healthcare. Over the course of more than eleven years and 18 trips to Haiti, he's witnessed numerous cases that highlight the cruel consequences of deficient healthcare. And those experiences gave him an entirely new perspective on the value of service.
[How to Help Provide Emergency Disaster Services]
"For me, nothing can compare in terms of how fulfilling it is because we know the care we're providing is really the only care these people can get," Holden said. "Many of them are facing very grim situations and if they didn't get our help, their lives would likely be cut short—and it's often [from a health condition] that would be considered very minor here in the United States."
Holden admits that being so deeply involved with volunteer work wasn't his initial goal. He originally pursued volunteering primarily as a means of strengthening his CV. But he quickly discovered how much he enjoyed the unique cases and interactions that he couldn't experience elsewhere.
"We as providers have the potential to save lives regardless of where we are," Holden said, "but that's especially true when serving underprivileged populations, [for whom] a little can go a long way. The simplest interventions can often lead to life-changing outcomes."
Strength in Numbers
Garnering strong support from dedicated medical volunteers like Holden is critical to the success of any humanitarian initiative, both internationally or domestically. The Boston Health Care for the Homeless Program (BHCHP) provides a prime example with its volunteer-based, weekly clinic called HER Saturday, which stands for Health, Empowerment, and Resources.
The concept and programming for HER Saturday was developed about three years ago by Melinda Thomas, PA-C, associate medical director for BHCHP. Thomas continues to oversee the weekly clinic which specifically caters to adult women experiencing homelessness in the Boston area. Beyond providing access to medical, behavioral health and case management services to those in need, HER Saturday invites attendees to take advantage of a variety of relaxing, volunteer-run activities including arts and crafts, movies, games, yoga and meditation groups, and even haircuts and facials.
"It's all meant to create a fun, safe space for women where they can escape the world for a moment and let their hair down," Thomas said. "On average, we see about 150 women each week. And though it's a very diverse group, there's an unmistakable sense of community that continues to grow stronger with each event."
[Thomas Wins PA Foundation 2014 Caring for Communities Award]
According to Thomas, the clinic's ongoing success is largely due to the consistent presence of numerous volunteers. The volunteers are encouraged to commit to a minimum number of Saturdays and complete specific training.  Seeing familiar faces within a secure space helps participants—especially those who have experienced some form of trauma—feel more at ease and connect more easily with the staff.
Thomas strongly encourages her fellow PAs to seek out any volunteer opportunity, no matter how insignificant it might seem, in which they can apply their skills to help underserved patient populations.
"It can be very challenging, both clinically and emotionally," Thomas said. "But I've learned so much while connecting with the women who attend—they come from all walks of life, and all of them have faced incredible obstacles. I'm in awe of their ability to keep going, and I'm grateful for the unique opportunity we as providers have to make a difference in their lives."
Editor's note: This article originally appeared in March 2020.
You May Also Like
PAs for Global Health
Disaster Medicine Association of PAs
Dave Andrews is a freelance writer and public relations professional based in Northern Virginia. Contact him at [email protected].
Thank you for reading AAPA's News Central
You have 2 articles left this month. Create a free account to read more stories, or become a member for more access to exclusive benefits! Already have an account? Log in.