Street Medicine: PAs Deliver Healthcare to the Homeless
PAs Coordinating Medicine for Homeless Patients
December 10, 2018
By Dave Andrews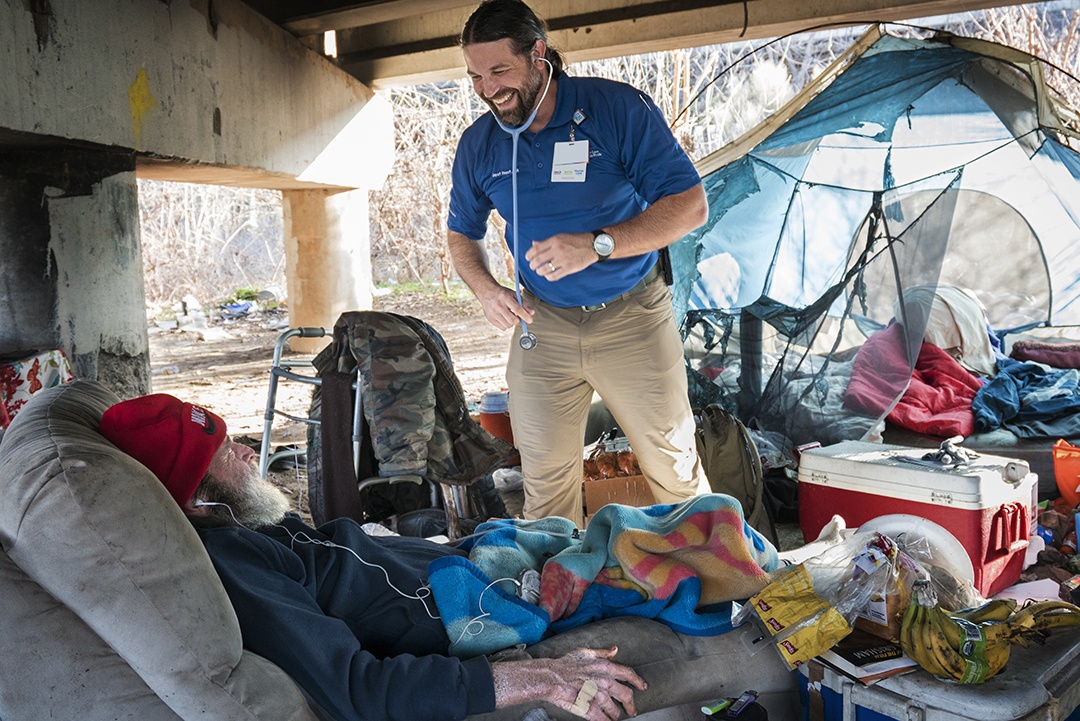 No one ever said healthcare delivery had to be confined within the walls of a hospital or clinic. It can take place practically anywhere, and a growing number of providers are taking it to the streets to help a largely underserved patient population – the homeless.
Among the hundreds of thousands of homeless people across the country, there are countless numbers of them in need of care. The task is daunting, but for some providers, it's well worth the effort.
"PAs typically have a great deal of humility and think of themselves as members of a team who can move and adapt within different specialties," said PA Corinne Feldman, a clinical instructor at USC's PA program and a long-time devotee to caring for underserved populations. "Their training enables a high level of creativity and outside-the-box thinking, which really helps when serving the homeless in this role."
In 2005, Feldman and her husband, PA Brett Feldman, moved to eastern Pennsylvania where they immediately recognized a need for a more coordinated effort to care for the homeless population. So they put together a proposal to open their own clinic, hired a volunteer medical director, and started fundraising.
After they had accumulated a modest budget, some donated equipment and several preceptors serving as volunteers from area health organizations, the DeSales Free Clinic at the Allentown Rescue Mission was up and running.
Within a few years, they even opened another clinic at the Safe Harbor shelter in Easton, Pennsylvania. The Feldmans continued to manage both clinics in addition to their regular full-time jobs at Lehigh Valley Health Network — Brett as a hospitalist PA and Corinna as a trauma PA.
"You find time for the things that are important to you, and this was definitely important to both of us," Brett Feldman said. "A lot of the work we did was at night, so it helped that Corinne and I got to do it together—having that shared passion really helped keep us going."
Street smart
The Feldmans soon realized that keeping track of their patients became extremely difficult once the patients left the shelter. And based on the types of conditions they were treating, they knew many of their patients would not fare well without continued treatment. "We knew we needed to expand our clinic to the outdoors," Brett Feldman said.
The concept of "street medicine" is to deliver what the Feldmans call "transitional primary care" wherever a homeless patient resides, which is often in urban campsites, public parks, and under bridges. The quality metrics and scope of practice — everything from dispensing medications, drawing labs, and conducting a variety of point-of-care testing — are equal to that of what one would expect from a traditional clinic.
The structure of street medicine teams and programs can vary widely, but many include a key team member known as a "street guide." The street guide is a non-medical provider familiar with where the homeless populations are located, which areas are safe, and which should be avoided, as well as where specific patients can typically be found.
"The homeless are not quite as transient as some might think," Brett Feldman said. "Like most people, they have their daily routines and can usually be found at one of a few spots they frequent. And as for scheduling appointments, they usually know ahead of time where they'll be, so we'll set up a time and place for wherever it makes sense to meet up."
Aside from treating a higher frequency of cases pertaining to frost bite, lice, and scabies, Feldman says most ailments of the homeless are much the same as the rest of the population: Conditions often include hypertension, diabetes, arthritis, and heart disease.
The Feldmans' street medicine program quickly grew throughout the region, eventually integrating nine shelter- and soup kitchen-based clinics. The program also includes a medical rehab center as well as a hospital-based consult service that sees all of the homeless patients who are admitted.
The program's success led the Feldmans to pursue additional opportunities to integrate street medicine in other parts of the country. In mid-2018 they moved to Los Angeles to establish and oversee a coordinated street medicine program in collaboration with USC.
Changing mindset
Around the world, the number of street medicine programs, similar in concept to the one the Feldmans started, has been on the rise in recent years. But the practice has been around for decades.
Since the late 1990s, Jill Roncarati, a postdoctoral research fellow at the Harvard Chan School of Public Health, has dedicated much of her career to researching and caring for the homeless. From 2001-2011, she worked as a PA at Boston Healthcare for the Homeless Program providing street medicine. Looking back, she recalls how it required a unique mindset.
"When I first started, I struggled for the first couple of weeks," Roncarati said. "After finding a patient, I'd try to get them to come into the clinic for treatment. But then, the physician I was working with made a simple comment that helped shaped my perspective.
"He said, 'You are the clinic,' essentially reminding me that my focus should be on providing care right there on the street or wherever they were."
Roncarati says she has seen street medicine evolve a great deal in the years since, but a significant amount of work is still ahead. And while she is no longer a street provider, much of her postdoctoral research is still focused on the unsheltered population.
Earlier this year, Roncarati published a study which found that mortality rates among unsheltered homeless people in the Boston area were nearly three times higher than those living in shelters, and nearly 10 times higher than the general population.
Among the study's recommendations, it said "a patient-centered, outreach service model with integrated medical and behavioral health care delivered directly to the unsheltered population" was needed.
Brett Feldman was not surprised by the findings in Roncarati's study. However, he agrees street medicine is moving in the right direction, as it gradually becomes more broadly accepted as an alternative clinical delivery model.
"We're not there yet, but we'll get there once there's more research to validate the quality of care," Feldman said. "Lately, there's been a lot of growth as we move toward value-based care. And with street medicine, there is an inherent cost savings that can be achieved."
Realizing value
Care Connections in Fort Worth, Texas, is a prime example of a program that can attest to the value of street medicine. A component of the JPS Health Network, the program has gained significant traction within the region largely due to increased provider collaboration and training opportunities.
"The last five years or so have seen a lot of change in how we think about providing care to everyone no matter what their circumstances," said PA Joel Hunt, who started the Care Connections program in 2014 and continues to serve as its director.
Hunt also helped create and manage street medicine-focused training for family medicine physician residents at JPS.  All interns rotate through two half-days of street medicine. They can also opt into two- or four-week rotations, enroll into the street medicine track throughout the second and third years of their residency, as well as choose to dedicate their fourth year of residency to street
medicine.
He says he has seen a noticeable increase of interest in street medicine training — a sign that more providers are looking for ways to be proactive in addressing patient needs.
"Street medicine might not be the answer for the entire homeless population, but it is an answer for a large number of them. And it's definitely had a positive impact on hospital admissions and utilization," Hunt said.
"The practice [of street medicine] has a very unique space within healthcare," he said, "where serving a humanitarian role and being fiscally responsible can truly gel together."
More Resources
Want to give back? Give to the PA Foundation.
PA Efforts to Help Homeless in LA Stymied by Outmoded Regulations
Dave Andrews is a freelance writer and public relations professional based in Northern Virginia. Contact him at [email protected].
Thank you for reading AAPA's News Central
You have 2 articles left this month. Create a free account to read more stories, or become a member for more access to exclusive benefits! Already have an account? Log in.